Murder of either spouses is an extreme form of domestic violence. While deaths of married women are clearly categorised by NCRB as murders for dowry and others, there is no specific category that accounts for murders of married men by their wives in India. 
As a portal, Voice For Men India can confirm to you, that we receive minimum one such #HusbandMurder case daily from some part of the country. In the absence of state support, it is not possible for anyone to publish each and ever news or accurate numbers of such gruesome killings. 
In the interim, a short report on this topic has been curated by independent journalist Deepika Bhardwaj, in association with Prince Garg, who have consolidated several news articles available in public domain for the year 2022. These numbers may just be an indicator, while the actual statistics could be way higher if collated by government agencies like NCRB. 
Chhattisgarh: Newly Married Groom, His Brother Killed By Wife's Former Lover Who Planted Bomb In Their Wedding Gift
Report
On 31st December 2022, as the year ended, a horrific murder came to light in Lakhimpur Kheri, Uttar Pradesh. After being alerted by a family member, police recovered dead body of a young man called English who had gone missing 11 days ago. It was discovered that English had been murdered by his wife Julie who was in affair with a man called Santosh Pal for the last 8 years. Since English had got to know about it and objected, Julie and Santosh cut English with an Axe and buried his body. On 29th December 2022, in an eerily similar case, Sasmita Chandra Behera from Gajapati District in Odisha was arrested along with her lover Shankar Saran Gouda for killing Sasmita's husband Krushna. The duo had killed Krushna because he got to know about their affair and objected to it, so in order to get him out of the way, they murdered him, packed his body into a sack and threw him off in Mankadia Canal in R Udaygiri. On 28th December 2022, in a small town Betul in Madhya Pradesh, police arrested a woman Ranu and her lover Moti Khadiya for murdering Ranu's husband Dilip Borkar. Dilip's throat was slit by Moti and Ranu was an accomplice. Dilip used to beat Ranu because he had come to know about the affair and hence both got rid of him.
On 22nd December 2022, when 30-year-old Jeetendra returned home from work, he caught his wife Pooja in a compromising position with her lover Rakesh. Both beat up Rakesh black & blue, hit him hard with a hammer and killed him on the spot. Pooja then kept the body in her house for a day while lying to everyone that Rakesh has gone missing for two days. That night, they dumped his body.
On November 29, 2022 Rinku Lohra from village Bondo Chatain Toli District Gumla Jharkhand went to his home to attend court date as he was in a matrimonial dispute with his wife who had filed cases against him. His wife Jayanti Kumari, well aware that he will come for the court date got Rinku kidnapped from his home by her lover Suraj Uranv who hacked him to death.
On September 25, 2022 morning, Amarnath from Faridkot Punjab was found murdered with his body and head thrown at different locations and his entire house smeared in blood. His wife Neelam Rani aka Kiran was missing from the home while children were lying unconscious in a drugged state. 38 year old Neelam, a mother of 4 was in love with 23 year old Vinesh Kumar since few years and Amarnath had been objecting to it. There were frequent quarrels at home about the same and eventually Amarnath was eliminated by Neelam and Vinesh.
The stories above are just a glimpse of hundreds of murders that happened in 2022 where life of a husband was brutally cut short by none other than his own wife. Cutting of body parts, stabbing, poisoning, choking or beating up till death – some of the most violent methods were adopted in these murders by a gender that we often equate with kindness, love, compassion and care – a woman!
Many of these cases are shocking, inhuman, send shivers down the spine but none any of these murders would be in public conscience unlike the Shraddha Murder case or Nikita Yadav Murder case which were discussed on prime time for weeks because the victim in these was a husband – man!
"Post Divorce My Ex-Wife Told Me About Her Affairs While We Were Dating & Married; I Can't Trust Anyone Now For Remarriage": His Story
HUSBAND MURDER BY WIFE – A HIDDEN REALITY!
India does not recognise domestic violence by wife on husband as a crime. The Domestic Violence Act only provides protection to wives from Husband which covers physical, mental, financial, verbal and even emotional violence and there are various recourses under this law which she can avail. But what happens if a husband is beaten, abused, threatened, and criminally intimidated by wife? Well, close to nothing.
There are no formal researches conducted by any government agency in India to analyse the violence men face within their marriages. Murder – is the most extreme violence that a human being can be subjected to and in order to drive home the fact that even husbands in India are victims of violent abuse by wives, we documented murders of husbands by wives in the year 2022.
RESEARCH METHODOLOGY:
The central agency that provides statistics on crimes in India is the National Crime Record Bureau. An RTI to them asking how many husbands are murdered in India by wives however resulted in a response that the agency does not collect data on the relationship of the murderer with the victim. Hence, we relied on news reports that we could fetch online where such murders were reported. It must be noted that the actual numbers must be much more since all crimes are not reported in newspapers.
#WATCH | Ghaziabad Murder Shocker: Woman & Her Lover Kill Husband; Bury Body Inside Latter's Home For Four Years
CHALLENGES:
All crimes are not reported in newspapers or digital platforms. Most of the cases of husband murder are hidden in small corners in newspapers which cannot even be found online. Major National Hindi or English dailies or news platforms do not report such incidents and hence major reliance was on regional media reporting such cases some of which were reported online. In regional media also, we could mostly capture the news reported in Hindi or English. No matter how brutal the cases, we could not find extensive coverage of any of the cases of Husband Murder. Since the research was taken up towards the end of the year, we could not capture many incidents from beginning of the year. Hence this research is a limited reflection of the actual numbers
MAIN FINDINGS FROM CASES COLLECTED:
We were able to find 271 cases of husband murders in the year 2022 which means about every 32 hours, a husband was murdered by his wife in India. The highest number of murders were reported in December 2022 – 47 as documented which means a murder of husband by wife every 16 hours.
The most common cause of husband murders in India is extra-marital affairs of the wife.
218 cases out of 271 documented murders were that where wife killed the husband in collusion with the lover. In some cases, these affairs have lasted for several years and husband faced regular physical or emotional abuse on that account. In some cases, the wife was already in legal dispute with the husband owing to such extra marital affair and had implicated the husband and his family in various criminal and civil litigations.
This was followed by 48 cases of domestic disharmony on account of issues related to money, alcoholism, etc. The average age for husband murders was 38 years whereas the minimum age was 22 and maximum 78.
HUSBAND MURDER RESEARCH FROM 2018:
I had got similar research carried out in 2018 through a volunteer Vikas Malik. There were 140 cases of Husband Murder by wives in 150 days from March till August 2018. Major cause of these murders was once again – extra marital affair of wife. In majority of these cases, wife murdered the husband herself by strangulation, administering poison, attack by blunt object or brutal assault. None of these cases ever make it to headlines in news dailies. It is hard to believe that there would be no abuse, torture, mental or physical harassment of husband by wife before she murdered him.
NO, Men's Rights NGO Is Not Fighting To Keep Marital Rape Legal In India | Read Other Side Of Media Propaganda
REALITY IF HUSBAND REPORTS EVEN PHYSICAL ABUSE:
General IPC sections for hurt and grievous hurt or attempt to murder can be used by men also in situation of physical violence by spouse. But if a husband reports such a crime, firstly – police is extremely disinterested in registering a case against the wife and secondly – if police does register a case, the wife invariably retaliates back with several false cases like IPC 498A, 406, 377 implicating the husband and his entire family including his old parents, married sisters, brothers, aunts, uncles.
So, most of the times this violence and emotional abuse continues as the man fears being implicated and subjecting his family to further harassment. In many cases, emboldened by all the laws made for women and lenient attitude by police, wives take the extreme action of getting the husband murdered. There is a sense of confidence that she will not be caught.
In several cases, wife raised an alarm of murder herself claiming theft or trespassing or natural death when in reality she murdered husband in collusion with lover. Apart from Husband Murder, Suicides by Husband are also rising in India where men are killing themselves writing in suicide notes that they were harassed by wife and in-laws. Threats to leave his family, threats of snatching his children away from him, extramarital affairs, unreasonable demands for higher income or lavish lifestyle, threats of false cases – countless husbands in India are victims of such abuse by their wives but the only recourse they have is to file for Divorce in such situations. However, there is no such provision for reporting the husband's unnatural death on account of domestic violence by the wife in the NCRB reports.
Under Indian Law punishment for murder is dealt with Section 302 and Section 306, abetment to suicide, of the IPC. The reporting related to the murder of a husband by the mainstream media is low in comparison to reports of the murder of a wife. Also, the police and the judicial system in most instances do not show the same kind of urgency in taking necessary actions when the murder of a husband is reported; as compared to their swift action in the case of 'wife' murders.
Guwahati Double Murder: Woman Kills Husband, Mother-in-Law & Stores Their Body Parts In Freezer For Days
In cases of suicides by husband, even when there is a suicide note left behind or a dying statement blaming wife and her family for extreme step, police does not arrest the wife in most instances. The National Crime Records Bureau (NCRB) has released reports of suicidal deaths in India for both genders at regular intervals.
India has recorded the highest suicide (51,477) due to 'Family Problems', out of which 35,333 were male and 16140 were female, in the year 2020. Even though the ratio of male suicides is nearly double of the reported female suicides there is hardly any coverage in the media or any cognizance by the courts. The 2019 NCRB data released on suicides in India, it was observed that 66.7% (92,757 out of 1,39,123) of the suicide victims were married while 23.6% were unmarried (32,852).
Unfortunately, the NCRB does not record Domestic Violence against husband. Also, the NCRB does not record the Murder of husband by wife and paramour. Thus, crimes committed by wives against husband are difficult to establish statistically since there are no laws, no recordings of such data and no documentation by agencies. Though number of crimes against men by female partners may not be at par with number of crimes against women by male partners, these horrific incidents too deserve seriousness and sensitivity by lawmakers, judiciary, and police which at present is sorely missing.
Mumbai Woman & Her Lover Arrested For Murdering Husband After 20-Years Marriage | CRIME HAS NO GENDER | HUSBAND MURDER
DOMESTIC VIOLENCE LAWS IN OTHER COUNTRIES:
In January 2020, The Telegraph in UK reported that attacks on family members by women have risen twice as fast as by men. Female perpetrators now account for 28 percent of all domestic violence cases registered in the UK as compared to 19 percent a decade ago. The number of attacks committed by females tripled growing from 27,762 in 2009 to 92,409 in 2018 as per data obtained by The Sunday Telegraph under the Freedom of Information Act (like Right to Information Act in India.) UK has a gender-neutral domestic violence act unlike India hence this information can be accessed and analysed. The numbers are expected to be a small percentage of actual abuse men face because there's huge stigma associated with men reporting abuse by women. The fear of disbelief, backlash from society, the woman blaming the man instead cripples men from reporting abuse world over.
World over, most countries have gender neutral domestic violence law. But in India, the law protects only women from domestic violence. What is interesting to note here is that while a woman is given protection from violence by husband and even his family members through law like 498A that carries imprisonment of three years, a husband being attacked by his wife's relatives, which happens so often is not even a thought in lawmaker's mind.
Even though PWDVA (Protection of Women from Domestic Violence Act) law was passed in 2005 when the world had progressed quite a lot on gender issues and the act essentially was drafted on lines of legislation in western world, the act was restricted to protection for women only in India even though the architect behind it, Indira Jaisingh is a renowned Feminist supposedly standing for Equality!
While the laws itself are biased, there is zero institutional support to male victims of Domestic Violence. There are various helplines that the government runs but there is none where men can call and register their grievances if harassed by a woman or domestic partner. During the Lockdown, two German States set up hotlines specifically for men who are victims of domestic abuse or sexual violence. "With the hotline we hope to make an inroad in the struggle to tackle violence against men," Bavarian Family Minister Carolina Trautner and North Rhine-Westphalia's Equality Minister Ina Scharrenbach said in a Press Release as reported by DW.
The ministers also called on other states in Germany to join the initiative. In Germany, figures from 2018 estimated that 18.7% of the victims of domestic violence between couples were male. India has no figures directly from agencies like National Crime Records Bureau on Domestic Violence on Men because of absence of laws.
National Family Health Survey does not include any assessment about domestic abuse of husband by wives while it diligently records various forms of domestic violence perpetrated on a wife by husband including verbal, physical, sexual & financial.
Bharatpur: Woman & Lover Arrested For Murdering Husband; Police Recovers Bones Of Deceased After 6-Months
ADULTERY:
On September 27th, 2018, the 5-judge Supreme Court bench delivered its judgment, decriminalizing adultery. Striking down of Section 497 of the Indian Penal Code, 1860 has seen a major rise in extra-marital affairs being the leading cause of matrimonial disputes and murders. Decriminalization of Adultery is having far reaching consequences in Indian Society and a thorough impact of the same needs to be analysed by Government Agencies. As evident from the Husband Murder Data, adultery remains to be the most common reason for these murders.
Ex-Navy Man Murdered By Wife & Son, Body Chopped Into 6 Parts | Domestic Violence Has No Gender
CONCLUSION:
India should have a gender-neutral domestic violence law. Not only the authorities, even the society at large barely understands issue of domestic abuse of a man by woman because we consider men to be stronger than women both physically and emotionally. Stereotypes embedded in our minds about men are as strong as women & no one bothers about shattering these. If a man stops woman from working when she wants, it is considered domination, attack on dignity of a woman but if a woman forces a man to get a job with higher and higher salary, humiliates him for not being able to do so, it is rationalized.
If a husband puts restrictions on wife about meeting or helping her family, he is condemned, called control freak subjecting wife to mental harassment but if wife bars her husband from helping his siblings or keeping his elderly parents with him, it is not seen as harassment of the man. If a man slaps a woman once it is assault on her dignity but if a woman beats the man up by slippers and sticks we start finding faults in the man only!
RESEARCH CREDITS:
Data Collection By: Prince Garg
Undertaken & Written By: Deepika Narayan Bhardwaj
For more articles on #HusbandMurder, you may click on the link here. 
LEAVE YOUR COMMENTS BELOW BY TAGGING PM NARENDRA MODI
Husband Murders In India | Top Reason: Extra Marital Affair By Wives | Report @DeepikaBhardwaj & Prince Garg

-Data collated from news articles in 2022:
▪️Total: 271 (1 husband murdered by wife every 32 hrs)#VoiceForMen@narendramodi @AmitShah @NCRBHQhttps://t.co/GnCygAwENt

— Voice For Men India (@voiceformenind) April 13, 2023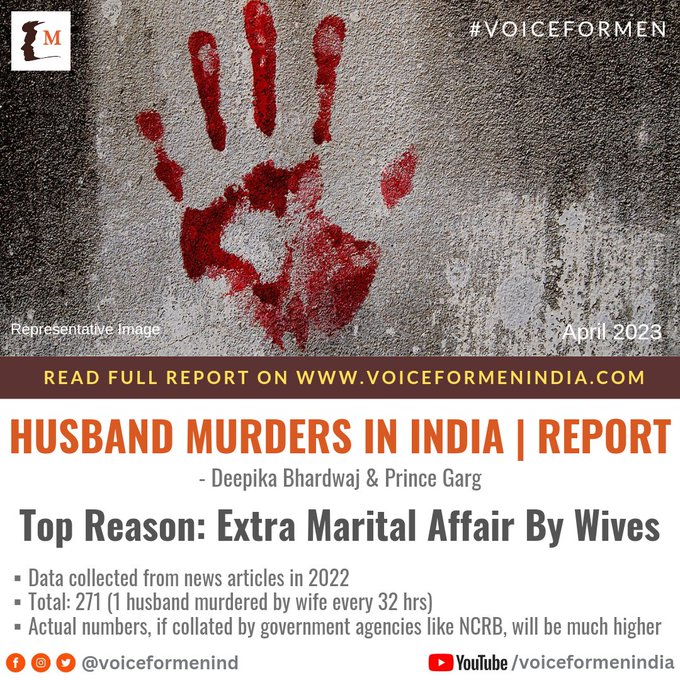 MUST WATCH:
Marital Rape Verdict | Advocate J Sai Deepak | Other Side
ALSO READ:
NCRB Suicide Report 2021 | 72% Men : 27% Women | Married Men 1.82 Times Higher Than Married Women | Top Cause: Family Problems
Delhi Shocker: Woman Along With Her Lover Murders Senior Citizen In-laws To Acquire Family Property
Join our Facebook Group or follow us on social media by clicking on the icons below
Donate to Voice For Men India
Blogging about Equal Rights for Men or writing about Gender Biased Laws is often looked upon as controversial, as many 'perceive' it Anti-Women. Due to this grey area - where we demand Equality in the true sense for all genders - most brands distance themselves from advertising on a portal like ours.
We, therefore, look forward to your support as donors who understand our work and are willing to partner in this endeavour to spread this cause. Do support our work to counter one sided gender biased narratives in the media.
To make an instant donation, click on the "Donate Now" button above. For information regarding donation via Bank Transfer, click here.
Alternately, you can also donate to us via our UPI ID: voiceformenindia@hdfcbank