People are shocked about Shraddha Walkar murder case since mainstream media is repeatedly playing out minute by minute details. On the other hand, it is a shame that cases such as below, never make it to prime time channel shows.
A woman and her lover were arrested on November 21 for killing her husband and dumping the body in a nullah six months ago in Rajasthan's Bharatpur district.
Gurugram | Woman Arrested For Planning Husband's Murder To Grab His Property & Marry Her Lover
Case:
37-year-old Pawan Sharma had gone missing six months ago from Chiksana police station area of ​​Bharatpur district. On June 4, Sharma's father Hariprasad had lodged a missing complaint about his son, after he saw his daughter-in-law Reema alias Sona (23) in an objectionable position with her lover Bhagendra alias Bhola (27).
Pawan used to work as a labourer while Bhagendra, who lived in his neighbourhood earlier in Delhi, worked in the insurance sector. Pawan got married to Reema seven years ago and the couple has a 6-year-old son.
#WATCH | Ghaziabad Murder Shocker: Woman & Her Lover Kill Husband; Bury Body Inside Latter's Home For Four Years
Background:
Pawan was working in Delhi, where Bhagendra was living near by. Reema got close to her neighbour and since they lived in the same vicinity, no one raised any doubt about their affair. 
After some time Pawan quit his job in Delhi and returned to Bharatpur for work. This is when Bhagendra started visiting Pawan's Bharatpur home all the way from Delhi (to meet Reema).
Woman Murders Husband, Terms It As Heart Attack; Arrested After Daughter Recovers Audio Recording Of Mother's Confession
Murder
On 29 May 2022, Reema called Bhagendra to Bharatpur with his friend Deep. When Pawan was fast asleep, she allowed Bhagendra to enter her home. 
Pawan woke up suddenly and saw his wife Reema and Bhagendra together. When the husband started fighting with his wife's paramour, Deep who was waiting outside, entered the home.
Reema held Pawan's legs, while the other two strangled Pawan with a rope. The trio then wrapped the dead body in a sack and dumped it in a canal.
Bhagendra and Deep left Bharatpur in the night itself. Next morning, Reema pretended that her husband had disappeared. The family searched for Pawan but he was nowhere to be found.
Reema and Bhagendra stopped talking to each other after this incident since they were afraid that the police investigation might lead to both of them.  The duo used different mobile numbers to keep in touch.
On June 4, 2022, the family lodged Pawan's missing report at the Chiksana police station.
Ex-Navy Man Murdered By Wife & Son, Body Chopped Into 6 Parts | Domestic Violence Has No Gender
Plot Unfolds
On October 16, 2022, Reema called Bhagendra from Delhi to Bharatpur. When Pawan's father Hariprasad happened to see Bhagendra in an objectionable position with his daughter-in-law Reema, he locked the door from outside and called people to beat him up and take him away.
According to Hariprasad, police was called in then, but no action was taken. In fact, Bhagendra had allegedly threatened to kill Hariprasad just like he killed his son.
After this, Hariprasad filed an official complaint against Bhagendra on charges of murdering Pawan.
Sharon Murder Case | Girlfriend Greeshma Admits To Murder As Her Marriage Had Been Fixed With Another Man
Police Investigation
Bhagendra himself took the police to the canal where the trio had disposed off Pawan's body.
A case of murder was registered against the Bhagendra and Reema under IPC sections 302 (murder), 201 (hiding dead body), and 34 (murder with intent). Speaking with media, SHO Vinod Meena said,
When the police team fished out the skeleton of Pawan Sharma from the nullah on Monday, only 15-16 of his bones were found.
Nurse Wife Injects Poison Into Husband Along With Help Of Lover In Bharatpur
SHO added that both Reema and Bhagendra have been arrested and were presented before a local court on Monday – which sent the woman to judicial custody, while Bhagendra was handed over to the police on four-day remand.
Another accused, Deep, involved in the case is on the run and a search operation is on to nab him.
Is India too soft with Women in the name of Patriarchy? 
Leave your comments below:
#Bharatpur: Woman & Lover Arrested For Murdering Husband; Police Recovers Bones Of Deceased After 6-Months

▪️Father caught daughter-in-law & her lover in compromising position in Oct
▪️Murder complaint filed#ShraddhaWalkar #AftabAminPoonawalahttps://t.co/dwuzryHylL

— Voice For Men India (@voiceformenind) November 24, 2022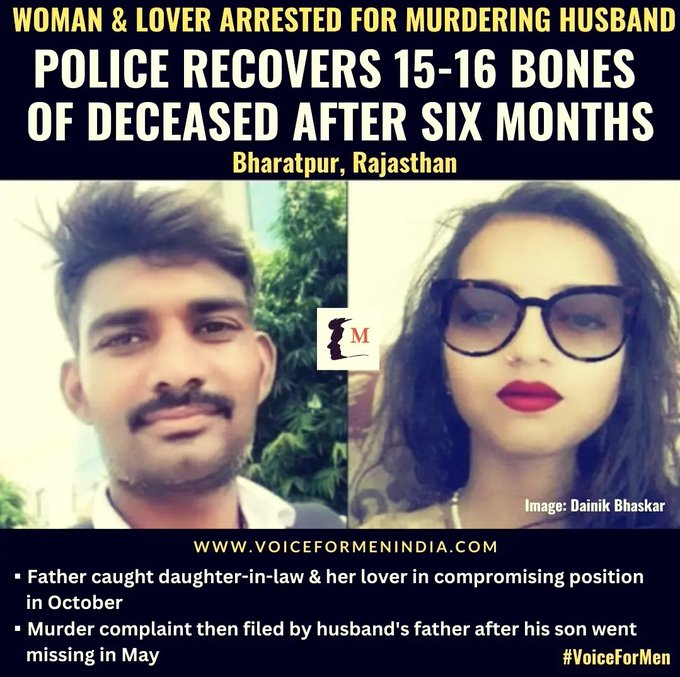 WATCH:
Dubai Returned Man Murdered By Wife's Paramour & Contract Killer, Not Robbers | Punjab Police
READ RELATED STORIES:
Bharatpur: Advocate Wife Hires Sharpshooter To Murder Estranged Husband
Rajasthan Police Arrests Woman For Allegedly Murdering Her Husband | Dowry Harassment Case Was Ongoing
Woman Murders Husband After Fight Over Non-Vegetarian Food | Tries To Pass Off As Accident
Madhya Pradesh Woman Murders 45-Year-Old Husband When He Caught Her Red Handed With Lover
Join our Facebook Group or follow us on social media by clicking on the icons below
Donate to Voice For Men India
Blogging about Equal Rights for Men or writing about Gender Biased Laws is often looked upon as controversial, as many 'perceive' it Anti-Women. Due to this grey area - where we demand Equality in the true sense for all genders - most brands distance themselves from advertising on a portal like ours.
We, therefore, look forward to your support as donors who understand our work and are willing to partner in this endeavour to spread this cause. Do support our work to counter one sided gender biased narratives in the media.
To make an instant donation, click on the "Donate Now" button above. For information regarding donation via Bank Transfer, click here.