How many husbands are murdered by wives in India? We will never have the accurate numbers since Crimes Against Men by Women is not recorded by NCRB.
In yet another #HusbandMurder reported, this time from Gurugram, a woman along with her accomplice has been arrested for plotting and executing the murder of her husband. This case involves not just property dispute but also wife's illegitimate affair.
Indian Origin Businessman Allegedly Dies By Suicide In London Accusing Wife Of Infidelity; Family Suspects Murder
Case:
42-year-old Dharmesh Yadav was married to 35-year-old Neetu since couple of decades. The duo has two children and lived in Palam Vihar at Gurugram. Dharmesh was a property dealer by profession. The couple had strained relations since past some years.
Murder
While in custody of Palam Vihar crime branch, Neetu confessed that she had planned the murder of her husband with the intention of grabbing his property and marrying her lover Babloo Khan.
Neetu then informed the officials how she had informed Babloo that Dharmesh was going to sleep at their under construction building located in Sector-22 on the night of October 29. As per information, Babloo reached there with his friend Mohammaddin and shot Dharmesh dead.
Subsequently, Babloo and his friend also removed the mobile SIMs before reaching Gurugram and also defaced the number plate of their Swift car, reported The Tribune India. 
Karnal Woman Gets Husband Murdered With Help Of Lover; Has No Regrets
Police Statement
Speaking with the media, ACP Sangwan said
We have solved the blind murder of Dharmesh Yadav with the arrest of his wife Neetu and alleged shooter Mohammaddin seven days after the crime.

While main accused Babloo is still on large, we have taken Neetu on one-day and shooter Mohammaddin on 3-day remand after they were produced in a city court on Monday.
Adding further, the official said,
During interrogation, Neetu revealed that her plan was that after killing Dharmesh, all property would be transferred in her name and she would get married to Babloo. Before the murder, she had given 650 gm of gold to Babloo.
Gurugram Woman Stabs Techie Husband To Death | Victim's Family Alleges Manipulation Of Daughter Present At Home
While police are conducting raids to nab Babloo, ACP added,
Our teams are on job and main accused Babloo Khan will be arrested soon.
#Gurugram | Woman Arrested For Planning Husband's Murder To Grab His Property & Marry Her Lover

▪️Couple was married since two decades
▪️Wife had given 650 gms gold to lover before executing murder#CrimeHasNoGender #HusbandMurderhttps://t.co/Pyf1gXbOaW

— Voice For Men India (@voiceformenind) November 8, 2022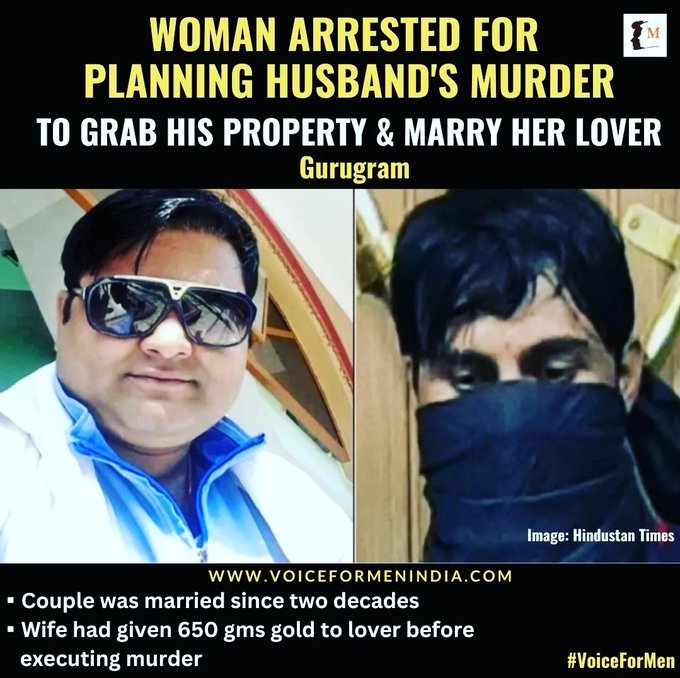 DO WATCH:
Husband, Parents Arrested For Murder; Woman Found Alive
Join our Facebook Group or follow us on social media by clicking on the icons below
Donate to Voice For Men India
Blogging about Equal Rights for Men or writing about Gender Biased Laws is often looked upon as controversial, as many 'perceive' it Anti-Women. Due to this grey area - where we demand Equality in the true sense for all genders - most brands distance themselves from advertising on a portal like ours.
We, therefore, look forward to your support as donors who understand our work and are willing to partner in this endeavour to spread this cause. Do support our work to counter one sided gender biased narratives in the media.
To make an instant donation, click on the "Donate Now" button above. For information regarding donation via Bank Transfer, click here.
Alternately, you can also donate to us via our UPI ID: voiceformenindia@hdfcbank