In a tragic case reported from London, UK, an Indian origin man – now a British citizen – allegedly died by suicide after leaving a note, accusing his wife of infidelity.
What is even more shocking that the couple's relationship had nurtured since school days almost 25-years ago, and since then they had been together.
On the other hand, deceased husband's family suspects this to be a murder due to property dispute between him and his wife.
Punjab Man Ends Life In Malaysia After Wife's Paramour Started Visiting Home In His Presence
Case:
Sumit Ahuja, 38, ended life by allegedly jumping off balcony from the sixth floor of his London apartment. The incident took place on September 16 and Sumit has left behind a 424-word suicide note. 
Background:
Sumit and his wife used to study in the same 8th standard class at school in Jaipur, Rajasthan and were in a relationship since they were 13-years-old. Sumit's father, Rajkumar Ahuja is a businessman, while his mother Meena is a doctor. Despite opposition from his family, Sumit married his classmate in the year 2007, and year later, the couple shifted to London in 2008 since he got a job there. 
Kerala Woman Dumps Minor Sons On Road, Abandons Them & Elopes With Boyfriend
Statement From Sumit's Cousin
Sumit's cousin, Yash Wadhbani, has shared details from his side with regards to the turmoil going on in his (Sumit's) life since sometime. 
According to Yash, Sumit's wife did not want to conceive and had drifted him away from his family. While Sumit was keen to have children, his wife not was ready even after many years in the marriage.
In 2016, Sumit got his UK Citizenship and in the year 2019, he started a partnership company in the UK. As per Yash, Sumit was doing very well in his career, earned millions and also owned two apartments in the UK.
However, Yash alleged that Sumit – despite having a flourishing career – had slipped into depression after he learnt of his wife's affair with a man named Rachit.
Yash further alleged that there were frequent quarrels between Sumit and his wife, due to this illicit relationship, but Sumit chose to remain mum while choking alone within.
As per Yash, Sumit's wife filed for divorce two years ago. Sumit tried his best to convince her to withdraw the same, but she did not agree.
On the night of September 16, the same night when Sumit allegedly died by suicide, Sumit had invited some friends for a party at his apartment. After everyone left, Yash alleges that there was a fight between the couple over some issue and soon after, Sumit allegedly jumped off from his 6th floor balcony.
There was a loud sound when Sumit's body fell on the ground, and the neighbours immediately called the police.
The officials took the body in their possession and sent it to the hospital.
Medanta Hospital Doctor Dies By Suicide; Father Accuses Daughter-in-Law Of Extra Marital Affair
Whatsapp Suicide Note To Friend
Sumit incidentally sent a whatsapp message (suicide note) to his friend named Joe Bhanu, just before allegedly taking this drastic step. Bhanu had then forwarded that message to Sumit's sister Harshita, who also happens to live in the UK (Manchester).
The suicide note read as below:
It was a nice evening. I am taking this step to prove to you that I have always been very loyal to this relationship. I asked you many times tonight, but you lied again as usual. I can't see you with anyone else. That Rachit (alleged lover) is not trustworthy and is just taking advantage. I told you about it earlier also.

Leaving a message behind me for you and the people who know me that I have always given a lot of love and respect to every relationship I have. I have given my best in every relationship unconditionally and without any selfish motive and without any competition. Please, take care of my parents as much as you can, if possible, help by going beyond your limits. Please don't ever love someone so deeply, it's worthless.

I request very humbly not to declare me psycho for taking this step, I have failed because of my simplicity and calmness. I didn't grow up with my parents, so don't blame them for my upbringing. I am solely responsible for my mistakes, shortcomings, so I apologize for any mistake I may have made knowingly or unknowingly. Mom and dad, never speak ill of my love (wife) or anyone.

My entire (100 per cent) property should be given to my parents without any problem, as they are not in a position to fight, irrespective of the nominee of my personal property. I had some wishes, which I could not fulfill. An old age home was to be built in India. I had to travel the whole world with my love… my biggest wish was to have a child and a family.

Mummy-papa, Kunal, Ankit, Neha, both sisters, Bhanu, David, Nikola, my brother Kartik and all my family and friends…forgive me. I don't have any loan, no one owes me a penny. I have great respect for all your support, guidance from all the colleagues I have worked with so far. I have nothing to offer you.

If somehow I survive, when I am not in a position to make my own decisions… Please, please, please no one will tell my parents about this or hand me over to them. I can't give them any more pain. Send me to the care home. As late as possible, you will meet in some other part of the world. I love you the most.
Husband Dies By Suicide As Wife Performed Sexual Acts With Lover In Front Of Him Calling Him Impotent
Sumit's Family Alleges Murder
According to Sumit's cousin, Yash Wadhbani, when sister Harshita contacted Sumit's neighbours, they informed her that they observed Sumit's hands were tied and his mouth was covered with a cloth.
This has raised a suspicion, where Yash alleges that Sumit did not end his life, but was beaten after giving alcohol. Yash also expressed that UK police declared it as suicide despite his hands and mouth being tied. According to Yash, UK police will be handing over the body to Sumit's wife and not his family members.

Nominee In Sumit's Property
As per Yash, Sumit's wife had become a nominee in all assets owned by Sumit and that his family had no right whatsoever on the same. Yash alleges that despite Harshita's complain, the police did not file a report.
The post mortem was also on hold for 3-days due to the demise of Queen Elizabeth – II.
SUICIDE PREVENTION HELPLINES
Men in distress due to family problems or facing threats of false cases from in-laws can contact either of the Men's Rights NGOs:
You can also contact Government of India 24×7 toll-free mental health rehabilitation helpline 'KIRAN' on 1800-599-0019
Indian Origin Businessman Allegedly Dies By Suicide In London Accusing Wife Of Infidelity; Family Suspects Murder

▪️Couple was together since school (25Yrs)
▪️Husband's body found with hands & mouth tied
▪️2Yrs ago, Wife filed for divorce@HCI_Londonhttps://t.co/J5wtiv4wV0

— Voice For Men India (@voiceformenind) September 23, 2022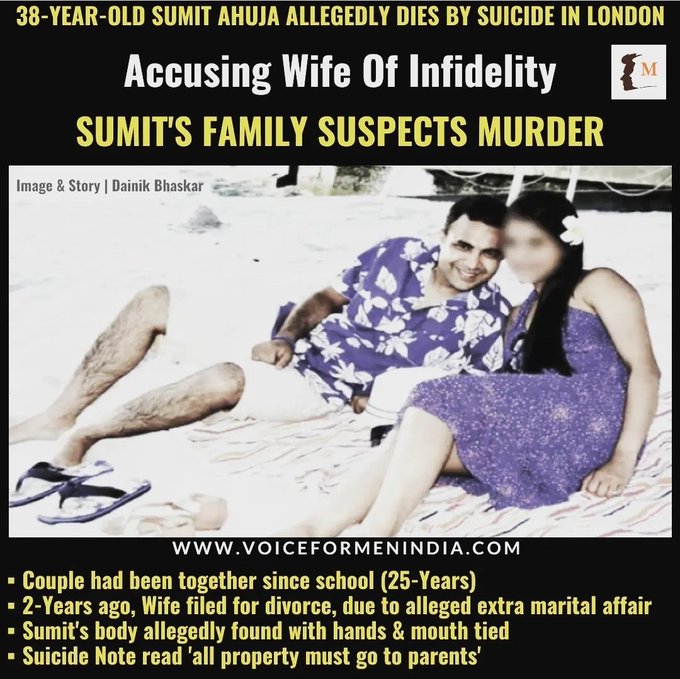 WATCH VIDEO:
Join our Facebook Group or follow us on social media by clicking on the icons below
Donate to Voice For Men India
Blogging about Equal Rights for Men or writing about Gender Biased Laws is often looked upon as controversial, as many 'perceive' it Anti-Women. Due to this grey area - where we demand Equality in the true sense for all genders - most brands distance themselves from advertising on a portal like ours.
We, therefore, look forward to your support as donors who understand our work and are willing to partner in this endeavour to spread this cause. Do support our work to counter one sided gender biased narratives in the media.
To make an instant donation, click on the "Donate Now" button above. For information regarding donation via Bank Transfer, click here.