While the gruesome murder details of Shraddha Walkar case are focussing on Domestic Violence against Women, mainstream media, particularly the English media, fails to debate cases where husbands are murdered almost on a daily basis by wives.
In yet another #HusbandMurder case, reported this time from Maharashtra, a woman has been arrested for plotting murder of her husband and making it seem like a heart attack.
Ahmedabad | Wife, Her Alleged Lover Arrested For Getting Husband Murdered In Staged Car Accident Since He Was Obstacle In Relationship
Case:
Ranjana Ramteke, a retired government officer, from Maharashtra's Chandrapur district has been arrested for murdering her husband Shyam Ramteke in August this year, While the accused wife initially projected death of her spouse due to heart attack, she got exposed while confessing her crime in an audio recording, which was retrieved only now.
The recording was traced by none other but the younger daughter of the woman.
Husband Murder
Ranjana murdered her husband on August 6. Soon after the murder, she called her lover Mukesh Trivedi and casually confessed to her role in the crime.
According to the statement given by police to media, the audio recording of the phone conversation stated,
I suffocated him with a pillow. I will call relatives in the morning and inform them about his death. I will say that he suffered a heart attack.
Rajasthan Woman Murders Husband To Claim Rs 50 Lakh Insurance Money; Tortured Him For Property Too
When Ranjana informed the family next day of her husband's death, no one really suspected her, since Shyam was 66-years-old and the body was cremated. Even the two daughters of the couple did not find anything suspicious.
However, it is now after three months, that their younger daughter Shweta visited her mother and accidentally got hold of this audio recording in her phone (while she was making calls from Ranjana's mobile).
Chhattisgarh Woman Kills Husband, Chops Off His Genitals Due To Alleged Taunts On Her Dark Complexion | Is Society Normalising Murder Of Husbands?
Subsequently, the matter was reported to the police.
It's time India stops painting crime with gender. Both women and men are equally prone to such brutal murders and violence by spouse, and whoever is the perpetrator must face the law without bias.
#Maharashtra | Woman Murders Husband; Arrested After Daughter Recovers Audio Recording Of Mother's Confession

▪️Wife to Lover after #HusbandMurder: "I suffocated him with pillow…I will call relatives tom & say he suffered heart attack"#VoiceForMenhttps://t.co/64338mn7WJ

— Voice For Men India (@voiceformenind) November 21, 2022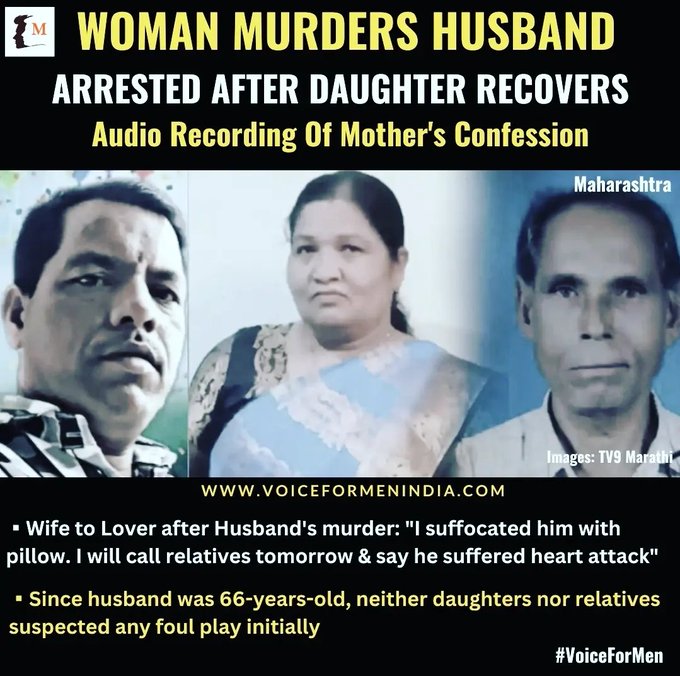 WATCH VIDEO:
Domestic Violence On Men | Mindset In UK Vs Mindset In India
Join our Facebook Group or follow us on social media by clicking on the icons below
Donate to Voice For Men India
Blogging about Equal Rights for Men or writing about Gender Biased Laws is often looked upon as controversial, as many 'perceive' it Anti-Women. Due to this grey area - where we demand Equality in the true sense for all genders - most brands distance themselves from advertising on a portal like ours.
We, therefore, look forward to your support as donors who understand our work and are willing to partner in this endeavour to spread this cause. Do support our work to counter one sided gender biased narratives in the media.
To make an instant donation, click on the "Donate Now" button above. For information regarding donation via Bank Transfer, click here.
Alternately, you can also donate to us via our UPI ID: voiceformenindia@hdfcbank