Remember Alia Bhat starrer Darlings? We had raised our opinion against the concept of that movie, which promoted tit for tat violence by wife on her spouse. Such movies not just encourage married women to take law in their hands, but somewhere even make them believe that they haven't done anything wrong.
A case of #HusbandMurder has been reported from Chhattisgarh where a woman allegedly axed her husband to death…due to his frequent taunts about her dark complexion.
Woman Pours Boiling Oil On Husband's Face While He Was Asleep After An Altercation
Case:
30-year-old Sangeeta Sonwani allegedly murdered her husband Anant Sonwani, 40, in Amleshwar village of Chhattisgarh's Durg district on Sunday night. Sangeeta had married Anant after the death of his first wife.
The accused woman confessed to her crime, attributing her anger towards 'her husband's frequent taunts about her dark complexion.'
The woman also allegedly chopped off the victim's genitals.
Wife Pours Hot Oil On Husband Suspecting Infidelity; Man Suffers 50% Burns
Police Statement
After arresting the accused woman on Monday, Devansh Rathore, sub-divisional officer of police (Patan area) informed PTI,
As per preliminary investigation, the victim used to call his wife ugly and frequently taunt her about her dark skin. The couple had quarrelled on the issue several times in the past.
Adding further Rathore said,
The couple entered into an argument on Sunday night and in a fit of rage, Sangeeta allegedly attacked her husband with the axe kept in the house and killed him on the spot.
The officer added that the accused woman initially tried to mislead the villagers soon after the man was found dead. She informed the neighbours that her husband had been killed by someone else.
However, during investigation, the accused wife admitted to have committed the offence.
The woman has been booked under section 302 (murder) and other relevant provisions of the IPC and further probe is underway.
Woman Burns Husband Alive Because She Hated His Dark Complexion
VFMI Take:
The entire concept of empowerment of women is going to the other extreme
Internet is flooded with articles justifying women murdering their husbands, due to alleged domestic violence
One must remember, that all statements given by the accused against a deceased husband, are 'mere allegations', and almost a route of escapism or sympathy after committing the crime
Media is party to such crimes in a way, where they justify woman murdering her husband in the main headline
Women have several laws in their favour if they are facing any abuse or violence in marriage
While law will take its course, as a responsible society, we must stop hailing these acts of crimes, patting accused women for liberating themselves by committing murder
Chhattisgarh Woman Kills Husband, Chops Off His Genitals Due To 'Alleged' Taunts On Her Dark Complexion

▪️Is Society Normalising Murder Of Husbands?#VoiceForMen #HusbandMurder #CrimeHasNoGender https://t.co/H9d4jMMOPo

— Voice For Men India (@voiceformenind) September 28, 2022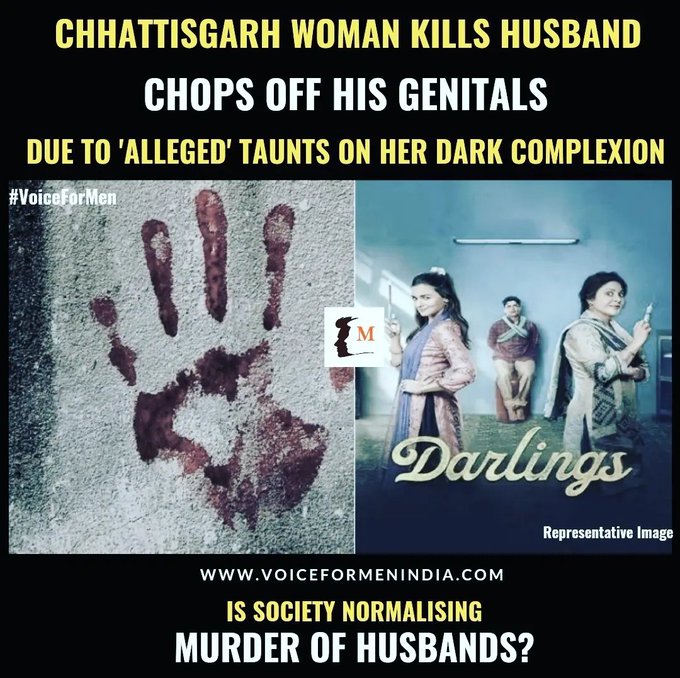 DO WATCH:
Join our Facebook Group or follow us on social media by clicking on the icons below
Donate to Voice For Men India
Blogging about Equal Rights for Men or writing about Gender Biased Laws is often looked upon as controversial, as many 'perceive' it Anti-Women. Due to this grey area - where we demand Equality in the true sense for all genders - most brands distance themselves from advertising on a portal like ours.
We, therefore, look forward to your support as donors who understand our work and are willing to partner in this endeavour to spread this cause. Do support our work to counter one sided gender biased narratives in the media.
To make an instant donation, click on the "Donate Now" button above. For information regarding donation via Bank Transfer, click here.