India is a patriarchal country…. because stories from other side never get reported, or even if they get reported, they rarely get trending in the elite world of social media.
Earlier this month, a woman from Rajasthan was arrested over charges of murdering her husband as she wanted to grab his insurance money. The couple had been married for nearly three decades.
Maharashtra | Woman Murders Husband To Grab Insurance Cover Of Rs 1 Crore
Case:
Nemaram Makad (57) was married to Sharda (47) since 28-years. The couple has a son and daughter. The matter pertains to Nagaur district of Rajasthan.
The duo was having dispute over property since three years.
Property Dispute
Three years ago, Sharda had got 15 bighas of Nemaram's land in her name. Since then, she was plotting to kill him.
WATCH VIDEO | Children Allege Murder Of Father By Second Wife To Grab Insurance Money
Insurance
Three months ago, Sharda had insured Rs 30 lakh in her husband's name. A pickup was also taken for the son, which was financed for Rs 20 lakh.
Husband Murder
According to the police, on October 04, Nemaram reached home at around noon after drinking alcohol. When Sharda interrupted, there was an altercation between the two.
The matter took an ugly turn, that Nemaram beat up his wife. However, soon he fell unconscious, allowing Sharda an opportunity to murder him by strangulation.
Biological Mother, Step Father Murder 9-Year-Old Daughter To Pocket Insurance Payout
Statement by Police
Sharda was greedy over insurance money and also she would torture Nemaram to get hold of his property. She also reportedly broke her husband's legs by beating him.
Police has arrested the wife after she confessed to her crime.
Kanpur Double Murder | Adopted Daughter Kills Parents To Gain Sole Ownership Of Property Worth Crores
Statement by Husband's Family
Family of the deceased husband accused Sharda of murdering her husband only to lay claim on Rs 50 lakh insurance amount. They also accused her of torturing Nemaram often.
INDIA DOES NOT RECOGNISE DOMESTIC VIOLENCE AGAINST MEN
NCRB DOES NOT RECORD CRIMES AGAINST MEN (BY WOMEN)
#CrimeHasNoGender #GenderBiasedLaws #HusbandMurder #VoiceForMen
Rajasthan Woman Murders Husband To Claim Rs 50 Lakh Insurance Money

▪️Police: "Wife was greedy over insurance money & also tortured husband, broke his legs by beating him to get hold of his property"#CrimesAgainstMen#CrimeHasNoGender#VoiceForMenhttps://t.co/EHBjWltOf3

— Voice For Men India (@voiceformenind) October 27, 2022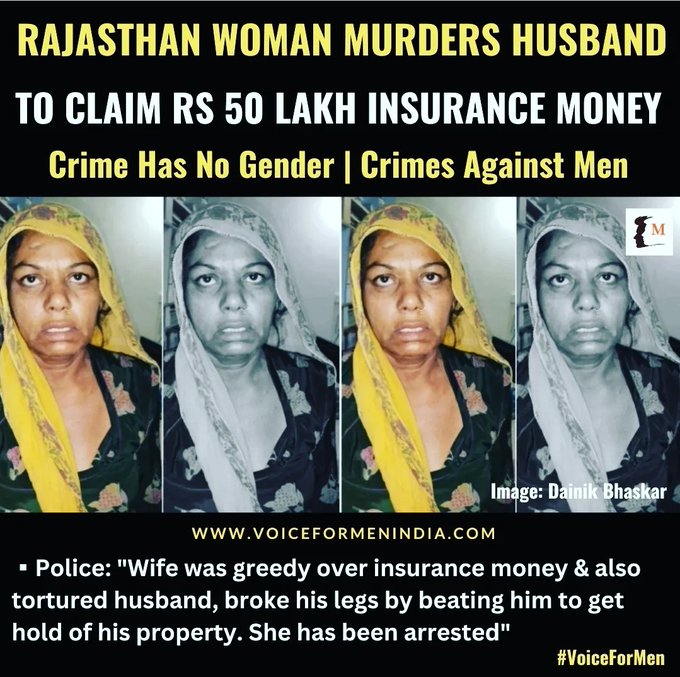 MUST WATCH:
"56% Rape Cases Are False" | Rajasthan CM Ashok Gehlot After His State Topped Crimes Against Women
Join our Facebook Group or follow us on social media by clicking on the icons below
Donate to Voice For Men India
Blogging about Equal Rights for Men or writing about Gender Biased Laws is often looked upon as controversial, as many 'perceive' it Anti-Women. Due to this grey area - where we demand Equality in the true sense for all genders - most brands distance themselves from advertising on a portal like ours.
We, therefore, look forward to your support as donors who understand our work and are willing to partner in this endeavour to spread this cause. Do support our work to counter one sided gender biased narratives in the media.
To make an instant donation, click on the "Donate Now" button above. For information regarding donation via Bank Transfer, click here.