Crimes against Women are on the rise in India, because NCRB does not record Crimes against Men (by Women). In yet another chilling case, reported this time from Ghaziabad, a woman and her paramour have been arrested for murdering her husband four-years ago and burying his body in her lover's house.
The accused wife and her boyfriend have been arrested by Ghaziabad Crime Branch Police after recovering the body on November 14.
Ghaziabad Woman Murders Live-in Partner Because He Refused To Marry Her | NO MEANS NO FOR MEN TOO
Case:
Chandraveer Singh alias Pappu had gone missing from his residence in Ghaziabad's Sikrod village on August 5, 2018. According to SP Crime Deeksha Sharma, a missing complaint report had been filed under IPC Section 364 (kidnapping) at the Sihani Gate police station back then by brother Bhure Singh. However, after investigation, the matter was closed because officials could not get any leads 'despite their efforts'.
Recently, Ghaziabad police had a change of head, post which the case was reopened for investigation. Thereafter, important leads were traced which led to the conclusion that Chandraveer Singh was murdered long ago.
Sharon Murder Case | Girlfriend Greeshma Admits To Murder As Her Marriage Had Been Fixed With Another Man
Police Statement
According to the statement given by police to media, deceased's wife Savita was involved in an extra marital affair with one Arun alias Anil Kumar since 2017. When husband Chandraveer learnt of this relationship and also caught the duo in compromising positions on several occasions, he initially warned them to end it.
In her confession to the police, Savita admitted that she had frequent fights with her husband over this affair and when she and her partner could not take Chandraveer's intervention further, they decided to eliminate him.
Gorakhpur Jail: Women Prisoners Implicated For Husbands' Murder Observe Fast On Karwa Chauth
Murder
On September 28, 2018, Chandraveer returned home in an inebriated condition late at night. He went to his room and fell asleep. Savita had left the front door open, so that Arun could come in and enter Chandraveer's room.
According to the plan, Arun shot Chandraveer in the head and the duo also placed a bucket near the latter's head to collect the blood flowing from his head. When the blood dried up, Arun picked up Chandraveer's body and carried him to his house, where he buried him in a 6-foot-deep trench dug with Savita's help.
Even after Chandraveer was dead, Arun attempted to remove a steel bracelet from his right hand. When he was unable to do so, he chopped off Chandraveer's wrist with an axe and kept it at his residence. Later, Arun placed Chandraveer's mutilated wrist in a gunny bag and threw it in a chemical facility near his house, while the weapons used in the murder were hidden at Savita's home.
#WatchVideo | Barabanki Family Killed Mentally Disabled Daughter For Rape Compensation
Police Investigation
Initially, Savita had given false information that her husband had been kidnapped by his brother to mislead police. However, when she was grilled further, Savita confessed to killing her husband with the help of her lover Arun.
Both accused have been arrested on Monday.
WATCH VIDEO:
Disturbing Visuals*
#WATCH | Ghaziabad Murder Shocker: Woman & Her Lover Kill Husband; Bury Body Inside Latter's Home For 4YRS

▪️Duo placed bucket, collected blood from deceased husband's head
▪️Lover chopped off husband's wrist for his bracelet @NCRBHQ DOES NOT RECORD CRIME AGAINST MEN BY WOMEN pic.twitter.com/aTGGPhCIkj

— Voice For Men India (@voiceformenind) November 15, 2022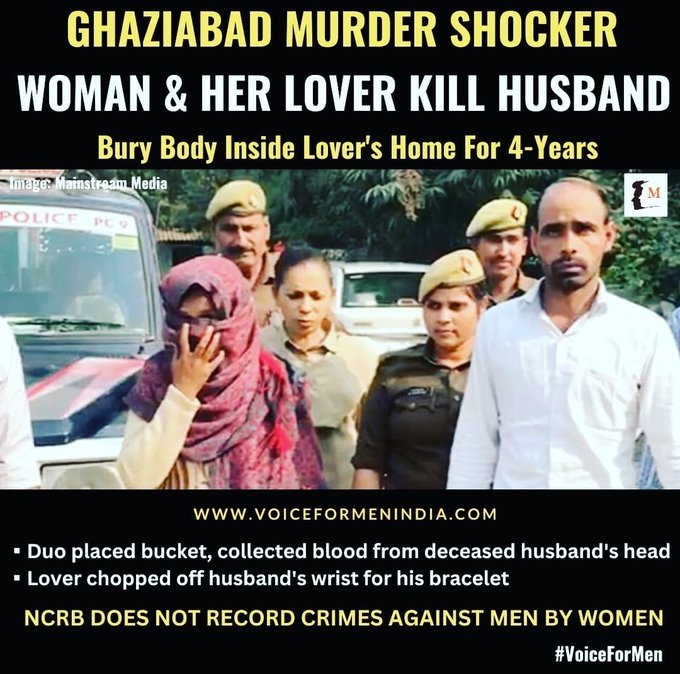 ALSO WATCH:
Join our Facebook Group or follow us on social media by clicking on the icons below
Donate to Voice For Men India
Blogging about Equal Rights for Men or writing about Gender Biased Laws is often looked upon as controversial, as many 'perceive' it Anti-Women. Due to this grey area - where we demand Equality in the true sense for all genders - most brands distance themselves from advertising on a portal like ours.
We, therefore, look forward to your support as donors who understand our work and are willing to partner in this endeavour to spread this cause. Do support our work to counter one sided gender biased narratives in the media.
To make an instant donation, click on the "Donate Now" button above. For information regarding donation via Bank Transfer, click here.
Alternately, you can also donate to us via our UPI ID: [email protected]