India is great and no one can beat Indian women! Today, we marked Karwa Chauth, a Hindu festival where married women fast and pray for the long life of their husbands.
Around 50 women prisoners in Lucknow jail also observed the fast today.
As a part of tradition, Uttar Pradesh minister for jails, Dharamveer Prajapati, issued a direction to allow married women prisoners to observe the fast and under rituals.
Woman Slaps & Thrashes Husband When He Could Not Afford Rs 12,000 Karwa Chauth Saree
According to the jail administration, around 10 inmates celebrated their first Karwa Chauth in jail. The jail authorities also allowed the family members of the women inmates to send them puja material and edibles, reported IANS.
Ashish Tiwari, senior superintendent of the district jail, said,
These women were allowed to perform all rituals under observation. Their barracks will be shut only after they are done with the puja. Husbands of about half-a-dozen women inmates are also lodged in the jail. They will be allowed to meet their wives on the auspicious day.
The superintendent also said that all necessary arrangements were made for the women inmates who wished to observe the festival.
But here is something that we couldn't miss!
WATCH | Sanskrit Scholar Calls Out Alia Bhatt's Latest Mohey Ad On Replacing Kanyadaan With Kanyamaan
Gorakhpur Jail
Interestingly, in Gorakhpur, about 12 women inmates of the district jail observed the Karwa Chauth fast.
Out of them, two women prisoners who observed the fast, are implicated in the murder of their husbands.
According to media reports, a woman, who was jailed for killing her brother with the assistance of her boyfriend, was also fasting.
Leave your comments below:
Gorakhpur Jail: Women Prisoners Implicated For Husbands' Murder Observe Fast On #KarwaChauth

▪️Comments?#VoiceForMen #HusbandMurder #KarwaChauthSpecial https://t.co/jwnhU3bhkS

— Voice For Men India (@voiceformenind) October 13, 2022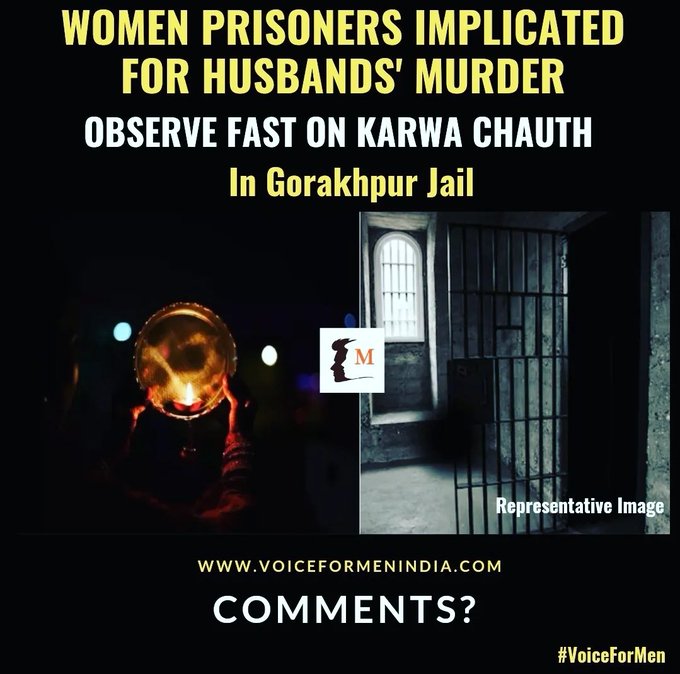 ALSO WATCH:
Karnataka Health Minister Dr K Sudhakar Labelled Misogynist | Your Take?
ALSO READ:
Woman Burns Husband Alive While He Was Sleeping On Night Of Karwachauth
Join our Facebook Group or follow us on social media by clicking on the icons below
Donate to Voice For Men India
Blogging about Equal Rights for Men or writing about Gender Biased Laws is often looked upon as controversial, as many 'perceive' it Anti-Women. Due to this grey area - where we demand Equality in the true sense for all genders - most brands distance themselves from advertising on a portal like ours.
We, therefore, look forward to your support as donors who understand our work and are willing to partner in this endeavour to spread this cause. Do support our work to counter one sided gender biased narratives in the media.
To make an instant donation, click on the "Donate Now" button above. For information regarding donation via Bank Transfer, click here.