An extremely tragic case of suicide was reported last month, where a married man named Baiju Raju ended life due to his wife's alleged illicit affair, parental alienation and harassment by in-laws.
Shockingly, Voice For Men India has come across an article from The News Minute, almost giving a clean chit to the wife in question, and also dismissing the plight of men and male suicides as "superficial gender war".
First Some Background to Baiju's Untimely Death 
Baiju Raju (40) was a Malayali man from Kerala working in New Zealand. Baiju got married to Annapriya Johnson in the January 2012 and the couple welcomed a baby girl after being married for over a decade.
If anyone browses through Baiju's Facebook account, he was frequently posting happy moments with his daughter.
A day after Baiju posted some videos against his wife on social media, he was found dead in a lodge at his hometown of Kayamkulam in Kerala's Alappuzha. The videos in question, however, were recorded on an earlier date. 
Jodhpur: Family Of Seven Die By Suicide Due To Wife's Extra-Marital Affair; Paramour Arrested
Baiju Raju's Suicide
On March 22, 2023 Baiju posted a video on social media (now deleted from Facebook) where he detailed out how he was cheated and betrayed by his wife and her family. In the video, Baiju alleged that his wife was having an affair with another man, her family had taken away his property and thrown him out of his own home. He also shared how his daughter was his only hope, and now that he had been alienated from her, there was no point for him to continue his life.
Throughout the video, Baiju is seen crying as he shared his ordeal. He also expressed how he had stopped himself for a long time from ending life. He further alleged that his wife and her family had taken away all his money, and also accused his wife's brother for most of the problems between them.
Baiju shared that when he had asked his wife's family to return lakhs of rupees they had taken from him, his brother-in-law started creating problems amongst the couple. Baiju Raju also alleged that his wife's mother had taken over all the fixed deposits in India, and his wife had taken away their daughter away from him.
In a video confession that Baiju released, his wife admitted to having a sexual relationship with a man named Tojo.
After Decriminalisation Of Adultery Law, Dating App in India Openly Promotes Infidelity By Married Couples
When the news went viral on social media, one of the users who claimed to be Baiju's cousin, publicly posted the below.
He is my cousin brother. Along with the extra marital affair, his mother-in-law and his wife's brother also cheated my brother for financial matter and borrowed 30-40 lakhs and assured my brother that they'll pay every single amount after some time.

All these affected the relationship. He was living with the hope for his daughter but his wife and her family took her away by filing false case against my brother. He was totally shattered by all of these incident and ended his life.
Article By The News Minute
Feminist portal The News Minute decided to publish an opinion article on this suicide case. Authors Haritha John & Lakhsmi Priya open their arguments by trying to explain whether a wife can be held accountable for her husband's suicide. They quote:
Social media discourse has reduced a deeply personal tragedy — and a serious social issue of how dominant systems and structures can take people's lives — into a no-nuance narrative of 'men's rights vs feminism'. Can a partner's actions distress a person enough to make them question their existence? Yes.

Does it mean a woman in a heteronormative marriage should not make choices — whether 'right' or 'wrong' — for herself? No. In a patriarchy that has hard boundaries for what a husband and wife should be, and judges people for 'failure' to live up to these norms, can we reduce suicide to the consequences of another person's actions? Definitely not.
NCRB Suicide Report 2021 | 72% Men : 27% Women | Married Men 1.82 Times Higher Than Married Women | Top Cause: Family Problems
The same portal and its founders who frequently call for immediate arrest of husbands – whenever suicide of a married woman is reported – went on to further state:
It's important however to note two things: suicide is not an individual problem, but oftentimes the result of trying to live in systems that oppress all of us — patriarchy, caste, capitalism, heteronormativity, fascism.

Secondly, our moral distinctions of what is right and wrong (cheating, in this case) cannot mean that we blame a person who made choices for herself and accuse her of killing her husband.
30-Year-Old Man Dies By Suicide After Women Empowerment NGO Pressurises Him To Pay Rs 20 Lakh Alimony – Despite Wife's Extra Marital Affair
Adding further on how one should not link parental alienation to suicide of a father, the authors express:
With this, any attempt to weigh the trauma of (alleged) domestic violence against the trauma of a father who had to be separated from his child will be irresponsible. Human beings are not cardboard cutouts, and an abusive husband can be a loving father. However, individual instances of deep personal tragedy should not be the focus of this discourse.
Kanpur Teacher Shoots Himself After Alleged False Dowry Case By Wife & Not Being Allowed To Meet Daughter
John & Priya then justify how adultery has been decriminalised under the India Penal Code and thus suicide due to wife's adultery is not a legal issue but a moral one. They write:
As the Indian law doesn't recognise adultery as a crime anymore, the understanding of what constitutes 'cheating' now almost exclusively depends on individual moral codes, which can change vastly from person to person, relationship to relationship.

This personal sense of morality, in turn, is in a constant tussle with the Indian society at large — one that places the sanctity of marriage above all, relegating the man in the family to the role of a 'provider and protector.' Not fulfilling this role, and a hundred other things including the infidelity of a wife, leads to people questioning a man's masculinity, causing distress.
WHY ARE INDIAN MEN SILENT?

▪️In name of progress, Supreme Court is finishing Marriage System in India

▪️Husbands have been reduced to just financial providers

▪️Who will regulate the Judiciary? @narendramodi@AmitShah@KirenRijiju#VoiceForMen #Chandrachud pic.twitter.com/XQuTlXBaWh

— Voice For Men India (@voiceformenind) October 3, 2022
Mocking men's rights activists who question infidelity by married women, the two authors are prompt to label this as 'patriarchy'. They state:
As feminism and the fight for women's rights gain traction, a number of women are trying to break out of the roles set for them by patriarchy and choose their own paths. Several men however are not equipped to handle this renegotiation of gender roles in relationships and in society.

Patriarchy puts the cisgender heterosexual man at the top of the gender hierarchy. Feminism says all genders are equal. But many cis-het men view equality and equity as them 'losing' power to women — and movements like men's rights activism drum up these fears further.
Husband Can Be Jailed For Extra-Marital Affair Under Sec 498A | Was Adultery Decriminalised Only For Wife's Paramour?
Both the authors conclude their opinion article giving a clean chit to Baiju's wife, while urging all to dismiss reasons behind Baiju's suicide as his mental health problem.
While The News Minute decided to blur wife's photograph, they were absolutely OK to publicly share deceased Baiju Raju's image through their article. 
On the other hand, The News Minute confirmed that Baiju's wife has reportedly returned to New Zealand. The police team investigating the incident is learnt to have recorded statements of both of their family members. So far, no one has been booked.
LEAVE YOUR COMMENTS BELOW:
Feminist Portal @thenewsminute Dismisses #BaijuRaju's Suicide As His Mental Problem; Gives Clean Chit To Wife Justifying Adultery#VoiceForMen https://t.co/mrKtZTMum8

— Voice For Men India (@voiceformenind) April 14, 2023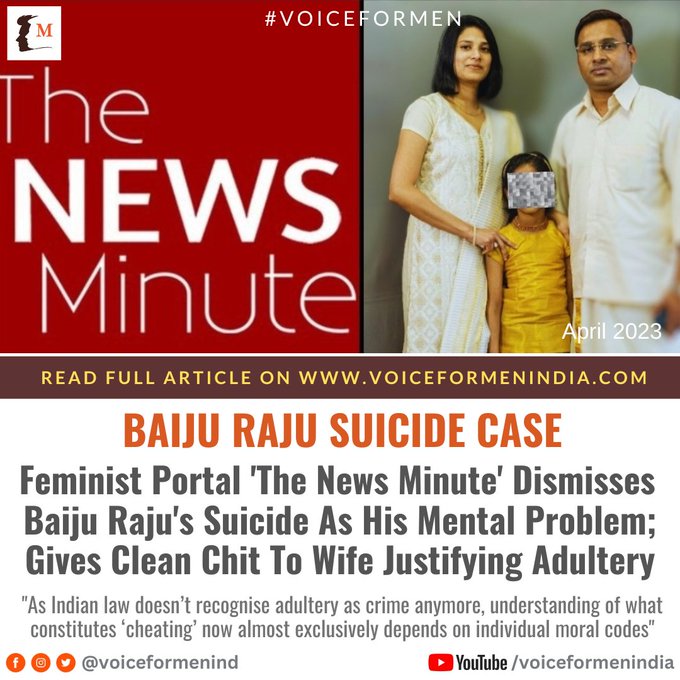 MUST WATCH:
Voice For Men India Response To "Chomu Akash Banerjee" On Marital Rape Law
Join our Facebook Group or follow us on social media by clicking on the icons below
Donate to Voice For Men India
Blogging about Equal Rights for Men or writing about Gender Biased Laws is often looked upon as controversial, as many 'perceive' it Anti-Women. Due to this grey area - where we demand Equality in the true sense for all genders - most brands distance themselves from advertising on a portal like ours.
We, therefore, look forward to your support as donors who understand our work and are willing to partner in this endeavour to spread this cause. Do support our work to counter one sided gender biased narratives in the media.
To make an instant donation, click on the "Donate Now" button above. For information regarding donation via Bank Transfer, click here.
Alternately, you can also donate to us via our UPI ID: voiceformenindia@hdfcbank