Society stands up against the practice of Demanding Dowry, but hails Alimony being paid to wives (without any fault of husband) by threatening and pressuring the Men.
The below case pertains to April 2021 from Bengaluru, when a married man was compelled to end his life after he was allegedly pressurised by an NGO to pay Rs 20 lakh to his estranged wife during divorce.
WATCH VIDEO | 25-Year-Old Man Dies By Suicide After Constant Harassment From In-Laws To Transfer Deceased Father's Money To Wife
Case:
Mohammed Salman Khan, 30, married Rohinaz in 2019 and the couple had one-year-old son.
Yousuf Pasha, brother-in-law of deceased victim, told Bangalore Mirror,
Salman worked at a cafe with his father at Shivajinagar. While the couple was into their second year of marriage, Salman learnt that his wife was having an extra-marital affair and thus took to drinking. 

When Rohinaz got to know that her husband was aware of this affair, she started pressurising him for divorce accusing him of being an alcoholic. 
Man Ends Life After Wife, In-Laws Allegedly Filed False Cases & Harassed Him For Rs 1 Crore Alimony Settlement
Adding further, Yousuf said,
Rohinaz then approached an NGO who were working for the 'upliftment of women'. 
NGO Threatens Husband For Alimony
Shabbir, founder of this Women Empowerment NGO, along with one of his criminal colleague Nawaz,  asked Salman and his entire family including elderly parents, to be present so that the matter could be heard and settled. According to Yousuf, Shabbir called Salman and his family couple of times to his office and then started threatening and intimidating them. Yousuf said,
On April 13, 2021, Shabbir and Nawaz threatened Salman to pay up Rs 20 lakh in bonds to Rohinaz, else the NGO would send 200-300 women to harass him.

They also informed Salman, that the son's custody would remain with the mother, and not him.
Chennai Man, His Parents Murdered By Wife & Her Family After Alimony Settlement Failed
Salman ended his life on the same evening. Deceased's father Ajmat Khan, filed a police complaint against Shabbir and Rohinaz. Subsequently both were booked for abetment to suicide.
Noida Man Ends Life Alleging Constant Alimony Demand of Rs 60 Lakh By Wife, In-Laws
Suicide Prevention Helpline
Men in distress due to family problems or facing threats of false cases from in-laws can contact either of the Men's Rights NGOs:
You can also contact Government of India 24×7 toll-free mental health rehabilitation helpline 'KIRAN' on 1800-599-0019
Have Women Empowerment NGOs Become Legal Extortion Cells? 
Leave your comments on this case below?
30-Year-Old Man Dies By Suicide After Women Empowerment NGO Pressurises Him To Pay Rs 20 Lakh Alimony – Despite Wife's Extra Marital Affair

▪️NGO threatened to send 200-300 women to harass husband, if he didn't pay up alimony#VoiceForMen @smritiirani https://t.co/P34tuapXR9

— Voice For Men India (@voiceformenind) September 26, 2022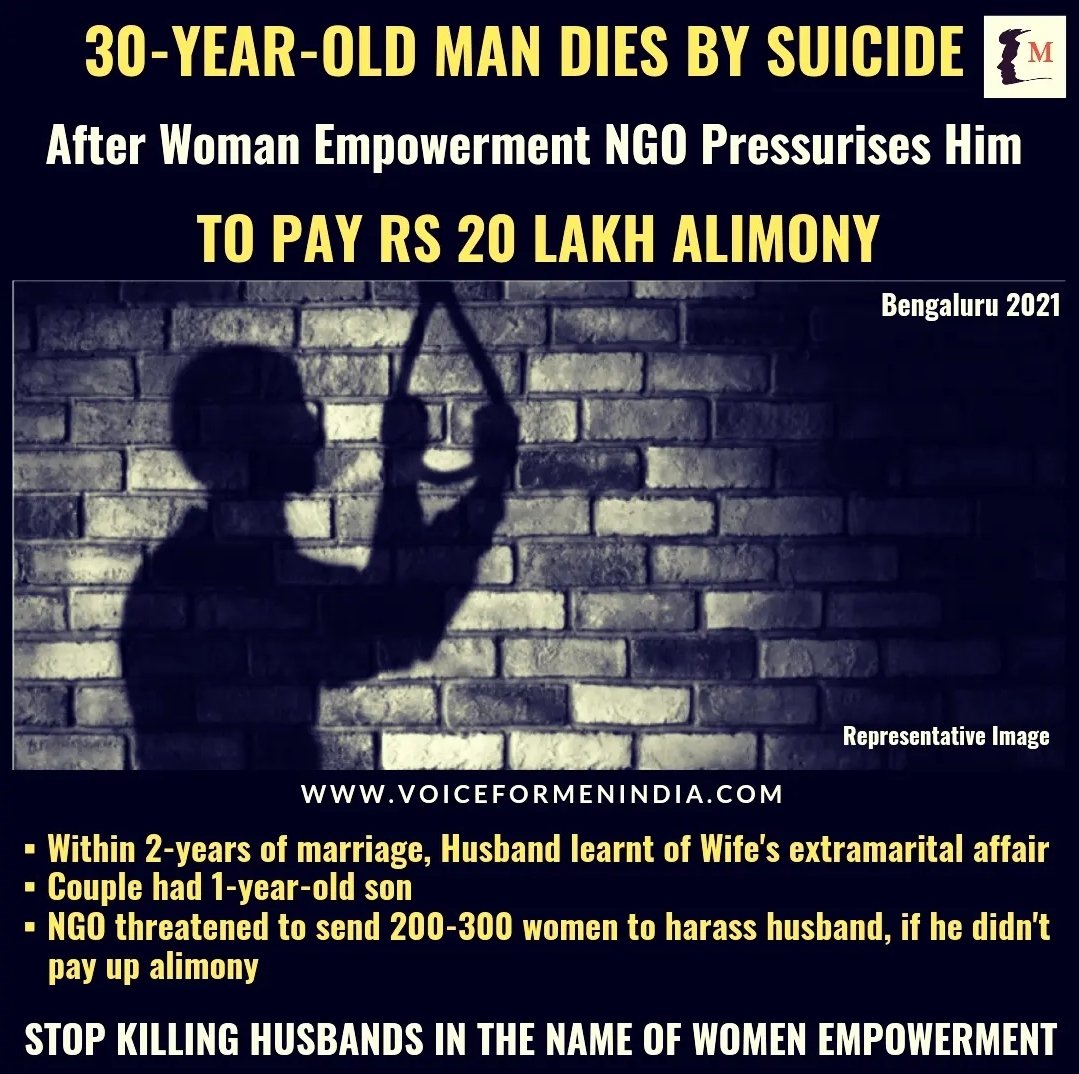 MUST WATCH:
Occasional Adultery No Grounds To Deny Maintenance To Wife | Delhi High Court
Join our Facebook Group or follow us on social media by clicking on the icons below
Donate to Voice For Men India
Blogging about Equal Rights for Men or writing about Gender Biased Laws is often looked upon as controversial, as many 'perceive' it Anti-Women. Due to this grey area - where we demand Equality in the true sense for all genders - most brands distance themselves from advertising on a portal like ours.
We, therefore, look forward to your support as donors who understand our work and are willing to partner in this endeavour to spread this cause. Do support our work to counter one sided gender biased narratives in the media.
To make an instant donation, click on the "Donate Now" button above. For information regarding donation via Bank Transfer, click here.
Alternately, you can also donate to us via our UPI ID: voiceformenindia@hdfcbank