Live-in relationships are on the rise in India. Without being judgemental, these unions mainly stem out from 2 aspects:
1) Freedom to both partners to exit the relationship if it is not working out – without approaching the court for a formal divorce
2) Matter of choice to spend more time with each other, instead of casual dating and returning to respective homes
READ ORDER | Can't Be Rape On Promise Of Marriage If Complainant & Accused Were In Love For Five Years: Karnataka High Court
However, if a live-in relationship does not culminate into marriage for whatever reasons, should a woman be justified to file a case of rape on promise of marriage against her male partner?
Unfortunately, in a recent order dated February 2, 2023, the Allahabad High Court has given grounds in favour of an adult woman to charge her boyfriend as rapist, stating:
It is difficult for a woman to live alone after breaking of live-in relationship.
READ ORDER | Married Woman Cannot Charge Male Partner Of Rape On Promise Of Marriage After Consensual Sex: Kerala High Court
Case:
The complainant (alleged victim) is a married woman with two children. According to her complaint, she was in a live-in relationship with another man for 1 & 1/2 years during which she got pregnant, however, he later refused to marry her. She also claimed that it was her accused partner who had sent her obscene photographs to her husband and thus, as a result, he too had refused to keep her with him. 
Subsequently, she filed case under Sections 376 & 406 of the Indian Penal Code against her male live-in partner. 
The accused then moved an application for bail. 
Uttar Pradesh NCRB Rape Report 2019|57% Cases Account For Rape On Promise Of Marriage
Submissions by Accused
The counsel for the accused man argued that the complainant woman was an adult and had willingly entered into live-in relation-ship with his client. 
The counsel further stated that she was capable of understanding the consequence of such a relationship and there is no allegation that the relationship started with the promise of marriage and the accused should be granted bail.
The accused had been in jail since 24.11.2022 and had no criminal history to his credit.
READ JUDGMENT | Fully Grown Up Lady Who Voluntarily Consented To Sexual Intercourse Cannot Cry Rape On False Promise Of Marriage: Calcutta High Court
Defense by State
The Additional Government Advocate (AGA) opposed the prayer for bail, but could not dispute the above submissions.
Allahabad High Court
While dealing with the bail application in this case, the Allahabad High Court observed that the matter at hand was a disastrous consequence of live-in relationships.
The bench of Justice Siddhartha said,
It is difficult for a woman to live alone after breaking of live-in relationship. The Indian Society at large does not recognise such relationship as acceptable.

The woman, therefore, is left with no option but to lodge first information report against her live-in partner, like in the present case.
READ ORDER | Relationship Was Consensual, But Consent Was Obtained On False Promise Of Marriage: Bombay HC Refuses Anticipatory Bail To Police Officer In Rape Case
However, keeping in mind the arguments put forth by the counsel of the accused man, the high court analysed:
The uncertainty regarding conclusion of the trial
One sided investigation by police, ignoring the version of the accused
Fundamental right of the accused to a speedy trial
The larger mandate of Article 21 of the Constitution along with other factors
Subsequently, plea was allowed and bail was granted. 
LEAVE YOUR COMMENTS ON THIS CASE BELOW:
READ ORDER: "It Is Difficult For Indian Woman To Live Alone After Failed Live-in Relationship"

▪️Allahabad High Court Justifies FIR In Rape On Promise Of Marriage Case#VoiceForMen#FalseRapehttps://t.co/L2PhVhXImC

— Voice For Men India (@voiceformenind) April 16, 2023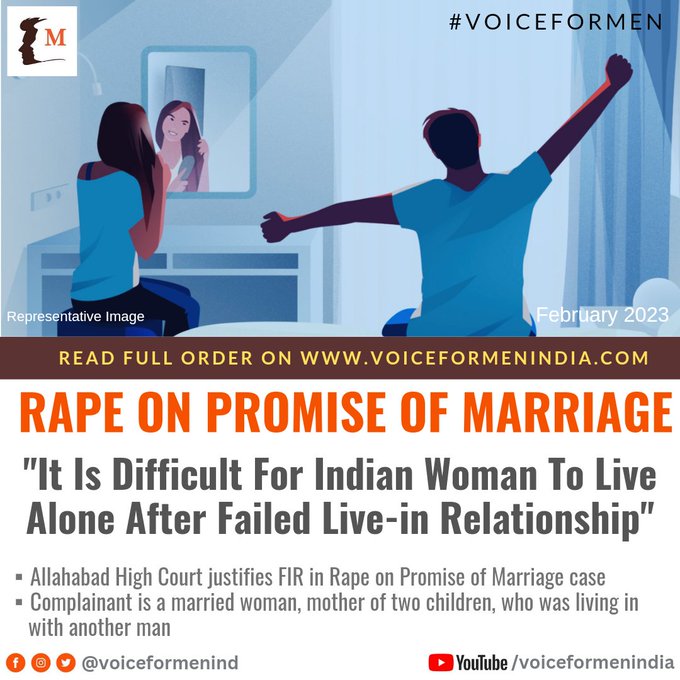 DO WATCH:
Vijay Babu Pre-Arrest Bail Granted By Kerala HC | Discussion With Activist Mithun Vijay Kumar
MUST READ:
Interview | Rape Law On Ground Of False Promise Of Marriage Is Highly Archaic: Hemant Batra (Public Policy Advocate)
Join our Facebook Group or follow us on social media by clicking on the icons below
Donate to Voice For Men India
Blogging about Equal Rights for Men or writing about Gender Biased Laws is often looked upon as controversial, as many 'perceive' it Anti-Women. Due to this grey area - where we demand Equality in the true sense for all genders - most brands distance themselves from advertising on a portal like ours.
We, therefore, look forward to your support as donors who understand our work and are willing to partner in this endeavour to spread this cause. Do support our work to counter one sided gender biased narratives in the media.
To make an instant donation, click on the "Donate Now" button above. For information regarding donation via Bank Transfer, click here.
Alternately, you can also donate to us via our UPI ID: [email protected]