A shocking murder has been reported from the capital, where a woman, along with lover, has murdered her septuagenarian in-laws to acquire family property. National and social media is of course not making much noise here, since the accused happens to be a 'woman'.
Case:
Monika Verma (29) is married to Ravi Verma, (38), and the couple has a six-year-old son. While Ravi and Monika lived on the first floor, former's parents occupied the ground floor of the same building.
Monika got involved with another man and has been in an extramarital affair since two years.
On Sunday, Monika's father-in-law Radhey Shyam Verma (75), a retired vice-principal of a government school, and his wife, Veena (70) were found with their throats slit in their bedroom.
Meerut Twin Murder: Woman Arrested For Murdering Minor Son & Daughter With Help Of Lover
Murder
The set up was planned as murder after robbery gone wrong. However, when the police investigated in detail, they concluded that the senior citizens were brutally killed in their northeast Bhagirathi Vihar's home for family property.
The police subsequently nabbed the victims' daughter-in-law Monika and her alleged boyfriend for plotting the murder.
Police Statement
Speaking with TOI,  Joy Tirkey, DCP (North-East) said,
Monica Verma, the daughter-in-law, got the man with whom she was allegedly in an extramarital relationship and his associate to execute the plan on Sunday night. Rs 4.5 lakh and some jewellery was also missing from the house.
Mumbai Woman & Her Lover Arrested For Murdering Husband After 20-Years Marriage | CRIME HAS NO GENDER | HUSBAND MURDER
Murder Motive
As per police officials, prima facie evidence suggests that Monika was outraged at the 'decision to sell house'. The trigger for the murders seems to be the decision of Verma to sell off the rear portion of the building. He had also accepted Rs 5 lakh as advance. This is what led to Monika allegedly plotting the murder, the cops said.
36-Days After Marriage, Telangana Woman Murders Husband Along With Lover; Had Given Him Rat Poison Too
Murder Execution
As per TOI, the initial police assessment was of a robbery gone awry. However, several clues made the officials conclude that this was an insider's job. Suspicion shifted to Monika, after conflicting statements and technical surveillance of family members and the probable entry for the assailants through rear iron gate which was secured with a small iron rod. She had hidden the killers on the terrace on Sunday.
An officer informed media,
The police control room received a call from the nephew of the deceased around 7.20am on Monday. Senior cops rushed to the murder site under the jurisdiction of Gokulpuri police station. Verma and Veena both had elongated punctures on the left side of their necks.

The woman slept on the cot, and her husband on a wooden bed. Since their bodies both lay on the wife's cot, it appears Verma had tried to save Veena.
Gurugram | Woman Arrested For Planning Husband's Murder To Grab His Property & Marry Her Lover
Murder planned as Failed Robbery
The room adjacent to the couple's bedroom had an almirah and a bed. All the clothes from the almirah were found spread on the bed while the jewellery and cash were missing.
DCP Tirkey revealed police made the breakthrough in the case after technical and human surveillance. He added,
The probe is at an initial stage and more details will be shared at an appropriate time. While police teams are scanning footage from CCTVs in the area, a case for robbery, murder and destruction of evidence has been registered.
Ahmedabad | Wife, Her Alleged Lover Arrested For Getting Husband Murdered In Staged Car Accident Since He Was Obstacle In Relationship
Statement by Accused Woman's Husband
Ravi in his statement told police that they had gone to sleep after dinner on Sunday and had locked their first floor rooms from inside. He said he did not hear anything and it was only in the morning when he woke up that he found his parents dead on the ground floor and the house ransacked.
Ravi further shared that he was so shocked to see his parents dead that he could not even call the cops. He had to ask his cousin Golu, to contact officials immediately.
15-Year-Old Boy Murdered By His Mother, Her Lover As He Became Roadblock In Their Affair
VFMI Take:
Adultery has been decriminalised in India in 2018, however, the same still remains a valid ground for divorce
Having said so, it is almost impossible to prove adultery, and thus even when a husband initiates divorce in such cases, it is him who is burdened to pay maintenance to adulterous wife until final verdict of the court
WHY ARE INDIAN MEN SILENT?

▪️In name of progress, Supreme Court is finishing Marriage System in India

▪️Husbands have been reduced to just financial providers

▪️Who will regulate the Judiciary? @narendramodi@AmitShah@KirenRijiju#VoiceForMen #Chandrachud pic.twitter.com/XQuTlXBaWh

— Voice For Men India (@voiceformenind) October 3, 2022
LEAVE YOUR COMMENTS BELOW:
https://twitter.com/voiceformenind/status/1645738873538899970?s=20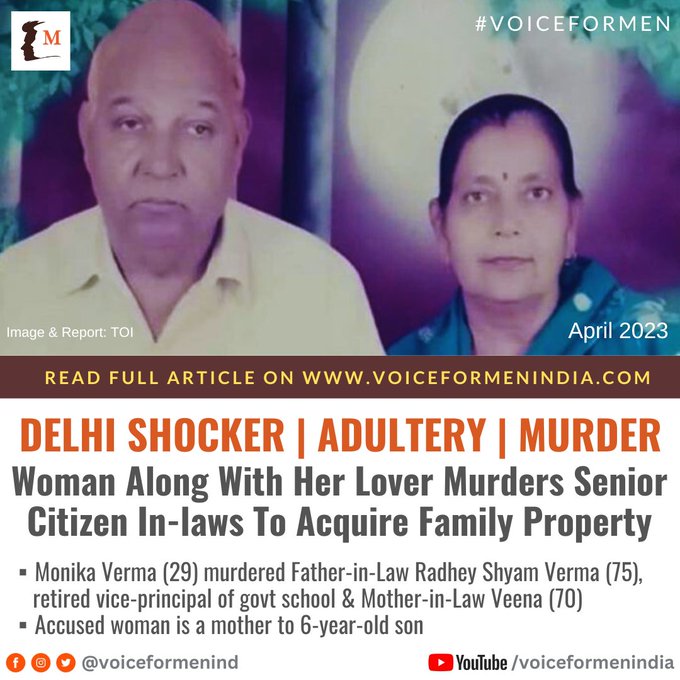 MUST WATCH:
Kapil Sibal Argues For Faster Divorce Process | Irretrievable Breakdown In Marriage | Supreme Court
Join our Facebook Group or follow us on social media by clicking on the icons below
Donate to Voice For Men India
Blogging about Equal Rights for Men or writing about Gender Biased Laws is often looked upon as controversial, as many 'perceive' it Anti-Women. Due to this grey area - where we demand Equality in the true sense for all genders - most brands distance themselves from advertising on a portal like ours.
We, therefore, look forward to your support as donors who understand our work and are willing to partner in this endeavour to spread this cause. Do support our work to counter one sided gender biased narratives in the media.
To make an instant donation, click on the "Donate Now" button above. For information regarding donation via Bank Transfer, click here.
Alternately, you can also donate to us via our UPI ID: voiceformenindia@hdfcbank