Domestic Violence is gender neutral. However, men do not have any laws in India to deal with the same. There are millions of homes in the country today, where married men are suffering in silence.
In a recent case reported from Bijnor in Uttar Pradesh, a woman kept her husband tied in chains for three days, without water and food. After receiving intimation, the police reached the spot and freed the man.
Case:
Mohammad Hashim, a resident of Mohalla Ramnagar, runs a hospital on Moradabad Road. His wife Afreen works at the hospital as well.
Hashim used to work in Kuwait for many years as a civil engineer. Post leaving the job, he opened a hospital in Noorpur. After the death of his former wife, he married Afreen, who was one of the first nurses at his hospital. Hashim has two children from his first marriage.
As per reports, Hashim and Afreen have been involved in matrimonial disputes since their marriage and both have filed many complaints against each other.
Domestic Abuse
On Tuesday, the police received information that Mohammad Hashim was imprisoned in his home by his wife. When they reached the spot and opened the room, they found Hashim lying there tied in chains. The man was freed and admitted to a hospital. A medical has also been done.
It was learnt that Hashim had not been given any food or water since three days and was tortured by his wife.
Police Statement
Speaking with media, the police said:
When some passers-by heard a moaning sound from the room on the second floor of a house located on Moradabad Road in Noorpur police station area of ​​the district, they informed us about it.

When we went to the spot, we saw a person lying on the window of the room with his hands and feet tied in chains. We freed him from the chains and gave him water. 
Police Station President Neeraj Sharma added,
Hashim informed us that his wife had kept him tied in chains and locked him in the room for three days. During this, he was not even given food and water. He has given a complaint against his wife Afreen.

The couple is having a dispute since a long time. Hashim's medical has been done. The case is being investigated.
The police claimed that there is a property dispute between the two as well. According to the police, the truth will be ascertained soon. 
LEAVE YOUR COMMENTS BELOW:
#Bijnor: Woman Ties Husband In Chains Without Food & Water For Three Days; UP Police Comes To His Rescue

▪️India does not recognise domestic violence against men as a law#VoiceForMen https://t.co/SbmLKTvm2y

— Voice For Men India (@voiceformenind) April 13, 2023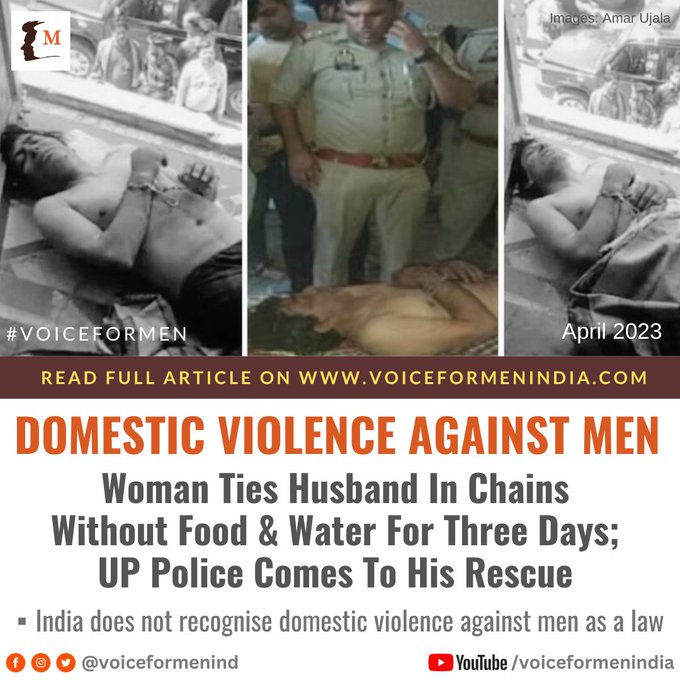 ALSO WATCH:
Wife Constantly Threatened Suicide; I Was Victim Of Domestic Violence | Voice For Men India
DO READ:
ANI Publishes One-Sided Triple Talaq Allegation | Read Husband's Version & Court Order
Join our Facebook Group or follow us on social media by clicking on the icons below
Donate to Voice For Men India
Blogging about Equal Rights for Men or writing about Gender Biased Laws is often looked upon as controversial, as many 'perceive' it Anti-Women. Due to this grey area - where we demand Equality in the true sense for all genders - most brands distance themselves from advertising on a portal like ours.
We, therefore, look forward to your support as donors who understand our work and are willing to partner in this endeavour to spread this cause. Do support our work to counter one sided gender biased narratives in the media.
To make an instant donation, click on the "Donate Now" button above. For information regarding donation via Bank Transfer, click here.
Alternately, you can also donate to us via our UPI ID: voiceformenindia@hdfcbank