The term 'harassment' is very subjective. However, women today, have been empowered to dial police at the drop of a hat and complaint against anyone randomly.
In a recent incident reported from the Lucknow University in Uttar Pradesh, a female student in her first year of M.A. (Arabic) created ruckus after she was not allowed to enter classroom.
Hyderabad University Professor Dies By Suicide Due To Alleged Family Issues & Depression
Here's What Happened
On Wednesday, Prof Aslam Islahi was taking his class when the female student turned up and entered the classroom in the middle of the lecture. The professor asked her to leave as he would not allow even other students who came late to class or resorted to indiscipline.
Reacting to this, the female student called up police by dialling 112 and accused the professor of harassing her. She informed the police that the teacher has always been biased against her as she belongs to a "different sect".
This led to a heated conversation between the student and the teacher.
The teachers from other departments and students from other classes soon arrived to witness the commotion.
Complainant Woman Sends Legal Notice To Former Panjab University V-C For Making Committee Proceedings Public
No Action by Police
The police did not act against the professor as the student refused to give a written complaint. In fact, she soon left the university and did not even speak with any media persons present at the spot.
Department Demands Action Against Student
On the other hand, now the teachers of the Arabic department have collectively lodged a complaint at the proctor office against the student claiming that she had been giving a tough time to the faculty members through her attitude. As per a TOI report, Prof Islahi said,
We expect that the university administration will take some action against her for indiscipline.
Assam University Professor Dies Of Suicide After Being Named In Harassment Case By Girl Student
Another teacher said:
The student addresses teachers and officials disrespectfully and keeps pointing out flaws in everything in the department, including washrooms, syllabus and lectures. She even takes teachers to task if they are late for a class by a few minutes.
WATCH | Jammu University Professor Dies By Suicide After He Was Suspended Over Sexual Harassment Complaint
Students Divided
The students of the class were however divided on this matter. Some of them said that the female student may not be fully wrong in pointing out teachers coming late as well. One of the students quoted:
If students can be denied entry for coming late to the lecture, why can't a teacher be held accountable for coming late to the class.
Another student added that the condition of washrooms was indeed bad.
Proctor Rakesh Dwivedi said:
It's a sensitive matter and the said student seems to need counselling. Hence, we have requested the psychology department to extend help to her.
LEAVE YOUR COMMENTS BELOW:
https://twitter.com/voiceformenind/status/1646437040823717891?s=20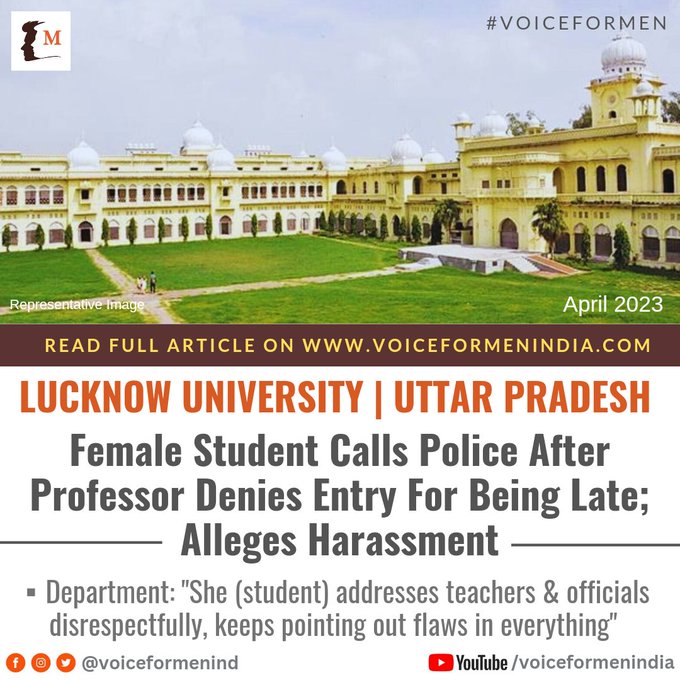 DO WATCH:
Chandigarh University Case | Peepoye Akassh Gupta | Rankaj Verma Was Never Involved | Voice For Men
Join our Facebook Group or follow us on social media by clicking on the icons below
Donate to Voice For Men India
Blogging about Equal Rights for Men or writing about Gender Biased Laws is often looked upon as controversial, as many 'perceive' it Anti-Women. Due to this grey area - where we demand Equality in the true sense for all genders - most brands distance themselves from advertising on a portal like ours.
We, therefore, look forward to your support as donors who understand our work and are willing to partner in this endeavour to spread this cause. Do support our work to counter one sided gender biased narratives in the media.
To make an instant donation, click on the "Donate Now" button above. For information regarding donation via Bank Transfer, click here.
Alternately, you can also donate to us via our UPI ID: voiceformenindia@hdfcbank