Marriage is a gamble, whether you live in India or anywhere in the world. Whether we should look at marriage as some end goal of life which cannot be ever broken is also debatable.
We live in times where adjustments for most youngsters, is a big no, while expectations from our partners are very high. We live in times where infidelity is also justified. One of our Voice For Men India followers has poured his experience below, where he shares how his love marriage turned into a bitter nightmare. This one instance also deters him to trust women around him any more.
Gujarat: Valsad Professor Acquitted From False Rape Charges Of His Minor Daughter After Spending Two-Years In Jail
His Story: #VoiceForMen 
I am sharing my story with you. For privacy reasons, I have chosen an anonymous email. I am not sharing this for gaining sympathy, but just to show that often men have to suffer silently in this society.

I come from a highly educated family. I fell in love with a girl from a metro city while doing my MBA. I was very clear from the beginning that I wanted marriage. I hail from a non-metro city. So casual affairs, one night stands, dating, etc. were new concepts for me and I never was okay with these.

She also seemed like a good person. As times passed, I met with her family and also attended her brother's wedding. Subsequently, I introduced her to my family as well.
WATCH VIDEO | Patna Woman Forcefully Drags Husband Home When He Arrives At Court For Divorce Case
I Was Not Trendy Enough!
There were issues between us, but primarily from her side, as she always felt that I am not "trendy enough" because I used to dress conservatively unlike her male friends from Mumbai who appeared more "cool" in tee-shirts and shorts. Anyways, few years later we got married.
Marriage & Domestic Violence
There were many issues after we tied the knot. She started throwing and breaking things around. By now, she had also started abusing me verbally. We lived independently (and no parents or parents-in-laws were involved in this mess).

Soon, her verbal abuses turned to physical attacks where she would hit and push men. On one particular night, I couldn't take her beatings anymore and pushed her after she was assaulting me. Due to this, she fell on the sofa, but was not hurt at all.

But being a woman, she took advantage of the situation and raised such a large hue and cry, called her parents on the phone, who rang up some aunty. Later at 1am that night, she just left and went to that aunt's place.

Next day, my wife walks into the police station and gives a complaint (not a FIR) against me. At this point in time, the police made note of her complaint, but thankfully did not register any case of FIR immediately against me. They told her to return, if similar situation occurs in the future. 

I was shocked how my wife turned my one push into a police complaint, whereas on several occasions, I was on the receiving end from her side. 
Alwar School Principal Domestic Violence Case | I Suffered In Silence Because Of Our Son
Separation
Things only got worse, so I finally moved out of this ugly union after 2.5 years, and filed for a divorce by mutual consent on the grounds of incompatibility. In fact, it was her who was more keen to end the marriage asap because she had found another guy in the UK on a work-trip of hers.

Now comes the interesting part.
Post Divorce
After our divorce, my ex-wife had called me to clear her 'guilt'. She invited me to her place and informed me of several things which completely left me numb.

She spoke about how she had cheated on me with four different men, while being with me in the marriage and even when we were dating.

She told me how she had become physically intimate with another (wealthier) guy, who was wooing her while she was my girlfriend. She was also having a scene with her boss when we were contemplating marriage.

Post our marriage, she had sex with a German guy when we were on a tour in Europe. She had got acquainted with this man first when she attended her friend's wedding in Kolkata. And then finally, she was deeply involved with the current Indian guy based in the UK, while she travelled alone for her work-trips.

Imagine my situation! I felt like a fool all this while.
My Mom Got Into Affair, Left My Dad….& Then I Got StepMom | His Story | Speak Up Men
Felt Like Ending Life
When I learnt of these affairs, I just felt like ending my life. All of those wedding pictures, those festivities meant nothing. Those millions of things I did for her were all proof of how I was taken for a ride.

It has been many years since all of this, and I have sort of moved on.

But still I do get very angry when I think about the past. I also got into depression because of all this. I still have anxiety issues when my family asks me to get married again. That relationship was my only relationship and since then I have never been able to trust a girl.
Being A Man, I Was Constantly Blamed During Marriage
I recall how my ex-wife would immediately call her parents and my parents complaining about me all the time back then when we were married. So most of the people still think that maybe I had some flaws in me. I never shared this ugly truth with any of my friends or family, because I felt so ashamed to even talk about these things. The only person whom I spoke to regularly was my psychologist who helped me a lot.

I have come out of my depression, but my relationship anxiety still continues. I have not been able to meet a single girl since then. I match sometimes on these dating apps / shaadi-type apps, but at the last moment I chicken out because I just don't know how to trust girls anymore.
Raped By Our Wives Without Consent; Why Is Marital Rape Debate Not Gender Neutral?
Share My Experience With Other Men
I am a mid-level professional and have worked / traveled to more than 20+ countries in my life. People who only see this bright side of my life think "oh he is so lucky, he's doing great in life". Yet, it is only me who knows how much pain and hurt I carry in my heart.

You can share my story on your social media channels to show that there are honest guys like me who suffer silently. Yet I consider myself lucky that she and her family didn't file any false cases.
LEAVE YOUR COMMENTS ON THE TWEET BELOW:
"Post Divorce My Ex-Wife Told Me About Her Affairs While We Were Dating & Married; I Can't Trust Anyone Now For Remarriage": #HisStory

▪️"Being a man, everyone blamed me during our fights when we lived together. Today I feel like a fool"#VoiceForMenhttps://t.co/EaBgSG4Rwd

— Voice For Men India (@voiceformenind) April 2, 2023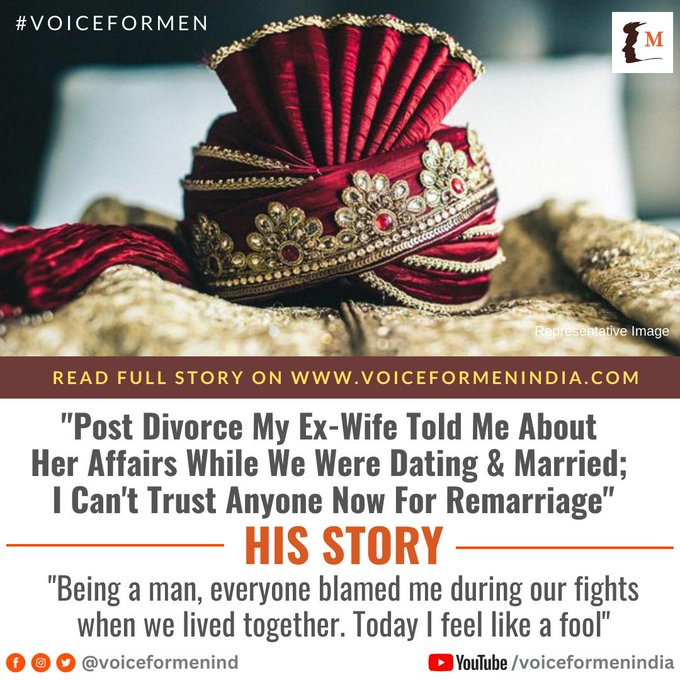 ALSO WATCH:
Domestic Violence On Men: Bengaluru Man Uploads Video Pleading For Rescue & Help From Abusive Wife
Join our Facebook Group or follow us on social media by clicking on the icons below
Donate to Voice For Men India
Blogging about Equal Rights for Men or writing about Gender Biased Laws is often looked upon as controversial, as many 'perceive' it Anti-Women. Due to this grey area - where we demand Equality in the true sense for all genders - most brands distance themselves from advertising on a portal like ours.
We, therefore, look forward to your support as donors who understand our work and are willing to partner in this endeavour to spread this cause. Do support our work to counter one sided gender biased narratives in the media.
To make an instant donation, click on the "Donate Now" button above. For information regarding donation via Bank Transfer, click here.
Alternately, you can also donate to us via our UPI ID: voiceformenindia@hdfcbank