We are not sure whether the medium of cinema is inspired by society or the society is getting too much influenced with what is being shown in movies or on OTT shows!
In a recent case reported from Bengaluru, a 30-year-old food delivery agent was beaten up by angry occupants of an apartment, after an eight-year-old girl made a false complaint that the agent had forcibly taken her to the terrace.
Rajasthan | 43% POCSO Cases Reported From Alwar & Bharatpur In 2022 Are False: Report
Case:
On June 12, around 09.40am a couple who lived at the Electronics City found their eight-year-old daughter missing from their seventh-floor flat, after they returned home dropping off their five-year-old son to school. The parents were aghast as the main door was locked from outside.
Soon, the couple started searching for their child and the neighbours too joined in. After about 30 minutes, one of the neighbours spotted the girl on the terrace. When her parents questioned her how did she manage to reach there, the minor girl replied:
A food delivery agent rang the doorbell. When I opened the door, he dragged me to the terrace. I bit his hand to free myself.
The parents immediately alerted all security guards asking them to prohibit any delivery agent from exiting the society.
Mumbai Police Commissioner Sanjay Pandey Forced To Revise POCSO Circular Issued To Curb False Cases
Girl Identifies Delivery Agent
The girl then even identified one of the agents accusing him of misconduct. Hearing this, the angry parents along with other residents thrashed the man up and locked him in the room meant for security personnel.
Soon the local police was also summoned.
While all this was happening with the accused, couple of other delivery agents who had come to deliver consignments at the same apartment, heard about the incident and went on protest near the main gate.
No Reason For Daughter To Give False Statements Against Her Father | Karnataka HC Overturns Trial Court Acquittal In POCSO Case
Plot Unfolds
The next day, police visited the apartment and collected the CCTV footage from the seventh floor. However, there was no CCTV camera installed to cover the steps leading to the terrace.
Footage from a CCTV camera installed  revealed
Later on Wednesday, police found a CCTV camera installed outside a paying-guest accommodation next to the apartment on Neeladri Road, which revealed that the girl went to the terrace alone and was spotted playing there.
Speaking with TOI, an investigation officer shared,
As we scanned the footage, we were shocked to see the girl walking up to the terrace alone and playing for some time. Her parents too were shocked when we showed them the footage.
When the 8-year-old girl was questioned, she confessed to having cooked up a false story. The minor then informed the officials:
I was scared that my parents would beat me up for playing during class hours.
'Strict' Father Charged With Rape Of Own Daughters Acquitted After Spending 6-Years In Jail
Parents Apologise, Agent Forgives
Upon learning the truth, the girl's parents apologised to the delivery agent.
After viewing the CCTV footage himself, the agent chose to forgive the girl and her parents stating:
My daughter is around five years old and I can understand your trauma. I don't have anything personal against you all, but I felt sad when people beat me up even after said I was innocent and that the girl was lying.
Infact, the police guided him that he could file a counter-complaint. To this, he said,
Soon, I will be moving back permanently with my wife and daughter to my home state of Assam. Filing a complaint here means visiting the city for further legal formalities and court trials, which I cannot afford.
Speaking with TOI, the agent shared his trauma and said,
I still feel the pain in my shoulders. Every person accompanying the couple beat me up, along with the security guards. Don't know why she made the false claim.

My manager has granted me sick leave. I really thank Electronics City police for scanning the CCTV footage, which saved me. My biggest worry, though, is: What if there was no CCTV camera?
Assam Court Sends Woman To Judicial Custody For Filing False Rape Case Owing To Land Dispute Between Her & Accused
Following this story, Himanta Biswa Sarma, Chief Minister of Assam took to Twitter and wrote:
The acute harassment & trauma being faced by a delivery agent from Assam over fake charges, is extremely disturbing. I request the Hon'ble Chief Minister of Karnataka to kindly ensure that adequate protection and justice is delivered to the said individual.
Assam Boy Commits Suicide After Kangaroo Court Fines Him Rs 42,000
Subsequently, Bengaluru police posted their detailed response to the Assam CM:
The patrol officers swiftly resolved the issue by obtaining CCTV footage from a nearby building. The footage revealed that the girl had left on her own, dispelling the allegations made. The officers warned the apartment residents who had acted hastily against the victim.

The victim's complaint has been duly received, further action will be initiated. To prevent future occurrences, the @BlrCityPolice will conduct community outreach meetings with apartment RWAs to raise awareness about such issues.

We are committed to unwaveringly stand by the victims and vulnerable sections, ensuring their lives are dignified and free from discrimination.
The patrol officers swiftly resolved the issue by obtaining CCTV footage from a nearby building. The footage revealed that the girl had left on her own, dispelling the allegations made. The officers warned the apartment residents who had acted hastily against the victim. (1/3)… https://t.co/LmxonN5HEx

— ಬೆಂಗಳೂರು ನಗರ ಪೊಲೀಸ್‌ BengaluruCityPolice (@BlrCityPolice) June 17, 2023
The above was later acknowledged by Himanta Biswa Sarma.
Thank you for your prompt response https://t.co/YDOD8lFMse

— Himanta Biswa Sarma (@himantabiswa) June 17, 2023
Where is our society heading when even an 8-year-old girl gathers courage to accuse any man randomly of such grave offences? 
DO WATCH & COMMENT
LEAVE YOUR COMMENTS BELOW:
#Bengaluru: 8YR Girl Falsely Accuses Delivery Agent Of Dragging Her To Terrace; Gets Him Beaten Up

▪️Minor: "I was scared my parents would beat me up for playing during class hours"

▪️@himantabiswa reacts since agent hails from Assam#VoiceForMenhttps://t.co/MO6g06Gu8N

— Voice For Men India (@voiceformenind) June 19, 2023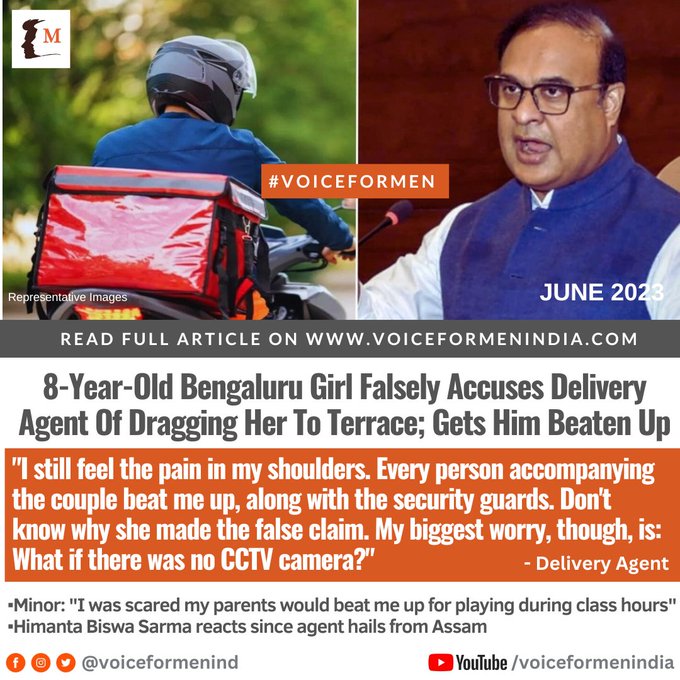 DO WATCH:
At Least Have Some Laws For Men In Matrimonial Cases | Voice For Men India
ALSO READ:
Assam: 72-Year-Old Man Dies By Suicide After Being Honey Trapped By College Girl Who Uploaded Their Sex Video On Porn Site
Join our Facebook Group or follow us on social media by clicking on the icons below
Donate to Voice For Men India
Blogging about Equal Rights for Men or writing about Gender Biased Laws is often looked upon as controversial, as many 'perceive' it Anti-Women. Due to this grey area - where we demand Equality in the true sense for all genders - most brands distance themselves from advertising on a portal like ours.
We, therefore, look forward to your support as donors who understand our work and are willing to partner in this endeavour to spread this cause. Do support our work to counter one sided gender biased narratives in the media.
To make an instant donation, click on the "Donate Now" button above. For information regarding donation via Bank Transfer, click here.
Alternately, you can also donate to us via our UPI ID: voiceformenindia@hdfcbank