Men can be vulnerable as much as the women. In a shocking incident reported from Assam, a 72-year-old man died by suicide, after a college girl uploaded their intimate moments on a porn site.
The police have arrested the girl and launched an investigation into the allegations.
Assam Boy Commits Suicide After Kangaroo Court Fines Him Rs 42,000
Case:
72-year-old unmarried man was allegedly trapped by a young college going girl named Darshana Bharali who lured him into having a physical relationship with her. She then secretly recorded their private video on a porn site, which led to the man ending his life.
The incident took place at Dhekeliya village in Jorhat district of Assam. The accused girl is a student with a top college in the same city.
After the suicide, women in the village came out in protest against Darshana and subsequently she was arrested by local police.
Assam Lady Singham Who Nabbed Fiance Last Month On Charges Of Corruption Herself Faces Arrest
Statement By Locals
As per a media statement given by the locals, the deceased was a simple man. Darshana had invited him to her house when her parents were not home. She used to call him 'Bordeota'...a term used for elder brother of father in the Assamese language.
What Victim Informed Locals Before Ending Life
Before killing himself, the victim informed his neighbours that the girl had trapped him. He expressed how Darshana invited him to her home, where she gave him 'some pill' after which he was not in his senses.
It is alleged that the accused had meticulously planned to trap the elderly man. Later, when the two engaged in a sexual encounter, the girl secretly recorded the act using her mobile phone. She also proceeded to upload the video to a pornographic website, which quickly spread throughout the Jorhat district, causing immense shame and humiliation for the deceased and his family.
Assam University Professor Dies Of Suicide After Being Named In Harassment Case By Girl Student
Family Demands Justice
The family of the deceased has demanded swift and severe action against the accused girl after she dragged the victim to die by suicide, thereby bringing shame to the family.
Girl Seen In Videos With Other Men On Porn Site
After the incident came to light, it was revealed that this was not the first video uploaded by Darshana Bharali. Incidentally, several other videos of the girl in compromising position with different men have been recovered from porn sites. In all the incidents, the men were reportedly trapped by Darshana.
Assam Court Sends Woman To Judicial Custody For Filing False Rape Case Owing To Land Dispute Between Her & Accused
Police Statement
The matter is being investigated and an officer involved in the case informed media,
The accused girl's pattern of behavior suggests a disturbing trend of exploiting unsuspecting individuals and publicly shaming them for personal gain. The authorities are determined to hold her accountable for her actions and prevent further harm to others.
According to the villagers, the girl cannot do this alone, and there is someone else behind her. They believe that she is a bright student, and is being misled by someone else.
---
Suicide Prevention Helpline
Men in distress due to family problems, facing threats of false cases from in-laws OR facing false cases by women after failed consensual relationships can contact either of the Men's Rights NGOs:
You can also contact Government of India 24×7 toll-free mental health rehabilitation helpline '
KIRAN

' on 1800-599-0019
---
LEAVE YOUR COMMENTS BELOW:
#Assam: 72Yr Man Dies By Suicide After Being Honey Trapped By College Girl Who Uploaded Their Sex Video On Porn Site

▪️Darshana Bharali is studying at top college in Jorhat
▪️Her multiple videos with other men have surfaced on porn sites
▪️Arrestedhttps://t.co/ZvklFCa0xa

— Voice For Men India (@voiceformenind) May 9, 2023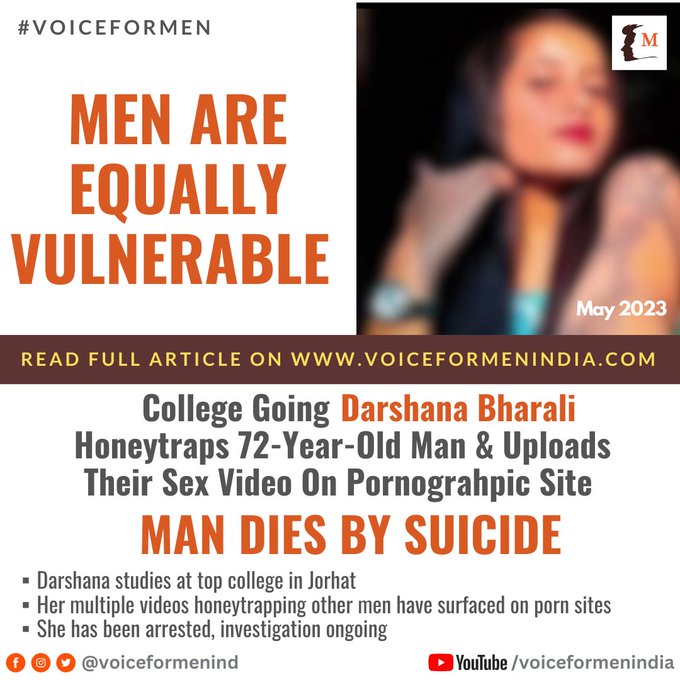 DO WATCH:
Vijay Babu Pre-Arrest Bail Granted By Kerala HC | Discussion With Activist Mithun Vijay Kumar
youtube.com/watch?v=9-hFIN-d6zE&t=14s
ALSO READ:
Lucknow University: Female Student Calls Police After Professor Denies Entry For Being Late; Alleges Harassment
Join our Facebook Group or follow us on social media by clicking on the icons below
Donate to Voice For Men India
Blogging about Equal Rights for Men or writing about Gender Biased Laws is often looked upon as controversial, as many 'perceive' it Anti-Women. Due to this grey area - where we demand Equality in the true sense for all genders - most brands distance themselves from advertising on a portal like ours.
We, therefore, look forward to your support as donors who understand our work and are willing to partner in this endeavour to spread this cause. Do support our work to counter one sided gender biased narratives in the media.
To make an instant donation, click on the "Donate Now" button above. For information regarding donation via Bank Transfer, click here.
Alternately, you can also donate to us via our UPI ID: [email protected]