Did you know a woman in India can file a case of rape, if the male partner backs out from marriage after consensual relationship? While most of the men are not aware of these rape laws, below report is a classic example how our courts are flooded with such cases.
In an order dated May 4, 2023, the Bombay High Court has acquitted a senior citizen man from charges of rape of his female partner (on promise of marriage).
Don't Think Grant Of Bail Is Unwarranted | Supreme Court On Vijay Babu's Alleged Rape On Pretext Of Marriage Case
Case:
Mr X (68) had been in a consensual relationship with Ms Y (61) since the year 2005.
According to a report by PTI, the complainant who was 54-years-old in 2015, registered an FIR with police alleging that the man, who was 60-years-old then, had forced physical relations with her on multiple occasions since ten years under false pretext of marriage. Subsequently, the accused senior citizen was booked under various sections of the Indian Penal Code for rape, molestation and criminal intimidation.
Sonia Gandhi's 71-Year-Old Personal Secretary Booked On Charges Of Rape On Pretext Of Marriage | Accused Cries False Case
Background:
The woman, who works as a headmaster in a school at Pune, separated from her first husband and later remarried. Unfortunately, she lost her second husband in an accident. The accused was the chairman of the school where the complainant worked.
According to the FIR, she alleged that the man claimed that he was unhappy in his marriage and expressed desire to marry her. This is why she got into a relationship with him in the year 2005 and the same continued until 2015. However, when the marriage did not take place, the woman lodged the complaint alleging that he used to physically abuse her when she demanded marriage.
Ahmedabad Woman With Three Husbands Accuses Live-In Partner Of Rape On Pretext Of Marriage
Bombay High Court
Justice Bharati Dangre of the Bombay High Court heard the matter and remarked that the senior citizen couple was in a consensual relationship and the physical relations were not forced. The High Court also observed that it was a relation between two adults, who were capable of understanding the consequences of their actions. 
Justice Dangre said,
It was a relationship between two adults, capable of understanding the consequence of their actions, and by no stretch of imagination, it could be inferred that the physical indulgence was without the consent of the woman or against her will.
Mithun Chakraborty's Son Mimoh Accused Of Rape On Pretext Of Marriage By Former Girlfriend
The court also noted the ten year long period that the woman shared a physical relationship with a man, who she knew was married.
With regards to rape charges, Justice Dangre said that the offence of rape is attracted when the act is done "against will and without consent" of the woman. Noting that the relationship continued for a decade, the High Court stated that it can be easily inferred as "mutual and consensual".
Acquitting the accused man, the High Court concluded,
There is no reason to infer that the relationship shared was a forced one. It is also not a case where a young woman is lured into a physical relationship by a man under the pretext of marriage.
LEAVE YOUR COMMENTS BELOW:
https://twitter.com/voiceformenind/status/1656589141906268161?s=20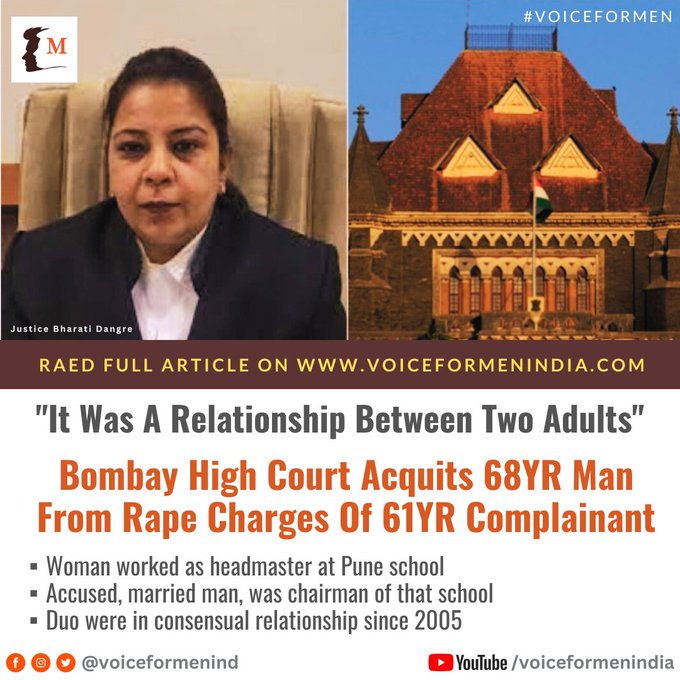 DO WATCH:
No Maintenance To Educated Wife | Interview | Kanupriya Kejriwal, Matrimonial Lawyer
Join our Facebook Group or follow us on social media by clicking on the icons below
Donate to Voice For Men India
Blogging about Equal Rights for Men or writing about Gender Biased Laws is often looked upon as controversial, as many 'perceive' it Anti-Women. Due to this grey area - where we demand Equality in the true sense for all genders - most brands distance themselves from advertising on a portal like ours.
We, therefore, look forward to your support as donors who understand our work and are willing to partner in this endeavour to spread this cause. Do support our work to counter one sided gender biased narratives in the media.
To make an instant donation, click on the "Donate Now" button above. For information regarding donation via Bank Transfer, click here.
Alternately, you can also donate to us via our UPI ID: [email protected]