Some false cases can break your faith in humanity. In a recent report from Mumbai, a 53-year-old man was acquitted by a special POCSO court after he spent six years in jail on charges of sexually assaulting his two daughters, aged 10 and 17,
The Court concluded that the testimony of the alleged victims (daughters) and others were not trustworthy.
READ ORDER | False POCSO Charges Against Father Embroiled In Custody Battle Can't Be Ruled Out: Kerala HC Grants Anticipatory Bail
Case:
The case was registered by the daughters against their father in June 2017.
The 17-year-old daughter suffered from cerebral palsy. It was alleged that the father used to rape both minor daughters. The younger daughter, who was 10-years-old then, narrated this to her neighbour who was a relative of the landlady.
The relative and the landlady then took the children to the police station and subsequently, the father was arrested.
WATCH | Refused To Transfer Property In Her Name, Woman Sends Husband To Jail On False Rape Charges Of Minor Daughter
A total of 10 witnesses deposed in the court, including the younger daughter, landlady and their neighbour. In the cross examination, the daughter accepted that she along with her sister and brother were living with paternal grandmother in different part of the city. Their father was not staying with them. She then informed the court that the father would pick them up and drop them at the school, and was a caring father.
On the other hand, the landlady failed to identify the accused in court as her former tenant. She said she did not know the person to whom her room was given on rent.
READ JUDGEMENT | Woman Can Also Be Held Guilty Of Gang Rape If She Has Facilitated Act Of Rape With Group Of Persons: Allahabad High Court
Father's Statement
The father throughout denied the allegations and argued that a false case was filed against him as he was strict with his daughters.
READ ORDER | Allahabad High Court Grants Bail To Accused Man In POCSO Case After Parents Of 8-Year-Old Girl Refuse To Get Her Medically Examined
Mumbai Court
At the outset, the court pointed out that all three – the child, landlady and the neighbour had given different versions of the alleged sexual assault.
The court added that the medical evidence did not support the victim's version of multiple penetrative sexual assaults by her father. The court then said before coming to reside in a rented room along with her father and sister, she was residing with her paternal grandmother. The court remarked:
She is closer to her grandmother than her father. Under such circumstances, natural conduct of victim would be to disclose the incident of sexual assault to her grandmother but, she remained silent for two months and all of a sudden disclosed the matter to her neighbour and room owner. This behavior of the victim girl appears strange and unconvincing.
Assam Court Sends Woman To Judicial Custody For Filing False Rape Case Owing To Land Dispute Between Her & Accused
The court also questioned why the child had remained silent for two months before revealing the incident to her neighbour.
The court then referred to the minor girl's testimony that the father was taking care of their everyday needs. The court concluded,
From this cross-examination, it is clear that the accused was the caring father when the victim and her sister were staying with him. 
LEAVE YOUR COMMENTS BELOW:
'Strict' Father Charged With Rape Of Own Daughters Acquitted After Spending 6-Years In Jail

▪️Daughters were 17 & 10
▪️Elder daughter suffered from cerebral palsy
▪️Father kept alleging false case against him bcause he was strict with them#VoiceForMenhttps://t.co/n6AomYpemO

— Voice For Men India (@voiceformenind) May 24, 2023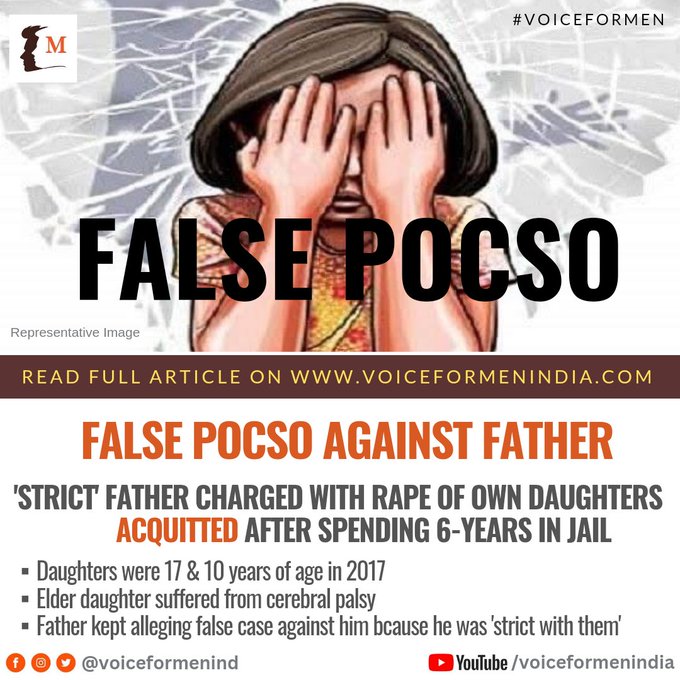 DO WATCH:
NRI Fathers Suffering Child Abduction To India By Estranged Wives | Voice For Men India
https://www.youtube.com/watch?v=r6X9Q0TuQ2s
Join our Facebook Group or follow us on social media by clicking on the icons below
Donate to Voice For Men India
Blogging about Equal Rights for Men or writing about Gender Biased Laws is often looked upon as controversial, as many 'perceive' it Anti-Women. Due to this grey area - where we demand Equality in the true sense for all genders - most brands distance themselves from advertising on a portal like ours.
We, therefore, look forward to your support as donors who understand our work and are willing to partner in this endeavour to spread this cause. Do support our work to counter one sided gender biased narratives in the media.
To make an instant donation, click on the "Donate Now" button above. For information regarding donation via Bank Transfer, click here.
Alternately, you can also donate to us via our UPI ID: [email protected]