Provisions of the POCSO Act are to safeguard our children and give them justice at the earliest. However, it is beyond imagination when even children are allegedly used as pawns to either settle personal score or take revenge or misuse one's power. 
In one such incident, the Allahabad High Court in its order dated September 02, 2022 granted bail to an accused man who was booked for committing an Aggravated Sexual Assault (punishable under Section 10 of the POCSO Act) upon a 8-year-old girl.
The bail was granted after the parents refused to get their daughter medically examined.
Assam Court Sends Woman To Judicial Custody For Filing False Rape Case Owing To Land Dispute Between Her & Accused
Case:
The parents of an 8-year-old girl alleged that in their absence, one Manoj Saxena, a dish repairing technician, who had visited their house, sexually assaulted their daughter after he found her to be alone.
The parents accused the technician of committing vulgar activities with their daughter. As per the FIR lodged by the parents, Manoj ran away from their home, when their daughter made hue and cry while she was being allegedly molested.
Thane Man Falsely Accused Of Rape By Step Daughter Acquitted After He Spent 7-Years In Jail
Statement by 8-Year-Old Victim
In her statement recorded under Section 161 Cr.PC, the minor stated that when the accused came in her house, to repair the dish connection, he inserted his hand in her clothes and kissed her on the lips.
As per her statement recorded under Section 164 Cr.P.C., the young girl also alleged that the accused held her tightly and kissed her lips, inserted his hand into her panty, and also pressed her breast by inserting his hands therein.
READ ORDER | Allahabad HC Fines Rs 10K Cost On Woman For Filing False Rape FIR To Build Pressure On Accused For Marriage
Arguments By Accused Man
On behalf of the accused, it was argued that the allegations made in the FIR were generic in nature, and as per the statements of the victim recorded under Sections 161 and 164 Cr.P.C., no ingredient of Section 376 IPC (rape) is made out.
Further, it was argued that the parents of the victim refused the medical examination of the victim and that no injury had been found on the person of the victim. It was further argued that the father of the victim is a policeman and this FIR is only a misuse of that power.
Saint Ends Life Accusing Couple & Women's Commission For Blackmailing Him In False Rape Case
Allahabad High Court
The accused was booked under:
Sections 376A, B
Section 354
…of the IPC
&
Section 9D/10 POCSO Act
Section 3(2)V SC/ST Act
The accused man was has been in jail since April 2022 moved the High Court seeking regular bail.
The bench of Justice Sadhna Rani (Thakur) went through evidences and statement on record.
Married Woman Arrested For Filing False POCSO Case Against Boyfriend in Chennai
The accused was granted bail taking into account the larger mandate of Article 21 of the Constitution of India and the Apex Court's dictum in the case of Dataram Singh v. State of U.P. and another (2018) 2 SCC 22
The Court further noted that the parents of the victim denied any medical examination of the victim and thus bail was granted to the accused. The High Court concluded,
Having heard the submissions of learned counsel of both sides, considering the seriousness of the charge and the severity of punishment in case of conviction and the nature of supporting evidence, prima facie satisfaction of the Court in support of the charge, reformative theory of punishment, and larger mandate of the Article 21 of the Constitution of India, the dictum of Apex Court in the case of Dataram Singh v. State of U.P. and another, reported in (2018) 2 SCC 22 and without expressing any opinion on the merit of the case, I find it to be a case of bail.

Let the applicant, Manoj Saxena, who is involved in aforesaid crime be released on bail on his furnishing a personal bond and two sureties each in the like amount to the satisfaction of the court concerned subject to conditions.
READ ORDER | Allahabad High Court Grants Bail To Accused Man In POCSO Case After Parents Of 8-Year-Old Girl Refuse To Get Her Medically Examined

▪️Allegations by Accused Man: "Father of girl is a policeman & this FIR is only a misuse of that power"https://t.co/0xOguHBcv9

— Voice For Men India (@voiceformenind) September 13, 2022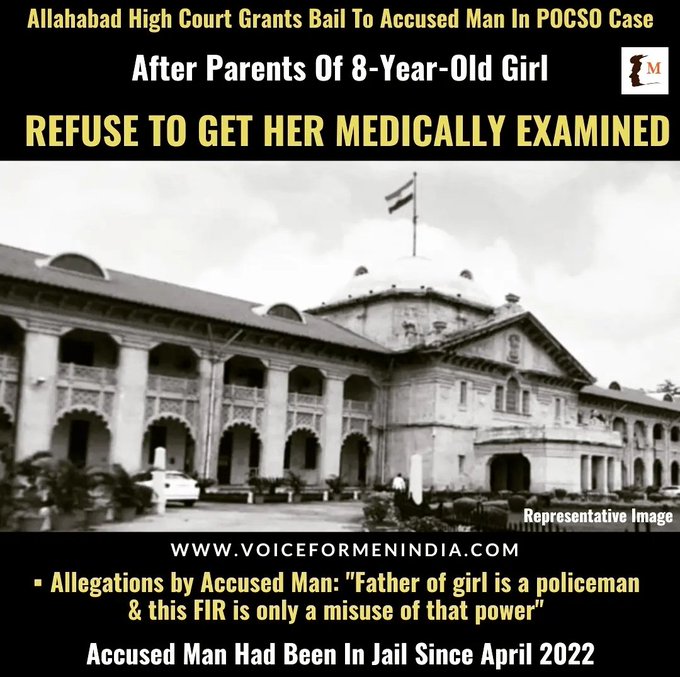 WATCH:
Gurgaon Girl Files 7-Rape Cases On 7-Different Men | Deepika Narayan Bhardwaj
Join our Facebook Group or follow us on social media by clicking on the icons below
Donate to Voice For Men India
Blogging about Equal Rights for Men or writing about Gender Biased Laws is often looked upon as controversial, as many 'perceive' it Anti-Women. Due to this grey area - where we demand Equality in the true sense for all genders - most brands distance themselves from advertising on a portal like ours.
We, therefore, look forward to your support as donors who understand our work and are willing to partner in this endeavour to spread this cause. Do support our work to counter one sided gender biased narratives in the media.
To make an instant donation, click on the "Donate Now" button above. For information regarding donation via Bank Transfer, click here.
Alternately, you can also donate to us via our UPI ID: [email protected]