Few days ago, a lawyer in Jalna district of Maharashtra was found dead at his house. Initial probe suggested that the man had died due to LPG cylinder explosion inside his home, however, now the story has taken a new turn.
The police, last week, arrested his 21-year-old wife and her accomplice friend for allegedly murdering the recently married man.
Maharashtra | Woman Murders Husband To Grab Insurance Cover Of Rs 1 Crore
Case:
Kiran Lokhande got married to Manisha Lokhande from Buldhana around 3-months ago. Kiran was a lawyer by profession.
According to police, Manisha was in touch with her 'friend' Ganesh Mittu Aglawe (23) a resident of Badnapur tehsil in the district, even after she got married. The duo allegedly hatched a plan to eliminate Kiran Lokhande.
Jharkhand Woman Allegedly Murders Husband Because He Objected To Her Wearing Jeans
Husband Murder
On August 30, Manisha with the help of Ganesh allegedly hit her husband with a rod and strangled him to death. The burnt body of the lawyer was found at his residence on Ambad Road on September 1.
According to police, after Lokhande's body was found, Manisha had faked a story and told the investigators that a fire had broken out in the kitchen due to the leakage of gas and when her husband was trying to switch off the LPG cylinder, he died due to the blaze.
The police had then registered a case of accidental death.
International Biker Asbak Mon's Murder Was Pre-Planned By Wife & Her Friends
Police Investigation & Statement
The matter was taken up by a delegation of Jalna Vakil Sangh, a lawyers' organisation, who met Additional Superintendent of Police Vikrant Deshmukh and demanded a thorough probe into their colleague's sudden death.
The police subsequently launched an investigation and found a motorcycle of the deceased outside the town.
On a daily basis, regional media reports about Husband Murder from various parts of the country, most common motive being wife's extra marital affair or grabbing insurance money. Unfortunately, NCRB does not have a specific category to register Crimes Against Men – By Women and thus our country only outrages on how Crimes Against Women are always on the rise. Crime Has No Gender…Victim Has No Gender. 
#Maharashtra | Woman & Her Male Friend Arrested For Murder Of Lawyer Husband Within 3-Months Of Marriage | Crimes Against Men

▪️Police: After committing crime, wife went to Pune with friend, spent one day & later returned with false story#HusbandMurderhttps://t.co/oEgXgXz0Dn

— Voice For Men India (@voiceformenind) September 13, 2022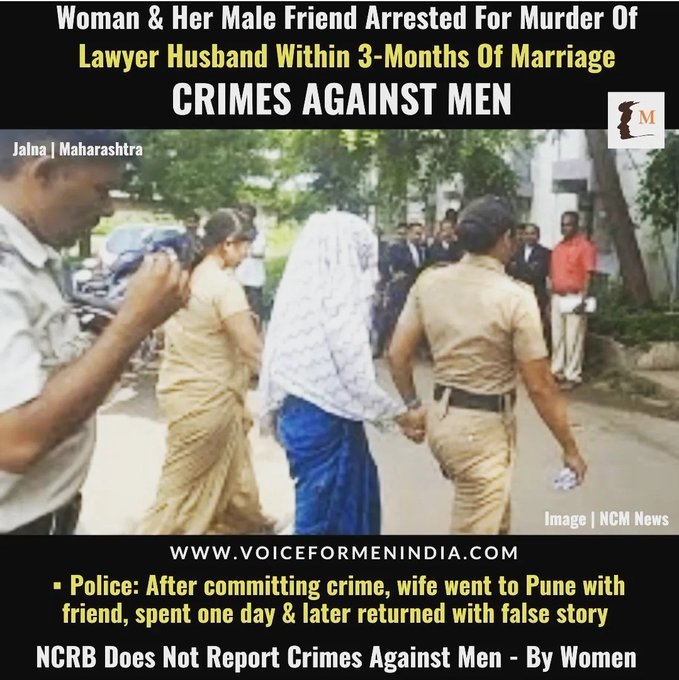 WATCH:
DOMESTIC ABUSE OF MEN | Husband Posts Suicide Video On Facebook; Family Rushes Him To Hospital
Join our Facebook Group or follow us on social media by clicking on the icons below
Donate to Voice For Men India
Blogging about Equal Rights for Men or writing about Gender Biased Laws is often looked upon as controversial, as many 'perceive' it Anti-Women. Due to this grey area - where we demand Equality in the true sense for all genders - most brands distance themselves from advertising on a portal like ours.
We, therefore, look forward to your support as donors who understand our work and are willing to partner in this endeavour to spread this cause. Do support our work to counter one sided gender biased narratives in the media.
To make an instant donation, click on the "Donate Now" button above. For information regarding donation via Bank Transfer, click here.