Divorces and separations are happening in India at a rapid speed, because couples today have no tolerance or acceptance, to anything which is against their wishes. However, the case below, is a step further, where a woman allegedly murdered her husband…..because he objected to her wearing jeans…!
We are not being judgmental here, but only pointing out 0 fear of laws where many women think they can get away in the name of empowerment.
The tribal couple had been frequently quarrelling over the 'jeans' issue since their marriage around four months ago.
Maharashtra | Woman Murders Husband To Grab Insurance Cover Of Rs 1 Crore
Here's What Happened
On Monday, Pushpa Hembram, 18, was arrested from Jharkhand's Jamtara district, after her in-laws complained that she had murdered her 18-year-old husband Andolan Tudu during an altercation over her wearing jeans.
According to a report by PTI, Anand Jyoti Minz, a Jamtara Sub-Divisional Police Officer, said that on July 16, the woman reported about her husband dying, four days after he was injured when he tripped over a stack of bamboo during their dispute.
36-Days After Marriage, Telangana Woman Murders Husband Along With Lover; Had Given Him Rat Poison Too
Police Investigation
As per initial investigation Hembram's husband objected to her wearing of jeans when she returned from a fair on July 12. Incidentally, he expressed that 'married women shouldn't dress that way.'
Following day, Tudu's health deteriorated and his family members took him to a hospital in Jamtara town, where doctors referred him to Patliputra Medical College and Hospital in Dhanbad. However, the man succumbed there on July 16.
Minz informed media,
The family members reported the matter to Jamtara police today and accused Hembram of killing her husband. We went to the village to investigate the case. We interrogated local people about the incident.
Woman Murders Husband After Fight Over Non-Vegetarian Food | Tries To Pass Off As Accident
Karneshwar Tudu, the father of the victim, said his son and daughter-in-law had an ugly spat over her wearing jeans. Filing a complaint against Hembram, he said,
My daughter-in-law stabbed my son to death during the fight.
Jamtara Station House Officer (SHO) Abdul Rehman said an FIR has been registered in Dhanbad as the victim died during the treatment in Dhanbad. The matter is being investigated, he added.
Jharkhand Woman Allegedly Murders Husband Because He Objected To Her Wearing Jeans

▪️VFMI: "We are not being judgmental here, but only pointing out 0 fear of laws where many women think they can get away in the name of empowerment"#CrimeHasNoGender https://t.co/w1mgho5us7

— Voice For Men India (@voiceformenind) July 20, 2022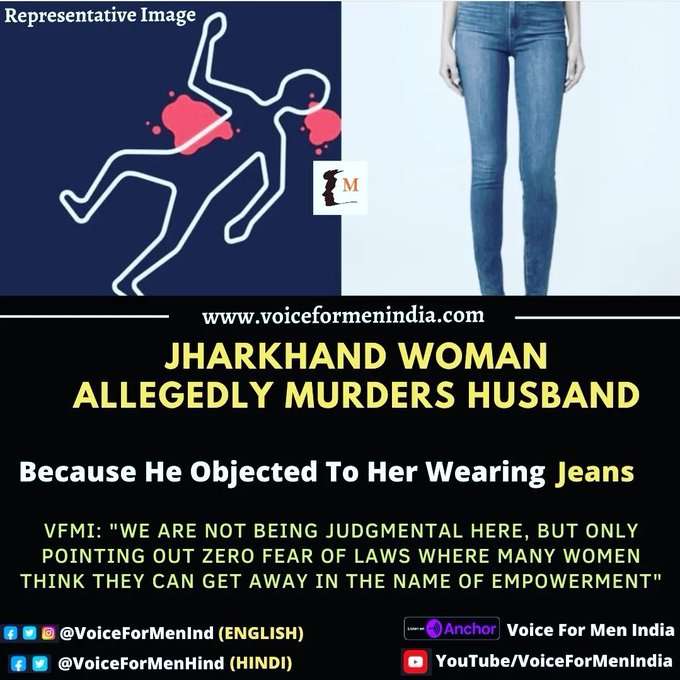 WATCH:
Join our Facebook Group or follow us on social media by clicking on the icons below
Donate to Voice For Men India
Blogging about Equal Rights for Men or writing about Gender Biased Laws is often looked upon as controversial, as many 'perceive' it Anti-Women. Due to this grey area - where we demand Equality in the true sense for all genders - most brands distance themselves from advertising on a portal like ours.
We, therefore, look forward to your support as donors who understand our work and are willing to partner in this endeavour to spread this cause. Do support our work to counter one sided gender biased narratives in the media.
To make an instant donation, click on the "Donate Now" button above. For information regarding donation via Bank Transfer, click here.