A recent news report published by Bhaskar.com shows that 43% POCSO cases registered in parts of Rajasthan were false or motivated. According to the report, the Protection of Children Against Sexual Offences (POCSO) Act which was made in 2012 for the protection of children against sexual crimes, has become a weapon of blackmail and teaching a lesson in personal disputes in Bharatpur and Alwar districts.
37-Year-Old Man Acquitted After Three Years In Jail In False POCSO Case By Minor's Mother
Cases Registered Vs False
POCSO Cases 2022
Bharatpur
Total: 231
False Cases: 99 [police submitted negative Final Report (FR)]
Alwar
Total: 167
False Cases: 72
State of Rajasthan
Total: 4,145
False Cases: 1,053 (25.4% false POCSO cases in Rajasthan in 2022)
This means Bharatpur and Alwar have around 18% more false cases than the average in the state. According to an investigation led by Bhaskar.com, it was found that most of these cases are related to property transactions, political, family enmity or blackmailing. It was concluded that most false POCSO cases are being filed to take revenge.
The portal has also shared four cases that they unearthed during their investigation.
61-Year-Old Man Acquitted In False POCSO Case Speaks With Media About His Six Year Jail Time
Case 1:
A woman in Alwar was having frequent quarrels with her second husband. The woman used her minor daughter (from first marriage) to file a case of rape against her current husband. During investigation, the woman accepted that she had filed a false case and urged the police not to take any action against her.
Case 2:
In another case from Bharatpur, a woman lodged a false rape case against a villager on charges of raping her minor daughter. During the interrogation, it was learnt that the complainant and the accused were having an old dispute over their farm. The two already have cases pending in that matter. To pressurise the accused for a compromise in the farm case, the woman filed a false POCSO case against him. Once again, she admitted to the police that she had filed a motivated case against the accused.
65-Year-Old Society Chairman Acquitted In False POCSO Case After 7-Years | Fight Over Parking Not Ruled Out
Case 3:
Who would have thought that a mere argument with a neighbour could also lead to a false POCSO case. A woman from Alwar lodged a false rape case of her own minor daughter at the Khedli police station against her neighbour. There was no medical report either. The statements of the mother and daughter about the incident were also contradictory. When the police investigated, it came to light that the woman used to have arguments with the family of the alleged accused. Therefore, she filed a false rape case to 'teach him a lesson'.
Case 4:
In a matter related to road fight in Bharatpur, a man lodged a false rape case of his own minor daughter against their neighbour. After the police completed its investigation, it was revealed that there was a dispute between the two over giving way to the house. To pressurize the neighbour, a false rape case was registered under the POCSO Act. The allegations too were never confirmed in the statements of the minor girl.
41% Rape Cases Filed In State Are False: Rajasthan Director General Of Police Umesh Mishra
False Cases Registered, But No Action
Bhaskar.com also reported that despite false rape cases under POCSO being openly registered, no strict action had been taken on anyone for filing such cases.
The court imposed a fine of only Rs 100 on the woman who gave a false report in Alwar's Khedli police station.

Speaking with the Hindi portal, Shyam Singh, SP, Bharatpur said,
Most of the fake cases are related to personal enmity. Most of the POCSO cases in which Final Report (FR) is filed are of enmity. As soon as the POCSO case is registered, it is investigated whether there is any personal dispute between the two parties. Due to this, relatively less false cases have been registered this year.
We must remind our readers that last year, Rajasthan State Commission For Women's Chief Rehana Rayaz Chisti had issued an order to prosecute all who file false rape cases in the state. However, the women rights activists then had stormed into the commission's office, 'gheraoed' the officials and threatened to sit of dharna with a 24-hour ultimatum to withdraw the said order. Read below.
Women Rights Activists Threaten Dharna Over Rajasthan State Commission For Women's Order To Prosecute All Who File False Rape Cases
LEAVE YOUR COMMENTS BELOW:
#Rajasthan | 43% POCSO Cases Reported From Alwar & Bharatpur In 2022 Are False: Report

▪️Bharatpur

-Total: 231
-False Cases: 99

▪️Alwar

-Total: 167
-False Cases: 72

NO ACTION AGAINST ANY FALSE ACCUSER@ashokgehlot51 @RayazRehana #VoiceForMenhttps://t.co/t5wcUTxYr0

— Voice For Men India (@voiceformenind) May 16, 2023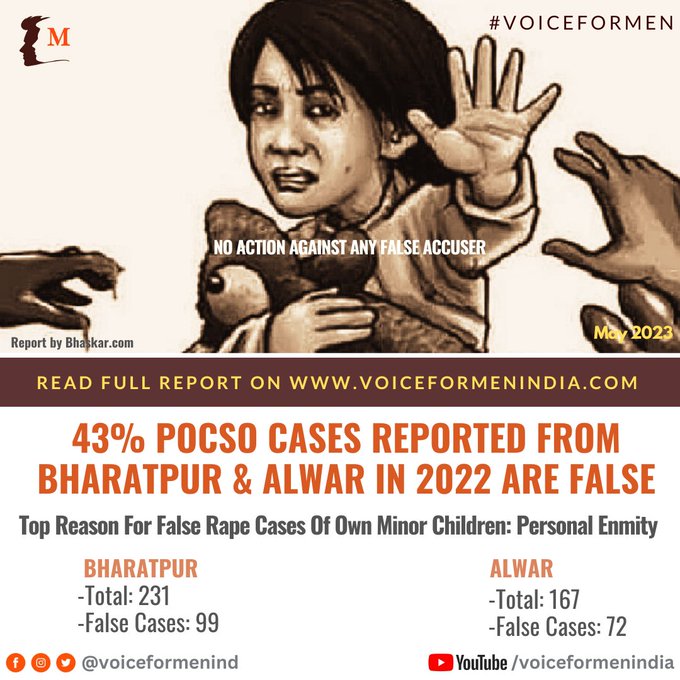 DO WATCH:
Interview | Police Complaint Against Bengaluru Woman Who Threatened Bankers With False Rape
Join our Facebook Group or follow us on social media by clicking on the icons below
Donate to Voice For Men India
Blogging about Equal Rights for Men or writing about Gender Biased Laws is often looked upon as controversial, as many 'perceive' it Anti-Women. Due to this grey area - where we demand Equality in the true sense for all genders - most brands distance themselves from advertising on a portal like ours.
We, therefore, look forward to your support as donors who understand our work and are willing to partner in this endeavour to spread this cause. Do support our work to counter one sided gender biased narratives in the media.
To make an instant donation, click on the "Donate Now" button above. For information regarding donation via Bank Transfer, click here.
Alternately, you can also donate to us via our UPI ID: [email protected]