In September this year, Ashok Gehlot's Congress government in Rajasthan ranked second on National Crime Records Bureau (NCRB) Report 2021 – Crimes Against Women. The state reported the highest number of rapes in 2021 and the second-highest number of overall crimes against women.
Rajasthan was listed as the top state with the highest number of rape cases reported in the country at 6,337. This marked an annual increase of 19.34 per cent as 5,310 cases were reported in 2020.
After feeling the heat from opposition, mainly the Bharatiya Janata Party (BJP) on the issue of safety of women in his state, CM Gehlot publicly made a statement where he said nearly 56% of the rapes registered in Rajasthan were false. 
WATCH | Refused To Transfer Property In Her Name, Woman Sends Husband To Jail On False Rape Charges Of Minor Daughter
Rajasthan State Commission for Women Order
Couple of days ago, Chairperson of Rajasthan state commission for women Rehana Rayaz Chisti announced that action will be taken against 60 cases that were found to be false after investigation, reported TOI.
Chisti said the commission found that over 400 fake cases were registered this year and action will be taken in all cases gradually. Adding further she informed the media,
Since February, we have solved and identified 418 fake cases that were registered over different reasons like personal enmity, to take money from the man's family or some other reason.

We have selected 60 such cases and are writing to SPs to act against those who filed false cases. This will set a precedent in society and there should be no injustice to anyone.
Mehul Bhatnagar Is Innocent; Female Classmate Wrote Rape & Acid Attack Threat Letters Herself: Jodhpur Police
The chairperson also said that action will be taken under Section 182 and 211 of Indian Penal Code in these fake cases. She quoted,
The men or parties accused in these false cases also have families who go through a lot of trouble and the women in the family mostly bear the brunt of it which we want to stop.
According to officials, since February, the commission has received 3,618 complaints of which 1,275 have been solved and 2,343 cases are pending. From last year, 1,821 cases were also solved this year, added officials.
24-Year-Old Man Dies By Suicide Within 5-Days Of Marriage As In-Laws Threaten False Rape Case
Women Rights Activists Are Furious
Now, this order by Rajasthan State Commission For Women has expectedly not gone down well with some 'women rights activists' from the state.
A woman name Kavita Srivastava – whose Twitter bio reads as – A Feminist Fighting Fascism. Human Rights Worker, working collectively towards Restoring Democracy, Justice & Ending Inequalities, National Secretary Peoples's Union for Civil Liberties (PUCL) – took to twitter and wrote,
The Rajasthan State Women's Commission has taken a scandalous decision of criminalising women, in cases of gang rape and live in relationships where the police concludes that the case is false. So FIRs will now be lodged at the RSWCs behest against them u/s 182/211, IPC.

Today women's groups representatives gheraoed the Women's Commission and demanded withdrawal of this order and gave her 24 hours.after which we will lodge a state wide campaign against the Government targeting her removal and withdrawal of the order.

Yesterday's protest at the State women's commission demanding the withdrawal of the decision which criminalises aggrieved women where the police puts the final closure report.
1/2The Rajasthan State Women's Commission has taken a scandalous decision of criminalising women, in cases of gang rape and live in relationships where the police concludes that the case is false. So FIRs will now be lodged at the RSWCs behest against them u/s 182/211, IPC. pic.twitter.com/ZLFRGwQt0z

— Kavita Srivastava (@kavisriv) November 2, 2022
Several social media users and men's rights activists questioned the intention behind not criminalising women who file false rape cases. Many also called out the hypocrisy of women's rights activists suggesting that they were doing bigger disservice to genuine victims of rape, since such cases would only delay timelines for justice in actual cases of rape.
Alwar School Gang Rape | False Charge Against Teachers By Ex-Staff
Leave Your Comments Below:
Women Rights Activists Threaten Dharna Over Rajasthan State Commission For Women's Order To Prosecute All Who File #FalseRape Cases

▪️@RayazRehana: "418 fake cases were registered due to personal enmity, to take money from man's family"@ashokgehlot51https://t.co/EPC9eLEv5F

— Voice For Men India (@voiceformenind) November 3, 2022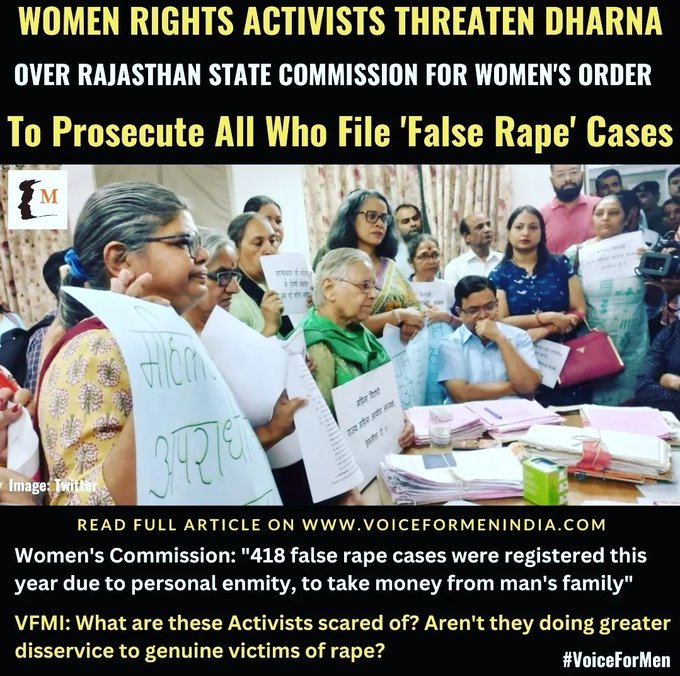 Here's how twitter reacted!
https://twitter.com/vikrantkumar/status/1588108088145772544?s=20&t=2gCU1xsYAIhE1Ml6PfJgLA
what's wrong in this? feminists wants equality only when do do right things and not when they do wrong things? empower women to do right things and discourage them to do wrong things.. https://t.co/dcm3JQYDjD

— Keh Ke Peheno (@coolfunnytshirt) November 3, 2022
Well..Some specimens gotta think before filing fake cases then, spoiling the system for actual victims. Go cry elsewhere https://t.co/rPurJyA04M

— Krishnaa (@Krishnaa_Murari) November 3, 2022
What's scandalous in allowing people to access instruments of justice, @kavisriv Ma'am?

We should instead fight for improved methods/processes of investigation so that the guilty is punished and the innocent protected – the one single purpose of any criminal justice system. https://t.co/UnYk0L7dJ9

— Syed Shakeel Imdad (@quirky_ronin) November 3, 2022
What's the fear? what have u got to lose if false accusers are punished? any vested interests? you running any business falsely accusing Men? We know filing false cases and extorting money from innocent men has become a profession these days… why are U so agitated? https://t.co/dI07Woixsq

— Umesh 🇮🇳 (@HighOnCosmos) November 3, 2022
Filling #Falserapecase against men/boys are heinous crime too. Such person must be punished, Pls stop protecting wrong doing of women, @NCWIndia women commission are not made to promote & protect those file false cases. A person can't take advantages of her own wrong doing. 🙏

— SwarupSarkar (@swarup1972) November 3, 2022
I support @RayazRehana .
It is unfortunate and bizzare that people want fake cases to continue.
Justice is justice .
Wrong is wrong .
Stop supporting #fakecases in the name of #empowerment .
Fake cases are not empowerment.

— Kshitij Tarey (@kshitijtarey) November 3, 2022
Good decision by rajasthan state women's commission.
Crime is a crime irrespective of gender.

— Rakesh (@rakeshsahuIndia) November 3, 2022
What's wrong in that

Isn't it the most logical and same thing to be done

Somebody finally woke to ensure innocent people don't suffer

Instead of appreciating the decision why are you feeling agitated

R u a criminal women who filed false rape cases in the past??

— Gopi (@Gopi79165859) November 3, 2022
Police concluding a case as "false" after investigation is not correct? If you don't even believe the police or judiciary on their work, then why do you even need the laws in the first place?

Pack your bags and let @RayazRehana do her work.

You need to be put in jail.

— Aravind Bachu (@aravindbachu) November 3, 2022
In bhagwat Geeta Shri Krishna said

"जो अन्याई और दुर्जन के साथ खड़े होते है, वो भी सजा के पात्र होते है। चाहे वो भीष्म हो या द्रोण या कर्ण। उनकी सजा वही होनी चाहिए जो दुर्जानो और पापियों का हो।

And now you people are proving to be stood with the culprits and criminals. Be ready pic.twitter.com/Ysc86Q70BD

— Bijay Singh (@BijaySi81986601) November 3, 2022
It means police should not take action against such women who files fake gang rape cases. Then, how can govt will reduce fake cases on men.https://t.co/q4AIFGW1TH

— SpeakUp (@Stand4M) November 3, 2022
This woman wants women to Misuse laws & get away, this is going on for so long & is destabilising Indian society.. Request u to check source of funding of orgs mentioned in second page @AmitShah @AmitShahOffice @narendramodi @RayazRehana @ashokgehlot51 #ISupportRehanaRayaz

— @!( Pandey (@Pandey1702) November 3, 2022
So according to you, it is ok for women to traumatize, torture men with false cases for personal grudges but nobody must give enough justice? Who r u? GOD?

— Sadhana Hegde (@sadhana_hegde) November 3, 2022
I as Senior Citizen woman strongly oppose you as my representative who advoates false cases by women against even women.

— Dr Sadhna gupta (@godseye321) November 3, 2022
Nothing scandalous in it. False cases by women are defeating women's cause and destroying innocent lives

— ParmeshwariChoudhary (@param_ch) November 3, 2022
What a fantastic decision by RSWC. Much needed. Must be modelled in all other states.

— Ramanuj Mukherjee (@law_ninja) November 3, 2022
This is how these NGO's hold state machinery to ransom. Their roles and assets should be investigated by CBI and ED. Sole reason for promoting & supporting fake cases is the share of these NGO's. @rashtrapatibhvn @PMOIndia @RijijuOffice Please control these anti social elements https://t.co/GXlwjJ3b9B

— Hakuna Matata (@ProudPahariya) November 3, 2022
@RayazRehana
I along with many comrades in the fight for unbiased laws in our country show our respect and support to your stand on rampant misuse of women centric laws . https://t.co/OW4ynqAMwc

— Ekalavya (@Ekalavya230) November 3, 2022
DO WATCH:
"56% Rape Cases Are False" | Rajasthan CM Ashok Gehlot After His State Topped Crimes Against Women (Rape Cases)
DGP Rajasthan On False Rape Cases (2020)
Ghaziabad Gang Rape Case False
(Recently a woman from Delhi faked Nirbhaya type gang rape case. Why should such women get away)
ALSO READ –
21-Year-Old Jaipur Boy Selected For IAF Dies By Suicide Due To Alleged False Rape Case Threats By Aunt
75-Year-Old Man Dies During Police Questioning In Alleged False Molestation Case Filed By Adopted Son
Rajasthan Crime Report (2020) | 46% Cases Registered By Women Turned Out To Be False
Saint Ends Life Accusing Couple & Women's Commission For Blackmailing Him In False Rape Case
Join our Facebook Group or follow us on social media by clicking on the icons below
Donate to Voice For Men India
Blogging about Equal Rights for Men or writing about Gender Biased Laws is often looked upon as controversial, as many 'perceive' it Anti-Women. Due to this grey area - where we demand Equality in the true sense for all genders - most brands distance themselves from advertising on a portal like ours.
We, therefore, look forward to your support as donors who understand our work and are willing to partner in this endeavour to spread this cause. Do support our work to counter one sided gender biased narratives in the media.
To make an instant donation, click on the "Donate Now" button above. For information regarding donation via Bank Transfer, click here.