Remember a viral video posted by a boy named Mehul Bhatnagar some days ago? The young boy had taken to his social media account alleging false implication by his classmate.
Now, the police has confirmed that the girl has admitted to her crime. Here are the details.
Delhi Woman Files False 'Bus Gang Rape Case' Because She Reached Office Late
Case:
18-year-old Mehul Bhatnagar is a student from Jodhpur, Rajasthan. He was arrested and expelled from his school, after a female classmate falsely accused him of threatening her with rape and acid attack.
In the video posted last month, Mehul alleged pressure from school on him to admit his crime, purely based on the allegations by the girl. The boy had pleaded that let the investigation be complete and if he would be found guilty, then they can take action. Mehul said,
I was not given a chance to explain my side. Even when I was in Indore for a month, these letters were posted at the girl's home. The girl kept claiming I was outside her home, despite all evidences that I was not even in the city.
The letters contained threats of rape and acid attack on the girl. Mehul added,
Police abused me and my mother without any investigation. I was pronounced guilty basis a false report that I attacked the girl's father in the police station. I was sent to lock up for a day under Protection of Children from Sexual Offences (POCSO) Act.
Delhi Police Gives Clean Chit To Girl Who Impersonated Herself As Boy & Sent Rape Threats
Police Investigation & Statement
After detailed investigation, the officials have confirmed that the threat letters were written by the girl herself, after Mehul developed friendship with another girl, reported PTI.
According to Jodhpur police, the accused in the case is 18-years-old but the complainant girl was a minor.
SHO (Shastri Nagar) Jogendra Singh said the girl planned the entire thing to take revenge on the young man. He added,
Now, we will appeal the court to release them (Mehul & his relative) from jail.
Are Parents To Boys Tired Of Being Told How To Raise Sons? Are Daughters Getting A Free Pass?
Commissioner of Police Ravi Dutt Gaur said as the girl continued to complain of threats even after the student had been arrested, the handwriting on the letters before the arrest and the one after were compared. He added,
We questioned the girl, and she admitted to have written all these (approx 50) letters by herself to implicate her classmate.
Mehul has been in jail since October 07, 2022. He had recorded the video and uploaded on social media prior to his arrest in September.
12-Year-Old Mumbai Girl Turns Extortionist To Teach Father 'A Lesson'; This Is The Reason
Update As On October 13, 2022
Speaking with media, Mehul's lawyer Pushpendra Singh Chauhan said,
On completion of the period of remand, the police today produced Mehul in the court of Special Judge of POCSO Act Cases Dr. Suryaprakash Pareek, where he was requested to grant bail under Section 169 of CrPC.

The police also told the court that in their investigation the allegations made against Mehul have been proven wrong. In such a situation, the court ordered his release on bail. The police had arrested Mehul on October 6. He was produced in the court on October 7 and was taken on remand for five days. He was ordered to be released on a surety of fifty thousand rupees.

In this case, after the FR is presented by the police, he will be able to get completely free from this case.
As per sources, Mehul's family members did not want him to face the media for the time being. They believe that Mehul is still young and not even in a mental state of mind to give media statements. In such a situation, to avoid unnecessary controversy, they have taken him away from the city.
Will Rajasthan police take any action against the complainant girl, or once again she will be let off citing leniency towards women (especially minor girl)?
Watch Full Video Below & Leave your Comments
Mehul Bhatnagar Is Innocent; Girl Wrote Rape & Acid Attack Threat Letters Herself: Jodhpur Police
#MehulBhatnagar Is Innocent; Female Classmate Wrote Rape & Acid Attack Threat Letters Herself: Jodhpur Police

"We questioned the girl & she admitted to have written all these letters by herself to implicate Mehul": Ravi Dutt Gaur, Commissioner of Policehttps://t.co/S3u35mAAnj

— Voice For Men India (@voiceformenind) October 12, 2022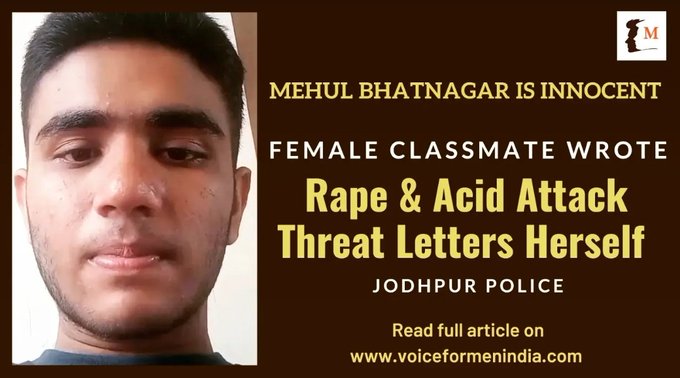 Join our Facebook Group or follow us on social media by clicking on the icons below
Donate to Voice For Men India
Blogging about Equal Rights for Men or writing about Gender Biased Laws is often looked upon as controversial, as many 'perceive' it Anti-Women. Due to this grey area - where we demand Equality in the true sense for all genders - most brands distance themselves from advertising on a portal like ours.
We, therefore, look forward to your support as donors who understand our work and are willing to partner in this endeavour to spread this cause. Do support our work to counter one sided gender biased narratives in the media.
To make an instant donation, click on the "Donate Now" button above. For information regarding donation via Bank Transfer, click here.