The Delhi High Court in its recent judgment dated May 10, 2023 observed that a Family Court must come to aid of a wife to help her produce evidence or documents to prove the charge of adultery levelled by her against the husband in a divorce petition.
Justice Rekha Palli said,
….when a wife seeks the help of the Court for procuring evidence which would go a long way to prove adultery on the part of her husband, the Court must step in; this would be in consonance with Section 14 of the Family Courts Act which gives a leeway to the Court to consider evidence which may be not admissible or relevant under the Indian Evidence Act.
The couple got married in 1998 and has a girl child who is now 23-years-old.
In the year 2022, the wife filed a petition before the family court seeking divorce on the ground of adultery and cruelty against her husband. She further alleged that the husband also had an illegitimate child from the adulterous relationship.
She also urged that unless the information as directed by family court is brought on record, she may not be able to prove the adultery charge against her husband.
Family Court, Delhi
The family court permitted the wife's applications for seeking preservation of CCTV footage of a hotel where the husband was allegedly indulging in adultery with a lady and the Court also summoned the hotel room's records.
Arguments by Husband
The counsel representing the husband in the Delhi High Court opposed the allegations of adultery and cruelty levelled against him and contended that he merely met one of his friends who along with her daughter, was at the same time, coincidently staying at the same hotel.
The husband further submitted that the family court could not have directed a fishing and roving enquiry so as to collect evidence for the wife.
The husband also added that this would be violative of not just his right to privacy, but also the privacy of the lady and her minor child.
Delhi High Court
At the outset, Justice Palli denied relief to the husband stating that the respondent wife not only placed various photographs on record showing the husband in "close proximity" with his lady friend but also provided details of the room and dates on which according to her, the husband was staying with the lady.
The Delhi High Court said,
The respondent is the estranged wife of the petitioner who obviously does not has any direct evidence of her husband indulging in acts of adultery. By resort to Section 14 of the Family Courts Act, she is, only trying to seek production of evidence which she reasonably believes will prove her charge of adultery which by its very nature can be inferred only from circumstances.

Furthermore, it observed that the wife was able to make out a prima facie case against the husband and that the information which she was seeking would be relevant for proving the charge of adultery.
Dismissing the husband's plea, Justice Palli added,
….I am inclined to accept the respondent's plea. The petitioner's claim is based solely on the right to privacy which, as held in K.S. Puttuswamy (supra) and Joseph Shine (supra) is not an absolute right; on the other hand, the respondent's prayer is based not only on morality but also on specific rights granted under the Hindu Marriage Act and the Family Courts Act.

I, therefore, have no hesitation in holding that the respondent's right must prevail and therefore, find no reason to interfere with the impugned orders.
However, the High Court also added that the impugned orders passed by the Family Court only pertain to the production of records and do not deal with the question as to whether the record would in itself be sufficient to prove the charge of adultery against the husband. It added,
The learned Family Court by way of the impugned orders has sought records which pertain only to the respondent's husband and not to his friend or her daughter. There is, therefore, no question of their right of privacy being violated in any manner.
Voice For Men India (VFMI) Take:
Though this is a moral issue, VFMI does not encourage or support infidelity by either spouses while cohabiting together.
In the case above, the Delhi High Court has been generous to the wife in allowing her to procure evidence against her husband. However, let us list few examples below which will demonstrate how the matrimonial laws are anti-men.
In November 2022, the Karnataka High Court ruled that a husband cannot seek mobile tower records of his wife's paramour as it would violate his (paramour's) privacy. In this case the Karnataka High Court ruled:
Third party's privacy cannot be permitted to be violated on the specious plea of the husband that he wants to prove illicit relationship between the petitioner and the wife.

It is trite that the right to privacy is implicit in the right to life and liberty guaranteed to the citizens of the Country under Article 21 of the Constitution of India. It is a right to be 'let alone'.
READ ORDER BELOW:
READ ORDER: Husband Cannot Seek Mobile Tower Records Of Wife's Paramour As It Violates His Privacy: Karnataka High Court
In April 2022, the Delhi High Court held that one or occasional acts of adultery committed in isolation does not amount to "living in adultery" and, therefore, does not disentitle a woman from maintenance after divorce [Sh Pradeep Kumar Sharma v Smt Deepika Sharma].
While ordering the husband to pay Rs 15,000 per month as maintenance to his 'adulterous' wife with retrospective effect, Justice Chandra Dhari Singh said:
The husband has to establish with definite evidence that the wife has been living in adultery and one or occasional acts of adultery committed in isolation will not amount to 'living in adultery'. 
READ ORDER BELOW:
READ ORDER | Occasional Adultery By Wife Cannot Be A Ground To Deny Maintenance To Wife: Delhi High Court
In another order passed by the Punjab & Haryana High Court in October 2022, the bench stated that solitary act of adultery or isolated lapse by wife will not disentitle her to claim maintenance from her husband. Justice Vivek Puri in this case observed that "Living in Adultery" was defined as maintaining continuous adulterous conduct and not a single or occasional lapse.
READ ORDER | Solitary Act Of Adultery Or Isolated Lapse Of Wife Will Not Disentitle Her To Claim Maintenance: Punjab & Haryana High Court
In February 2023, the Supreme Court ruled that the DNA test of a minor child cannot be ordered routinely in matrimonial disputes involving allegations of infidelity. The court made it clear that such DNA tests could cause trauma to the child and affect its right to privacy.
A bench of Justices V Ramasubramanian and BV Nagarathna said,
Merely because either of the parties has disputed a factum of paternity, it does not mean that the court should direct a DNA test or other such test to resolve the controversy. The parties should be directed to lead evidence to prove or disprove the factum of paternity.
READ JUDGMENT BELOW:
READ JUDGEMENT: Wife's Infidelity Cannot Be Basis To Seek DNA Test For Determining Child's Paternity In Matrimonial Dispute: Supreme Court of India
In September 2022, senior advocate Kapil Sibal was arguing on permitting dissolution of marriages on grounds of irretrievable breakdown, as it would practically take decades to prove the fault of other spouse. Sibal also added that it was nearly impossible to prove charges of adultery (against the wife).
WATCH FULL VIDEO IN THEAD BELOW:
#KapilSibal Argues For Faster Divorce Process So That Parties Can Move On & Children Can Settle Well

"Courts need to evolve, ppl are spending lifetime litigating, Best years of one's life are from 35-50, once u lose it, they never come back"@KapilSibal

IRRETRIEVABLE BREAKDOWN pic.twitter.com/QKtQsHxiWf

— Voice For Men India (@voiceformenind) October 11, 2022
Let us also inform our readers that while adultery has been decriminalised in 2018 by the Supreme Court of India, in January 2022, the Madras High Court ruled that if an extramarital relationship of a man causes serious domestic discord between the married couple, then he can be convicted for causing mental cruelty to his wife under Section 498A of the Indian Penal Code (IPC) and sentenced to imprisonment.
Contrary to what Madras High Court believes as cruelty to the wife, this is what current CJI Chandrachud wrote in his judgment while decriminalising adultery in 2018. D Y Chandrachud was one of the judges in the five-member bench of the top court that struck down a law which meant a man who had sex with a married woman without getting her husband's permission could be charged and face up to five years in jail if convicted.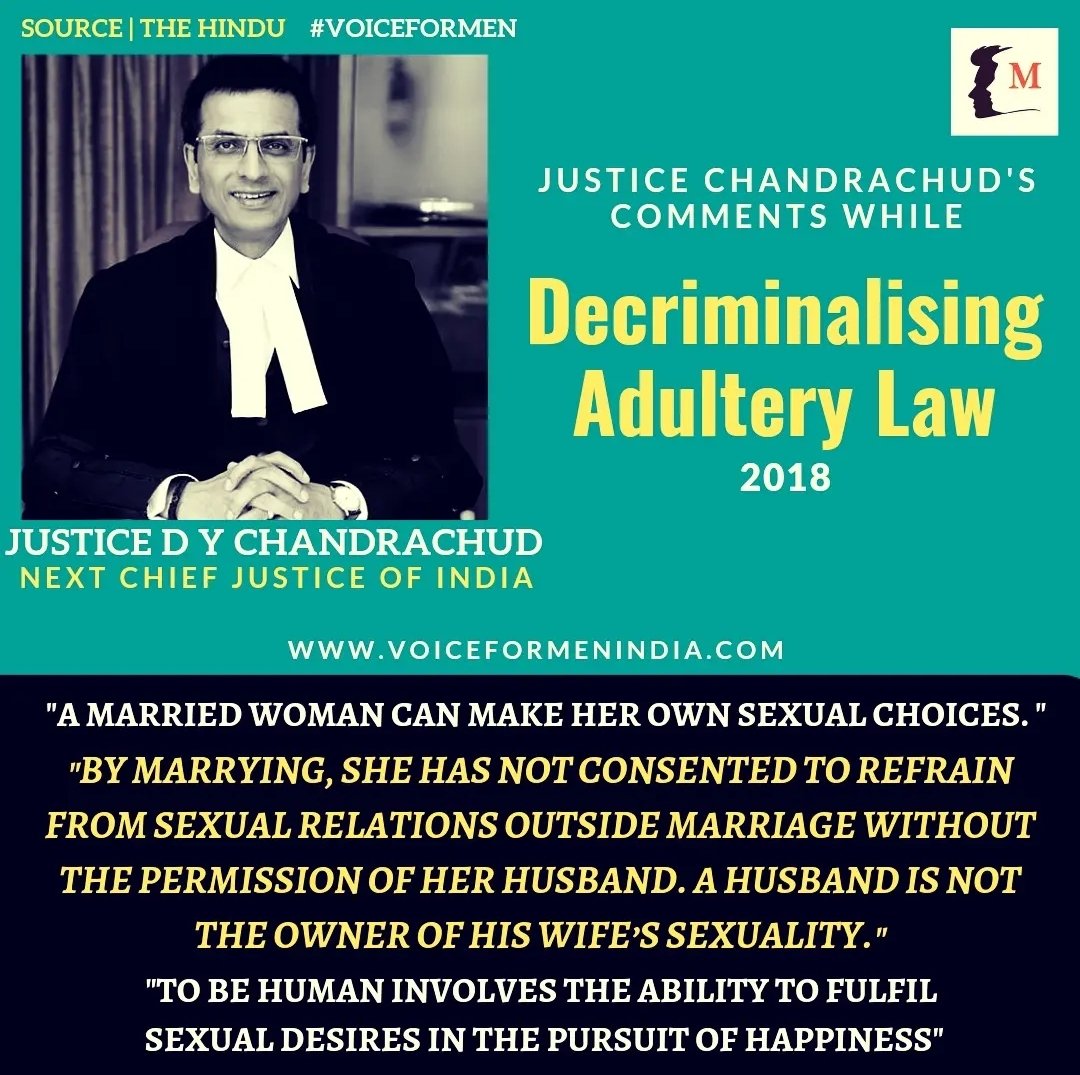 LEAVE YOUR COMMENTS BELOW:
#Divorce | Family Court Must Aid Wife To Procure Evidence For Proving Husband's Adultery: Delhi High Court

▪️Read detailed thread 🧵on how courts rule when husband pleads to procure or accept evidence to prove wife's adultery#VoiceForMen @KirenRijijuhttps://t.co/RQlJ9afJ2O

— Voice For Men India (@voiceformenind) May 15, 2023
DO WATCH:
Occasional Adultery No Grounds To Deny Maintenance To Wife | Delhi High Court
Join our Facebook Group or follow us on social media by clicking on the icons below
Donate to Voice For Men India
Blogging about Equal Rights for Men or writing about Gender Biased Laws is often looked upon as controversial, as many 'perceive' it Anti-Women. Due to this grey area - where we demand Equality in the true sense for all genders - most brands distance themselves from advertising on a portal like ours.
We, therefore, look forward to your support as donors who understand our work and are willing to partner in this endeavour to spread this cause. Do support our work to counter one sided gender biased narratives in the media.
To make an instant donation, click on the "Donate Now" button above. For information regarding donation via Bank Transfer, click here.
Alternately, you can also donate to us via our UPI ID: voiceformenindia@hdfcbank