Domestic Violence Has No Gender…Crime Has No Gender….In a recent case reported from the capital, a daughter-in-law has been arrested for brutally murdering her bedridden mother-in-law.
While the crime took place in April, the police has unearthed the details of the case now.
Mother-in-Law Murders Lawyer Son-in-Law To Acquire Deceased Daughter's Property
Case:
Sharmishtha Som (48) is married to Surjeet Som (51) and the couple has a 16-year-old daughter. Surjeet's 86-year-old bedridden mother Harshi Som lived in Kolkata but since she couldn't walk and required care, Surjeet brought her to their Swastik Residency in Neb Sarai home at Delhi in March last year. Initially, she lived with the family, but on Sharmishtha's constant protests, Surjeet moved her to a rented one-room flat opposite his house last October.
Mother-in-Law, Owner Of 4 Apartments Begged Outside Jain Temple; Murdered By Daughter-in-Law
Daughter-in-Law Plots Murder of Mother-in-Law
Sharmishtha was allegedly exasperated while taking care of her mother-in-law. Her relationship with Surjeet had soured over the issue. One day she decided to kill the octogenarian and made it appear like the old woman had fallen and sustained injuries.
Sharmishtha thought she had almost succeeded, however, after 11 days to the murder, the post-mortem report and footage from a table camera installed in the house helped police to nab her.
Guwahati Double Murder: Woman Kills Husband, Mother-in-Law & Stores Their Body Parts In Freezer For Days
Murder
On April 28, Sharmishtha killed her mother-in-law by battering her with a frying pan and a pressure cooker. Harshi Som suffered 14 injuries on her body as she was hit over a dozen times on her head and face.
Son had installed CCTV camera in Mother's room
To monitor his old mother's condition while he was at work, Surjeet had installed a CCTV camera on her bedside table and monitored the feed on his mobile phone. Sadly, on the day of the murder, he was occupied with work and couldn't check the feedback. He only discovered his mother's body after reaching home.
Woman, Granddaughter & Woman's Paramour Brutally Murder Mother-in-Law For Money & Property
Daughter of Accused Reveals Drift
Surjeet & accused Sharmishtha's minor daughter informed the cops that relations between her mother and grandmother were not cordial. Surjeet too corroborated this.
CCTV Footage
The video captured in the camera on the crime scene was deleted. However, Surjeet then anded over the memory card of the CCTV that clearly showed how at 10.30am on April 28, Sharmishtha entered her mother-in-law's flat with a pressure cooker and pan. Harshi Som was seen screaming as blows were being inflicted on her by Sharmishtha. Later, the accused was also seen cleaning the cooker and pan with a cloth.
Jodhpur | Three Daughters-in-Law (Sisters) Murder Mother-in-Law & Stage It As Suicide
Speaking with TOI, a police officer said,
The autopsy report suggests 14 injuries on the victim's head. The cause of death was haemorrhagic shock as a result of ante-mortem injuries caused by blunt force impact on the head, right hand, left upper limb and left lower limb.

Sharmishtha was arrested and an FIR for murder registered. The son's involvement has been ruled out.
Speaking with ANI, another officer shared,
Sharmishtha would often quarrel with Surjeet to return his old mother back to Kolkata where the family originally belonged to.
Woman Murders Mother-in-Law Because Her BSF Soldier Husband Sent Money To His Mother
VOICE FOR MEN INDIA TAKE:
Its time we define domestic violence as gender neutral
Its time we stop seeing an image of only a man beating woman when we think of domestic violence
Sadly, we will not see and hear any noise by women rights activists against such domestic abuse in the confines of a home
Old mother-in-laws and sister-in-laws are not even recognised as victims or given justice in most of the mahila cells
The narrative is only and only about "Bahu प्रताड़ना" (Torture against daughter-in-law)
Its time to raise your voice against every injustice faced by people irrespective of their gender and age
LEAVE YOUR COMMENTS BELOW:
#Delhi: Woman Arrested For Brutally Murdering Her Bedridden Mother-in-Law

▪️48-YR Sharmishtha Som was fed up of taking care of her 86-YR bedridden mother-in-law

▪️DIL battered her MIL with frying pan & pressure cooker#CrimeHasNoGender#VoiceForMenhttps://t.co/1yHBWL9OXD

— Voice For Men India (@voiceformenind) May 17, 2023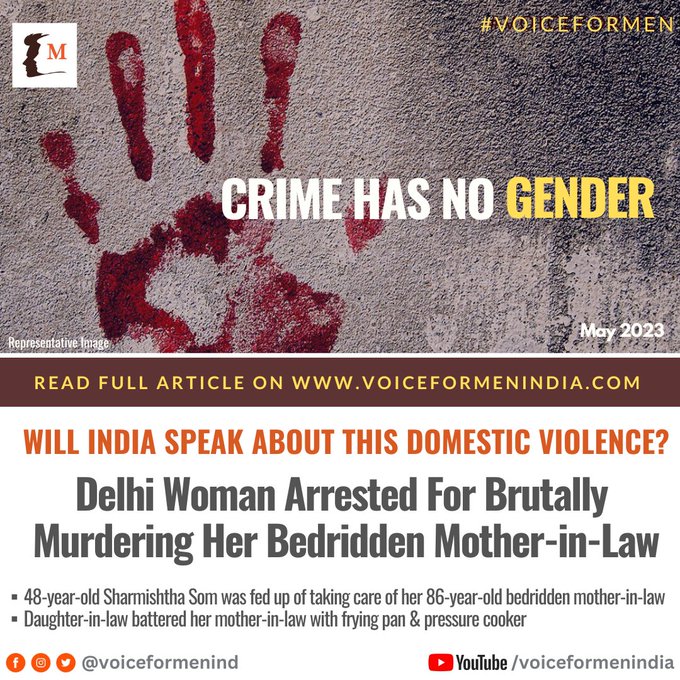 MUST WATCH:
My Brother Was Beaten Up In Police Custody On Mere 498A Complaint By His Wife | Husband's Sister
Join our Facebook Group or follow us on social media by clicking on the icons below
Donate to Voice For Men India
Blogging about Equal Rights for Men or writing about Gender Biased Laws is often looked upon as controversial, as many 'perceive' it Anti-Women. Due to this grey area - where we demand Equality in the true sense for all genders - most brands distance themselves from advertising on a portal like ours.
We, therefore, look forward to your support as donors who understand our work and are willing to partner in this endeavour to spread this cause. Do support our work to counter one sided gender biased narratives in the media.
To make an instant donation, click on the "Donate Now" button above. For information regarding donation via Bank Transfer, click here.
Alternately, you can also donate to us via our UPI ID: voiceformenindia@hdfcbank