Voice For Men India often gets this one query repeatedly by separated men. "Can we get into a live-in relationship with someone else, because our divorce proceedings are taking several years?" Addressing this query, here is what Delhi High Court said in its judgement dated September 13, 2023.
In a recent matrimonial proceedings, the Delhi High Court observed that a husband cannot be refused divorce from his estranged wife, merely because he has been living with another woman after long years of separation. A division bench of Justice Suresh Kumar Kait and Justice Neena Bansal Krishna observed:
A husband living with another woman, after long years of separation from his wife with no possibility of re-union during the pendency of the divorce petition, cannot disentitle him from seeking divorce on proven grounds of cruelty by the wife.
READ JUDGMENT | Delhi High Court Rejects Maintenance To Working Wife; "Section 24 HMA Not Meant To Create Army Of Idle People"
Case:
Parties got married in December 2003 according to Hindu customs and rites. No child was born from the said wedlock.
Between 2003-2005, wife repeatedly went back to her maternal home on account of domestic fights and then finally never returned. 
In the year 2007, the husband filed for divorce on grounds of 'Cruelty' under Section 13(1)(ia) the Hindu Marriage Act, 1955 and subsequently, the appellant wife rebounded with an FIR under Sections 498A/406/34 of the IPC.
In March 2023, the husband and his family members all got acquitted in the matter. 
However, in September 2022, the wife also filed a complaint under Section 12 of the Protection of Women from Domestic Violence Act, 2005 (hereinafter referred to as 'D.V. Act') against the respondent-husband, but the same was also disposed of in the same month. 
Multiple cases were filed by the wife against the husband and his family and vice-versa. 
READ JUDGMENT | Trial Court Can't Presume Women Couldn't Have Done Crime On Basis Of Gender: Delhi High Court
Allegations by Husband
According to the husband, the wife came to reside in the matrimonial home in December 2003, but merely two days after the marriage, she started complaining that she felt suffocated in the joint family which comprised of respondent-husband, his parents and brother. She insisted that separate residence from the family members be set up. She also insisted to take alternate premises in New Delhi where her sister and brother-in-law was residing. The efforts of the husband to dissuade the wife from setting up a separate residence did not meet any success.
The husband further claimed that the wife was a lady of arrogant nature and haughty temperament who used to pick quarrels without any justifiable cause or reason. She would frequently go to her parental home as well as to the house of her sister without informing or seeking permission from the family of the husband. On questioning, she would retort and tell the husband not to interfere in her personal affairs.
The husband also accused his wife of aborting their child. He informed the Court that his wife refused to have physical relationship with him, and repeatedly refused his advances by calling him impotent. In February 2004, when the wife became pregnant, the husband was taking complete care and also taking her for medical check-ups.
He alleged that the wife was not interested in having the baby and thus she left for her parental home along with all her clothes and jewelry. This is where she allegedly consumed some herbs and suffered abortion in August 2004. 
The husband also accused his wife's brothers of visiting his home in 2005 with a hockey stick and assaulting him physically. Despite the husband registering an MLC (Medico Legal Case) immediately, the police did not register any case against the wife and her brothers. The husband thus claimed that he had been subjected to immense physical and mental cruelty and sought divorce. 
READ ORDER | Delhi High Court Orders Costs On Either Parties If They Take Adjournments Or Fail To Conclude Arguments In Divorce Matter
Allegations by Wife
The wife on the other hand, denied all the allegations of cruelty made against her. She asserted that they had a lavish wedding and aside from valuable jewellery, household articles, a Santro Car was also given. Despite this, she was not treated properly. She accused the husband and his family of dowry demand for Rs 30 lakh to set up a factory and since the Santro car was stolen, her in-laws were demanding a bigger car. 
With regards to the abortion, she infact blamed her mother-in-law of giving her some medicine, after which she suffered miscarriage. Thus, challenging the husband's divorce petition, the wife alleged of being a victim of cruelty herself. 
Wife Accuses Husband Of Remarriage
In 2018, the estranged wife filed another complaint stating that her husband had remarried and had two sons from this second marriage. 
READ ORDER: Repeated Suicide Threats By Wife Amounts To Mental Cruelty On Husband: Delhi High Court
Trial Court – Divorce Case
The learned judge of the Family Court considered various acts of cruelty, physical abuse and mental torture along with the threats and the criminal cases filed by the wife against the husband and also the long period of separation.
It was also observed that there was no co-habitation between the parties since 2005 and also concluded that the husband has successfully proved that he had been subjected to cruelty at the hands of his wife. According in 2018, the family court granted divorce to the husband on the ground of cruelty under Section 13(1)(ia) the Hindu Marriage Act, 1955.
Aggrieved by this Decree of Divorce, the wife filed the present appeal.
READ ORDER | Hindu Marriage Act Does Not Recognise Irretrievable Breakdown In Marriage As Grounds For Divorce Leaving Parties To Suffer: Delhi High Court
Delhi High Court
A division bench of Justice Suresh Kumar Kait and Justice Neena Bansal Krishna observed that the parties got married in December 2003 but instead of happiness, their marriage became a bed of rocks from the first day.
With regards to the dowry allegations, the High Court observed:
It is significant to note that the appellant-wife had made various allegations of dowry demand and has even claimed that a sum of Rs 7 lakh has been paid to the husband and his family members for purchasing a bigger car.

Pertinently, no complaint was made by the appellant-wife at that time but it was made subsequently after the Divorce Petition was filed in the year 2007 and the FIR under Section 498-A IPC was registered much after the parties separated in 2005.

Making such false allegations which the wife is not able to sustain or prove is clearly an act of cruelty.
READ ORDER | Delhi High Court Quashes False Rape FIR Against Father-in-Law After Husband Settles Matrimonial Dispute With Alimony
With regards to the wife's allegations on husband's remarriage and two sons without divorce, the High Court noted that this claim was made by the wife for the first time only in 2018 without any specific details or proof whatsoever of the alleged second marriage.
The Delhi High Court went a step further and said:
Even if it is accepted that the husband has started living with another woman and has two sons during the pendency of Divorce Petition, that in itself, cannot be termed as cruelty in the peculiar circumstances of this case when the parties have not been co-habiting since 2005.
The High Court added:
After such long years of separation with no possibility of re-union, the husband may have found his peace and comfort by living with another woman, but, that is a subsequent event during the pendency of the Divorce Petition and cannot disentitle the husband from divorce from the wife on the proven grounds of cruelty.
Upholding the Family Court judgment on granting divorce to the husband, the Delhi High Court concluded that the appellant-wife had subjected the respondent-husband to cruelty.
Perjury Is A Serious Criminal Offence Which Can't Be Remedied: Delhi High Court
Voice For Men India Take:
Adultery has been decriminalised in India since 2018, however, the same still remains a valid ground for divorce (civil)
Adultery can be alleged, if either spouses are indulging in extra-marital affairs during the existence of co-habitation in marriage, or prior to filing for divorce
In India, after the divorce proceedings are initiated, couples spend most of their prime years in a contested case at court, merely because one of the spouses chooses to harass the other
There is no denial that such broken marriages are contested by both estranged wives and husbands, however, most often it is the men who suffer such long drawn ego battles 
Sadly, the Hindu Marriage Act 1955 does not recognise irretrievable breakdown in marriage as a ground for divorce. This means that irrespective of the number of years that parties have been separated, unless one is able to prove cruelty by the other, a decree of divorce will not be granted
Addressing the elephant in the room, the Delhi High Court has given a very practical judgment, where second marriage has not been established, but it also does not penalise a man for moving on in his life, where the divorce case has not been concluded for more than 15-years
With the current mood of the Centre and State governments, there is hardly any hope for justice for separated men, however, taking cue from this Delhi High Court judgment, one can exercise their absolute right to life, as long as it does not violate any law, including bigamy, within the constitution
DO WATCH:
Hope For Men | Seminar Organised By Men Welfare Trust NGO Delhi | Voice For Men India
LEAVE YOUR COMMENTS ON THE TWEET – CLICK HERE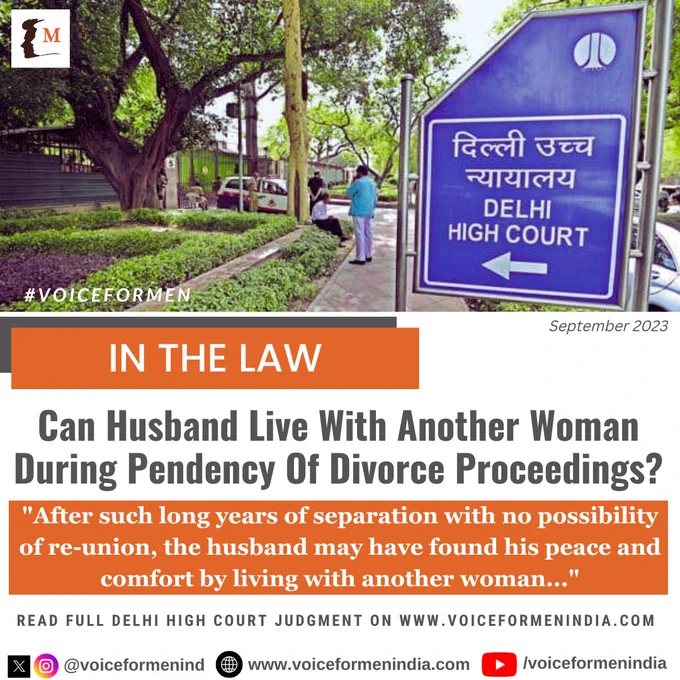 Join our Facebook Group or follow us on social media by clicking on the icons below
Donate to Voice For Men India
Blogging about Equal Rights for Men or writing about Gender Biased Laws is often looked upon as controversial, as many 'perceive' it Anti-Women. Due to this grey area - where we demand Equality in the true sense for all genders - most brands distance themselves from advertising on a portal like ours.
We, therefore, look forward to your support as donors who understand our work and are willing to partner in this endeavour to spread this cause. Do support our work to counter one sided gender biased narratives in the media.
To make an instant donation, click on the "Donate Now" button above. For information regarding donation via Bank Transfer, click here.
Alternately, you can also donate to us via our UPI ID: voiceformenindia@hdfcbank