The Delhi High Court was hearing a matter related to assault, kidnapping and attempt to murder of a person. 
The trial court had framed charges against five men in the said matter and discharged five accused women in the same case on the ground that there was no evidence to prove they had instigated the male accused. The trial court had asked all lady accused persons to furnish bail bonds under Section 437A of Code of Criminal Procedure (CrPC).
The State challenged this order before the High Court.
READ ORDER: Repeated Suicide Threats By Wife Amounts To Mental Cruelty On Husband: Delhi High Court
Delhi High Court
Justice Swarna Kanta Sharma heard the matter and criticised the trial court order in which it was stated that "female members" could not have participated in the offences alleged in a case involving accusations of assault, kidnapping and an attempt to murder a person. Justice Sharma said,
The trial court in the present case has given no reasons as to what led it to believe at this stage, to assume on its own, that the 'female members' could not have participated in the commission of offence despite there being specific allegations levelled and specific roles attributed to them by the victim himself as recorded in the FIR and statement of the independent witnesses.
Perjury Is A Serious Criminal Offence Which Can't Be Remedied: Delhi High Court
The High Court also remarked on the assumption to favour a female accused without any substantive basis or valid grounds and termed this against the core principles of the justice system. Justice Sharma said that the legal system is predicated on the objective assessment of facts rather than preconceived notions. She added,
Our legal system is founded on the principle of gender neutrality, unless otherwise provided, where each individual, regardless of their gender, is held accountable for their actions in accordance with the law.

Presumptions based on gender have no place within this framework, unless provided by law, as they undermine the pursuit of truth and justice.
The Court noted that the presumption in favour of the female accused was made by the trial court at the stage of framing of charge, when its primary duty was only to see whether a prima facie a case was made out or not.
With regards to accused women being asked to furnish bail bonds, the Delhi High Court said:
This Court is again constrained to observe that writing so in a judicial order does not reflect well on the judicial philosophy of treating all genders equally.

It was a judicial order and the names of the persons discharged who were directed to furnish bail bonds should have been mentioned instead of mentioning and pointing them by their gender.
READ ORDER | Delhi High Court Allows Complainant Woman To Quash False Rape Charges Against Father-in-Law After Receiving Rs 10 Lakh Settlement Amount
While setting aside the trial court order, the Delhi High Court remanded the case back to the same court.
The judgement copy will also be circulated among all the Judicial Officers and Director (Academics) and the Delhi Judicial Academy for taking note of its contents.
Voice For Men India Take: This is how our judicial system must function to remain relevant and effective irrespective of the accused person's gender. Sadly, while this stand has been taken in a criminal matter, many judges do not take stringent action against accused women in civil, largely matrimonial cases. 
DO WATCH:
How To Approach Section 340 CrPC In Matrimonial Cases | Perjury | Voice For Men India
LEAVE YOUR COMMENTS BELOW:
READ JUDGMENT | Trial Court Can't Presume Women Couldn't Have Done Crime On Basis Of Gender: Delhi HC

▪️"Our legal system is founded on principle of gender neutrality, where each individual, regardless of gender, is held accountable for their actions"https://t.co/XHBkoXhB4S

— Voice For Men India (@voiceformenind) September 6, 2023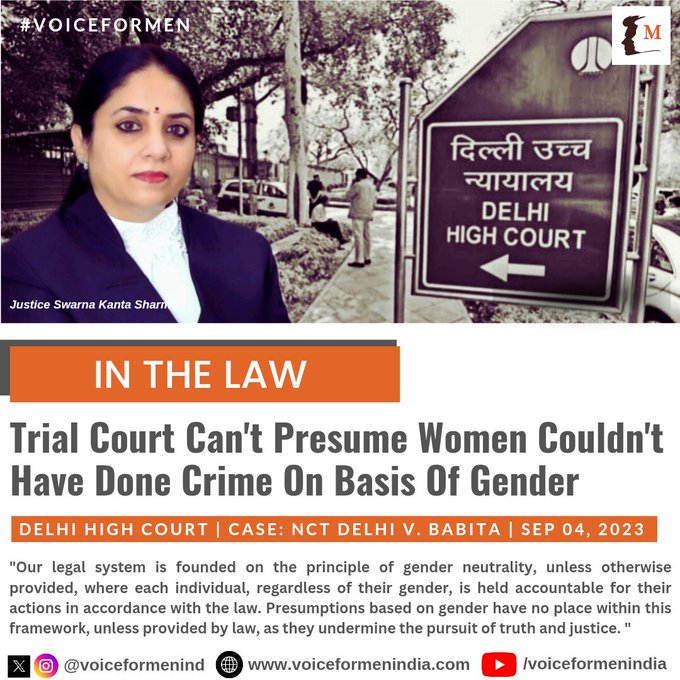 Join our Facebook Group or follow us on social media by clicking on the icons below
Donate to Voice For Men India
Blogging about Equal Rights for Men or writing about Gender Biased Laws is often looked upon as controversial, as many 'perceive' it Anti-Women. Due to this grey area - where we demand Equality in the true sense for all genders - most brands distance themselves from advertising on a portal like ours.
We, therefore, look forward to your support as donors who understand our work and are willing to partner in this endeavour to spread this cause. Do support our work to counter one sided gender biased narratives in the media.
To make an instant donation, click on the "Donate Now" button above. For information regarding donation via Bank Transfer, click here.
Alternately, you can also donate to us via our UPI ID: voiceformenindia@hdfcbank