"Perjury is a serious criminal offence which cannot be remedied"...observed the Delhi High Court in its recent order M/S GOKALDAS PAPER PRODUCTS v. M/S LILLIPUT KIDSWEAR LTD & ANR.
While this is not a matrimonial or gender related case, it is important to note what a High Court thinks with regards to anyone making false statements under oath.
False FIRs Have Become A Trend; High Time Courts Took Strong Action In Perjury Cases: Punjab & Haryana High Court
Case:
The 2013 case briefly pertains between a supplier of paper carry bags against an entity namely M/s Lilliput Kidswear Ltd. and its former Managing Director over non-payment of dues.
The supplier had filed another petition against the company in 2012 for winding up of the respondent entity under the Companies Act, where the Managing Director had expressed willingness to repay the dues.
It was the petitioner's case that an action for contempt must be initiated against the entity and the Managing Director for paying only three out of the ten instalments towards repayment of dues, which was in breach of the undertaking given to the court on various occasions.
READ ORDER | Karnataka High Court Directs Trial Court To First Decide On Perjury Application Filed By Husband Against Wife
Delhi High Court
Justice Sanjeev Narula of the Delhi High Court directed the Registrar General to file a complaint against the respondent party for making a false statement and send it to the appropriate Metropolitan Magistrate, reported Live Law.
Justice Narula said that filing a false affidavit in court is a serious offence that undermines the very foundation of the legal system.
The High Court also observed that the legal system relies heavily on the honesty and integrity of individuals who appear before courts. The bench remarked:
When one makes a statement before the court or signs an affidavit, they are making a solemn declaration to tell the truth, the whole truth and nothing but the truth. Filing of a false affidavit is a serious offence that undermines the very foundation of the legal system.
READ ORDER | Maharashtra Court Books Woman For Perjury & Filing False Gang Rape Case
Justice Narula also added that perjury strikes at the very heart of the judicial process by undermining the integrity of the evidence presented in court. He said,
The act of contempt can be purged or remedied, by the offending party, but in contrast, perjury cannot. Simply recanting or correcting a false statement cannot undo the act. Affidavits in a court of law have sanctity and cannot be taken casually. Thus, a false statement to the Court has to necessarily invite adverse action.
The High Court rejected an unconditional apology in the case and said, Subsequent reply and accompanying affidavit prima facie contained false statements made in the course of judicial proceedings punishable under sections 193, 199 and 200 of Indian Penal Code, 1860. The Court said,
Respondent No. 2 has offered to tender an unconditional apology. However, in the opinion of the Court, the same is of no avail.
READ ORDER | Kerala High Court Orders Husband To Withdraw Perjury Case Against Wife Since It Would Open Floodgates Of Litigation
The court also said that such a contradictory stand without any cogent explanation is prima facie a deliberate false statement to mislead the court and that an apology by the Managing Director would not deter an action invited for perjury. The Court concluded,
Accordingly, this Court is prima facie of the view that offences under Sections 191 and 192 of IPC, 1860 punishable under Section 193, 199 and 200 of IPC, 1860 have been committed by Respondent No.2 in relation to the present proceedings.
LEAVE YOUR COMMENTS BELOW:
"Perjury Is A Serious Criminal Offence Which Can't Be Remedied": Delhi High Court

▪️HC: "Filing a false affidavit in court is a serious offence that undermines the very foundation of the legal system"#VoiceForMenhttps://t.co/VjHSfTYpT1

— Voice For Men India (@voiceformenind) April 21, 2023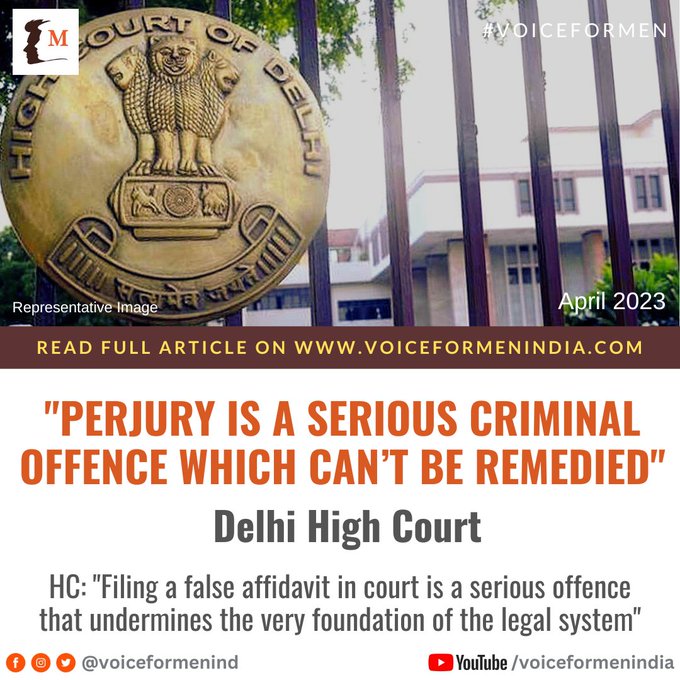 MUST WATCH:
How To Approach Section 340 CrPC In Matrimonial Cases | Perjury | Voice For Men India
Join our Facebook Group or follow us on social media by clicking on the icons below
Donate to Voice For Men India
Blogging about Equal Rights for Men or writing about Gender Biased Laws is often looked upon as controversial, as many 'perceive' it Anti-Women. Due to this grey area - where we demand Equality in the true sense for all genders - most brands distance themselves from advertising on a portal like ours.
We, therefore, look forward to your support as donors who understand our work and are willing to partner in this endeavour to spread this cause. Do support our work to counter one sided gender biased narratives in the media.
To make an instant donation, click on the "Donate Now" button above. For information regarding donation via Bank Transfer, click here.
Alternately, you can also donate to us via our UPI ID: [email protected]