A local court in Faridabad acquitted an accused man charged for rape after the complainant woman accepted filing a false FIR under pressure from her family.
Shockingly, the court has ordered the woman to pay only Rs 500 for filing a false rape case.
Supreme Court Acquits Two Men In False Rape Case After They Spent Nearly 10-Years In Jail
Background:
A woman who lives in a village at Faridabad had lodged a case of rape on October 11, 2019 at the mahila police station in Ballabhgarh, accusing a person named Indrajit.
In her complaint, the woman alleged that Indrajit had raped her, uploaded her objectionable photographs on social media and even threatened to kill her and her family members. Subsequently, the accused was arrested and sent to jail.
Gujarat: Valsad Professor Acquitted From False Rape Charges Of His Minor Daughter After Spending Two-Years In Jail
Woman Denies Rape After Four Years
After investigation and 11 witnesses in the case, the woman denied the allegations in the court.
On Monday, the complainant accepted that she had lodged the case under pressure from her family.
Mumbai Chartered Accountant Suicide: Four-Page Note Alleges Harassment By Police In 'False Rape' Case By Former Colleague & Her Husband
Court Orders Fine For Filing False Rape Case
It was concluded that Indrajit had neither raped her nor uploaded any of her pictures on social media.
As the woman accepted filing false rape case, the court ordered that a counter case be filed against her under Section 344 of CrPC for giving false evidence.
Accordingly, court ordered her to pay a fine of Rs 500. If she fails to pay the fine, she will have to undergo simple imprisonment for seven days. However, the woman quickly deposited the fine in the court and got relief.
LEAVE YOUR COMMENTS BELOW:
"Pay Rs 500/- Or Face Imprisonment For Seven Days"

– Faridabad Court To Complainant Woman Who Filed #FalseRape Case

▪️Man was arrested in Oct 2019
▪️After 4-years, woman confessed that false rape case was filed under family pressure#VoiceForMen https://t.co/wfNbRkEQa0

— Voice For Men India (@voiceformenind) April 21, 2023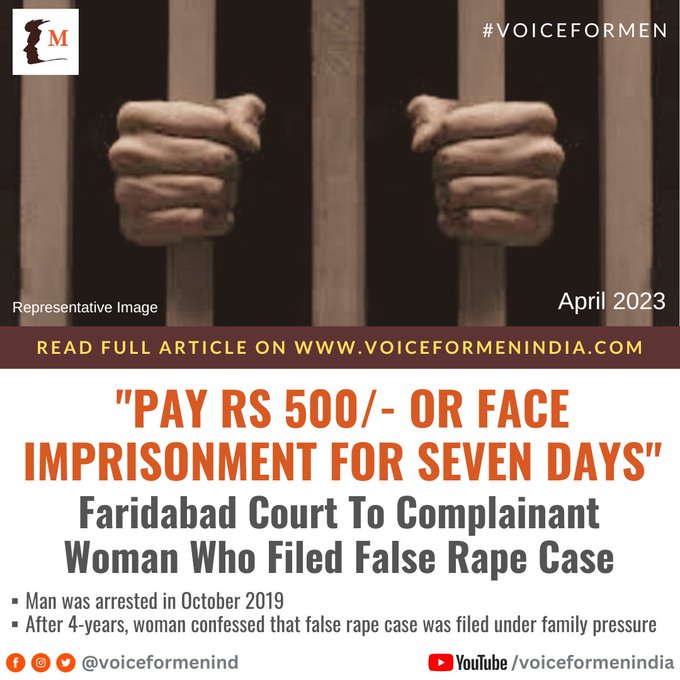 MUST WATCH:
Sarvjeet Singh Bedi Case | "Can't Prosecute Jasleen Kaur U/s 340 CrPC For Mere Loss Of Reputation": Delhi HC
ALSO READ:
Women Rights Activists Threaten Dharna Over Rajasthan State Commission For Women's Order To Prosecute All Who File False Rape Cases
Join our Facebook Group or follow us on social media by clicking on the icons below
Donate to Voice For Men India
Blogging about Equal Rights for Men or writing about Gender Biased Laws is often looked upon as controversial, as many 'perceive' it Anti-Women. Due to this grey area - where we demand Equality in the true sense for all genders - most brands distance themselves from advertising on a portal like ours.
We, therefore, look forward to your support as donors who understand our work and are willing to partner in this endeavour to spread this cause. Do support our work to counter one sided gender biased narratives in the media.
To make an instant donation, click on the "Donate Now" button above. For information regarding donation via Bank Transfer, click here.
Alternately, you can also donate to us via our UPI ID: voiceformenindia@hdfcbank