Last month, Voice For Men India had reported a case from Mumbai (end of the article), where a city based chartered accountant ended life at his friend's bungalow in Igatpuri. Now incidentally, the victim's suicide note has been recovered, which alleges harassment by police in a 'false rape' case.
27-Year-Old Bareilly Man Hangs Himself After Alleged False Molestation Case & Blackmailing By Constable
Background:
45-year-old city-based chartered accountant (CA) Chirag Varaiya had died by suicide at a resort in Igatpuri on January 29. An FIR of rape was registered against Varaiya last month at the Bhandup police station by his former colleague.
Before Varaiya ended life, he left a four-page suicide note, alleging that he is forced to take the action because of the harassment of the police.
As per a report by Mid-Day, in his letter titled "My last letter", Chirag wrote that his former colleague and her husband framed him in a fake case.
Aspiring Muzaffarnagar Athlete Dies By Suicide After He Was Jailed For 19-Months In Alleged False Rape Case
His reference to the police starts with "police/DCP office", and goes on to state:
Your fake action disturbed my entire family. My family, clients, and staff, including 500 people, are dependent on me. I could have lived for 100 years, but I have to cut my life short because of your wrong and greedy action.
Adding further, the note read:
Let it be….but in future, don't repeat this. In last few years I earned goodwill and a reputation which spoiled completely.
Superintendent of Police Sahaji Umape, Nashik Gramin, told Mid-Day,
We found a suicide note from CA Chirag Varaiya and are matching his handwriting with that in the note. He also wrote about police corruption, but did not mention any names.
In his message to the former colleague and her husband, he said,
If possible, give all the money to the investors and be good human beings.
Disabled Man Dies By Suicide After Woman, Her Father File False Rape Charges In Cheque Bounce Case
Suicide Note: "I'm innocent…"
In the last moments of my life, I will not lie. I never touched my colleague and her entire statement is false. My last wish is to forgive all of them and give them a chance to become good human beings.
To his wife, he said,
I love my wife. Forgive me. Take care of kids Mithil and Nishka. Goodbye.
For his kids, Chirag wrote:
I am sorry and I am a bad father who didn't complete the responsibility of father. You should now stand independent and complete the education. I am praying that one day you will grow and become a big man. Also take care of my mother.
Father Of Three Commits Suicide Due To False Rape Allegations
Chirag's brother Sanjay Varaiya told Mid-Day,
We have not seen the suicide note yet. We will go to the Igatpuri police station next week.

On January 10, the Bhandup police registered a case against Chirag and picked him up on January 26 to record his statement. The police have now taken the statements of the woman and her husband who had lodged the rape case.
The police team will also record the statements of officers from the Bhandup police station, where an FIR was registered against Varaiya last month.
22-Year-Old Bhopal Boy Dies By Suicide Due To Alleged Blackmailing By Tenant's Wife…After Notice To Vacate Property
Speaking with The Indian Express, an officer from the Igatpuri Police said,
No case has been registered in the matter so far, and the Igatpuri Police has taken an accidental death report (ADR) in the incident. We are in the city (Mumbai), and will go to Mulund to record the statements of the family members of the deceased.

We did not bother them any earlier. If they file a complaint, an FIR would be registered in the case.
WATCH | Amit Kumar Gurugram Suicide | Ended Life After Humiliation In 'False' Sexual Harassment Case | Interview With Family By Deepika Narayan Bhardwaj
The officer added that they will also issue summons to the woman who had registered an FIR against Varaiya to appear before the Igatpuri Police to record her statement. He said,
A rape case was registered against Varaiya by one of his former colleagues. Varaiya, meanwhile, had registered a fraud case against her. So, we will record details of the officers concerned to get some more clarity on the issue.
Suicide Prevention Helpline
Men in distress due to family problems or facing threats of false cases from women, wives or in-laws can contact either of the Men's Rights NGOs:
You can also contact Government of India 24×7 toll-free mental health rehabilitation helpline 'KIRAN' on 1800-599-0019
LEAVE YOUR COMMENTS BELOW:
Mumbai Chartered Accountant Suicide: Four-Page Note Alleges Harassment By Police In #FalseRape Case By Former Colleague, Her Husband

▪️45YR CA Chirag Varaiya registered fraud case against former colleague
▪️Woman, her husband filed rape case against CAhttps://t.co/eT3yHRSHaf

— Voice For Men India (@voiceformenind) February 13, 2023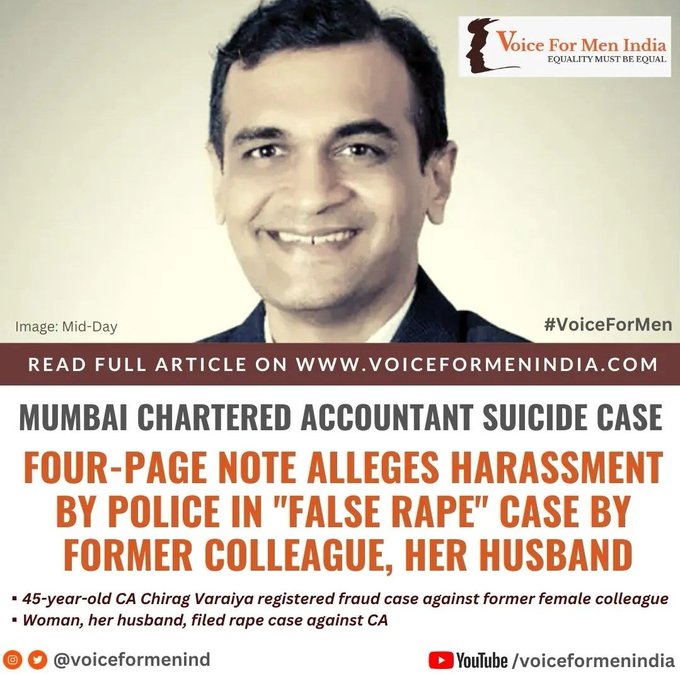 BACKGROUND STORY:
Mumbai: Chartered Accountant Dies By Suicide Following Rape Case Against Him Three Weeks Ago
ALSO WATCH:
Mehul Bhatnagar Is Innocent; Girl Wrote Rape & Acid Attack Threat Letters Herself: Jodhpur Police
Join our Facebook Group or follow us on social media by clicking on the icons below
Donate to Voice For Men India
Blogging about Equal Rights for Men or writing about Gender Biased Laws is often looked upon as controversial, as many 'perceive' it Anti-Women. Due to this grey area - where we demand Equality in the true sense for all genders - most brands distance themselves from advertising on a portal like ours.
We, therefore, look forward to your support as donors who understand our work and are willing to partner in this endeavour to spread this cause. Do support our work to counter one sided gender biased narratives in the media.
To make an instant donation, click on the "Donate Now" button above. For information regarding donation via Bank Transfer, click here.
Alternately, you can also donate to us via our UPI ID: voiceformenindia@hdfcbank