The Kerala High Court in its order dated March 22, 2023 directed a man to withdraw a perjury case filed by him against his wife. The wife in this case had filed for interim maintenance, while claiming to be unemployed, whereas, the husband was able to prove that she was working as a doctor.
The Kerala High Court instead of reprimanding the wife for lying under oath, ordered the husband to take his complaint back, else all such 'complaints would open floodgates of litigation.'
READ ORDER | Married Woman Cannot Charge Male Partner Of Rape On Promise Of Marriage After Consensual Sex: Kerala High Court
Case:
The appellant/accused wife filed an application seeking maintenance under Section 125 Cr.P.C. against her estranged husband/respondent.
In the said case, while the appellant was examined, she was asked in the cross examination as to whether she was employed as a doctor in a clinic and earning salary. The appellant answered in the negative and claimed to have no means to maintain herself.
The proprietor of 'Doctor 32', Kakkanad, namely, X, was examined by the respondent/husband to disprove her case. X in her examination deposed that the appellant herein is working in her clinic as a trainee and that she is being paid an amount of Rs 4,000 monthly as stipend.
The respondent/husband then filed a case of perjury contending that the statement made by the appellant herein on oath denying her employment status would come within the definition of the offence of giving false evidence as contemplated under Section 191 IPC, punishable under Section 193 IPC. Hence, the request for lodging a complaint against the appellant before the jurisdictional Magistrate by invoking the power under Section 340 Cr.P.C. for commission of the offence punishable under Section 193 IPC.
Younger Generation Expands Word 'WIFE' As 'Worry Invited For Ever' Substituting Old Concept Of 'Wise Investment For Ever': Kerala High Court
Trial Court
On the basis of the said complaint, the learned Family Court Judge found that the offence alleged to have been committed by the appellant is one among the offences mentioned under Section 195(1)(b)(i) Cr.P.C. and hence was of the opinion that it was expedient in the interest of justice to make an enquiry.
On a consideration of the oral evidence and attendance register maintained in the clinic, the court concluded that the materials on record prima facie showed that the appellant under oath, had made a false statement in her examination before the court and so an offence punishable under Section 193 IPC had been made out, for which action under Section 340 Cr.P.C. required to be taken.
Thus the trial court allowed the husband's application and gave direction to lodge a complaint against the appellant wife herein under Section 340 Cr.P.C. before the jurisdictional Magistrate.
READ ORDER | Can A Man Be Charged With Rape On Promise Of Marriage If He Marries Another Woman? Kerala High Court Grants Bail To Central Government Standing Counsel
Wife's Defense
The wife contended that the complaint is not maintainable as it is opposed to law, facts and circumstances of the case. The enquiries stated to have been conducted by the Family Court, was without considering the materials on record or considering it in the proper perspective, which has resulted in causing serious miscarriage of justice.
The materials on record do not show the involvement of any public interest or intention to give any false statement. As Annexure A3 complaint is without complying with the provisions of Section 340 Cr.P.C., the same is not maintainable and hence liable to be withdrawn.
Subsequently, she appealed the Trial Court order in the High Court.
If A Woman Tricks A Man Under False Promise Of Marriage, She Can't Be Prosecuted; What Kind Of Law Is This? | Questions Kerala High Court
Kerala High Court
A division bench of Justices Alexander Thomas and CS Sudha remarked that proceedings for perjury (making false statement to court) cannot be initiated on all statements and arguments before the Court as it will open a floodgate of litigation. The Court said:
As held in Chandrapal Singh (Supra), day-in and day-out averments are made by the parties to the case, some of which are accepted and some others are rejected. If in all such cases, proceedings for perjury are to be filed, not only will that open up floodgates of litigation, but it would also be an abuse of the process of the court and the courts will not have time for any other matter apart from considering such issues.

Therefore, in these circumstances, we hold that this is not a fit case in which the proceedings under Section 340 CrPC ought to have been initiated. In the result, the appeal is allowed. The complainant in annexure A3 complaint is directed to withdraw the complaint.
The High Court after referring to various past precedents said:
We refer to the Constitution Bench decision of the Apex Court in Iqbal Singh Marwah v. Meenakshi Marwah: 2005 KHC 647 : AIR 2005 SC 2119, wherein it has been held that, in view of the language used in Section 340 Cr.P.C., the court is not bound to make a complaint regarding commission of an offence referred to in Section 195(1)(b) as the section is conditioned by the words "court is of opinion that it is expedient in the interests of justice.
READ ORDER | Objective of Senior Citizen Act Is Not Only Financial Support, But Also Prevent Financial Exploitation By Children: Kerala High Court
The Court while remarking that proceedings against all false statements cannot be initiated on all statements and averments before the courts as it will open up a floodgate of litigation, said:
Acceptance or rejection of evidence by itself is not a sufficient yardstick to dub the one rejected as false. Falsity can be alleged when truth stands out glaringly and to the knowledge of the person who is making the false statement. Day in and day out in courts averments made by one set of witnesses are accepted and the counter-averments are rejected.

If in all such cases complaints under Section 199 IPC are to be filed, not only there will open up floodgates of litigation but, it would unquestionably be an abuse of the process of the Court.
Thus, the Kerala High Court directed the husband to withdraw his complaint before the jurisdictional Magistrate against his wife.
ARE WOMEN GETTING AWAY BY OPENLY MOCKING THE SYSTEM?
LEAVE YOUR COMMENTS BELOW:
READ ORDER | Kerala HC Orders Husband To Withdraw Perjury Case Against Wife Since 'It Would Open Floodgates Of Litigation'

▪️Wife filed for maintenance
▪️When asked if she was working, she said no
▪️Husband proved she worked as doctor#VoiceForMenhttps://t.co/G0gsHUIvT5

— Voice For Men India (@voiceformenind) March 28, 2023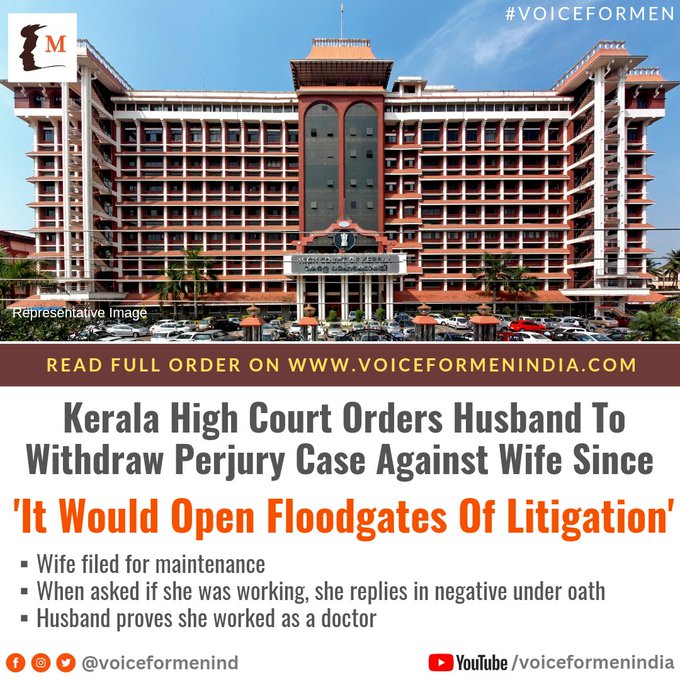 MUST WATCH VIDEO:
How To Approach Section 340 CrPC In Matrimonial Cases | Perjury | Voice For Men India
READ NEW MAINTENANCE GUIDELINES SET BY SUPREME COURT OF INDIA: RAJNESH VS NEHA 
READ JUDGEMENT | Maintenance Awarded Must Be Reasonable & Realistic; Objective Of Alimony Is Not To Punish Other Spouse: Supreme Court
Join our Facebook Group or follow us on social media by clicking on the icons below
Donate to Voice For Men India
Blogging about Equal Rights for Men or writing about Gender Biased Laws is often looked upon as controversial, as many 'perceive' it Anti-Women. Due to this grey area - where we demand Equality in the true sense for all genders - most brands distance themselves from advertising on a portal like ours.
We, therefore, look forward to your support as donors who understand our work and are willing to partner in this endeavour to spread this cause. Do support our work to counter one sided gender biased narratives in the media.
To make an instant donation, click on the "Donate Now" button above. For information regarding donation via Bank Transfer, click here.
Alternately, you can also donate to us via our UPI ID: [email protected]