Supreme Court of India is hearing a PIL for criminalising 'Marital Rape' – a charge where a wife will be empowered to file such a case unilaterally against the husband. Medical test in all such cases would hardly matter, unless there are serious physical injuries to the woman. To begin with, sexual violence within marriage by a husband is already covered under Section 498-A IPC, Section 377 IPC and Domestic Violence Act. 
Amidst the ongoing PIL hearing, the Delhi High Court has quashed the charges of rape against a woman's father-in-law, after the husband agreed to pay full and final settlement in alimony to his complainant wife. 
This is exactly what the Men's Rights Activists are fighting against in the court, as well as on social media. 
While the Delhi High Court in the below matter has observed that the act of pressing false rape charges in matrimonial cases by the complainant against the husband and his family members – which are later settled – needs to be curbed, the wife has been asked to pay a paltry sum and get away. 
Delhi High Court Says No Punishment To False Rape Accuser Because "She Admitted Truth Fairly"
Case:
The marriage between parties was solemnised on 25.07.2015 according to the Hindu rites and ceremonies at Delhi. No child is born from this wedlock.
Soon, due to a matrimonial discord, the couple started living separately from each other since 01.05.2016.
Subsequently, the wife filed an FIR against her husband and in-laws under Sections 406, 498A, 506, 376 (alleged rape by father-in-law) and 34 of the IPC.
Bombay HC Quashes Rape FIR After Son Of CPM Former State Secretary Pays Rs 80 Lakh To Complainant Woman As Settlement
Monetary Settlement
During the pendency of the grievous charges, the husband agreed to pay a sum total of Rs 5 lakh to the wife towards all her claims of alimony, maintenance – past, present and future, stridhan, and dowry articles etc.
The first motion proceedings of mutual divorce was completed after the husband paid Rs 2 lakh to the respondent wife. Subsequently, the husband also handed over a demand draft dated 12.04.2023 drawn on Bank of Baroda for another Rs 2 lakh in favour of the wife, which has been accepted by her. The balance and final amount of Rs 1 lakh shall be paid to the wife by the husband at the time of second motion proceedings.
Citizen of India Requests CJI To Reconsider Formation Of Bench In Marital Rape PIL; 2 Out Of 3 Judges' Opinion Already In Public Domain
Wife Agrees To Quash FIR
The wife informed the Investigating Officer that allegations under Section 376 IPC were filed by her against her father-in-law owing to misunderstandings. However, the wife (after receiving the settlement amount) confirmed that the misunderstandings had since been cleared and entire matter has been settled with the petitioners having left with no claim against them and she has no objection if the FIR is quashed.
The learned Counsel for the State also raised no objection, if this petition was allowed. The affidavits of parties were taken on record.
READ ORDER | FIR Of Assault, Unnatural Sex Quashed By Delhi High Court After Husband Pays Rs 75 Lakh As Permanent Settlement
Delhi High Court
Justice Yogesh Khanna of the Delhi High Court noted that serious offence of rape under Section 376 of Indian Penal Code, 1860 is being pressed during investigation of cases by complainants in a matrimonial lis against the husband and even his family members "putting the entire family to malign."
The court then noted that subsequently, the rape charges are being withdrawn with the settlement of matrimonial disputes between the parties.
Calling to curb such false rape cases, Justice Khanna said,
These acts of complainants need to be curbed so that in future one will think sensibly before involving the family members of husband in serious offence under Section 376 IPC beside the matrimonial dispute. The complainant of this case needs to be put to some terms.
The Judge saw no merit in keeping the FIR pending as the complainant wife had settled all the disputes and also received part settled amount from the husband and her in-laws. The Court thus ordered,
The balance amount of Rs.1.00 lac shall be paid to respondent No.2 (wife) at the time of second motion proceedings. In view of the above, there is no use to continue with the proceedings against petitioners as it would never entail in conviction of petitioners.
READ ORDER | Delhi High Court Allows Complainant Woman To Quash False Rape Charges Against Father-in-Law After Receiving Rs 10 Lakh Settlement Amount
Costs Imposed
Despite concluding that the rape charges by the woman against her father-in-law were false, despite learning that the complainant withdrew serious criminal charges under Section 498A and Section 376 IPC after monetary settlement with husband and in-laws, the Delhi High Court imposed costs of only Rs 10,000 on the complainant wife to be deposited with the Rohini District Courts Bar Association.
LEAVE YOUR COMMENTS BELOW:
READ ORDER | Delhi HC Quashes #FalseRape FIR Against Father-in-Law…After Husband Settles Matrimonial Dispute With Alimony

▪️Costs imposed by Delhi HC on complainant wife for filing false rape case against father-in-law: Rs 10,000#VoiceForMenhttps://t.co/AFK579PwWY

— Voice For Men India (@voiceformenind) April 24, 2023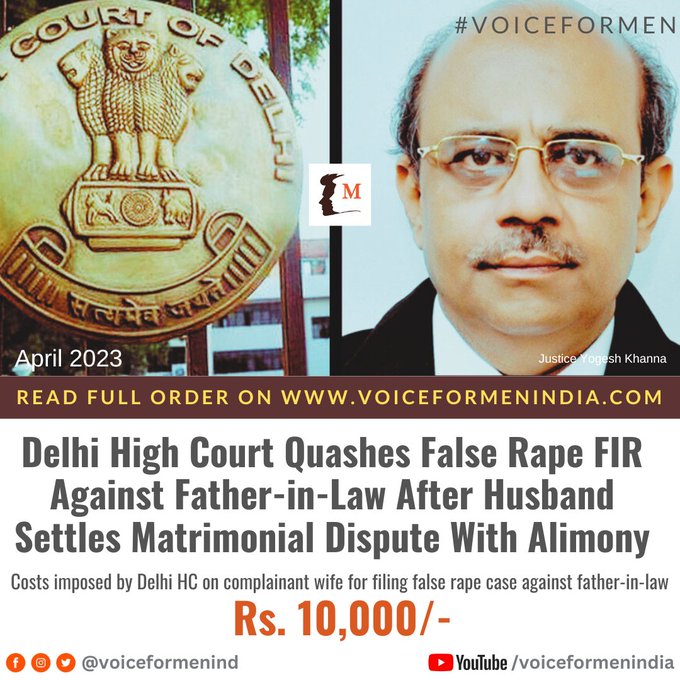 DO WATCH:
Justice S N Dhingra | Former Delhi High Court Judge | Marital Rape | Men Welfare Trust | Sifar
MUST READ:
NO, Men's Rights NGO Is Not Fighting To Keep Marital Rape Legal In India | Read Other Side Of Media Propaganda
Join our Facebook Group or follow us on social media by clicking on the icons below
Donate to Voice For Men India
Blogging about Equal Rights for Men or writing about Gender Biased Laws is often looked upon as controversial, as many 'perceive' it Anti-Women. Due to this grey area - where we demand Equality in the true sense for all genders - most brands distance themselves from advertising on a portal like ours.
We, therefore, look forward to your support as donors who understand our work and are willing to partner in this endeavour to spread this cause. Do support our work to counter one sided gender biased narratives in the media.
To make an instant donation, click on the "Donate Now" button above. For information regarding donation via Bank Transfer, click here.
Alternately, you can also donate to us via our UPI ID: voiceformenindia@hdfcbank