The Bombay High Court in its order September 27, 2022 quashed an FIR or rape and cheating registered against Binoy Kodiyeri, son of CPM former state secretary Kodiyeri Balakrishnan, after the accused paid Rs 80 lakh to the complainant woman as 'settlement'. 
Case:
In 2019, a Mumbai-based woman, who is originally from Bihar, had approached the Oshiwara Police station to register an FIR alleging rape and cheating by Binoy. In her FIR, the woman stated that the two had been in a relationship since 2009 and also had a child together.
According to the woman, their relationship nurtured when she was working at a dance bar in Dubai in 2008.
The woman said that she became pregnant in 2009 and Binoy had moved her to a flat in Andheri West, Mumbai, and on July 22, 2010, their son was born. She said that Binoy used to take care of her, paid the rent for the accommodation and till 2015 and send her money every month.
In 2018, the woman learnt that Binoy was already married. However, the 'Rape' FIR was filed against Binoy, after he allegedly stopped paying her maintenance to take care of their minor child.
READ ORDER | Delhi High Court Quashes False Rape FIR Directing Complainant Woman To Do Social Service In Blind School For Two Months
DNA of the Child
The sessions court in Mumbai had ordered Binoy to undergo a DNA test to check whether he was indeed the child's father. The court had subsequently granted him pre-arrest bail in the alleged rape case.
On July 29, 2019, the Bombay High Court had directed Binoy to provide a sample of his blood for a DNA test as per an order passed by a sessions court in Mumbai.
READ ORDER | Delhi High Court Allows Complainant Woman To Quash False Rape Charges Against Father-in-Law After Receiving Rs 10 Lakh Settlement Amount
Bombay High Court
As per a report by The News Minute, a division bench of the Bombay High Court, in July 2022, had earlier refused to hear the mutual application filed by Binoy and the woman seeking to end the court proceedings.
However, once again public prosecutor Sangeeta Shinde, counsels Rishi Bhuta and Ankita Bamboli for Binoy, as well as advocate Prashant Pophale for the complainant woman, approached the high court to quash the FIR, as the matter had been "amicably settled".
The bench of Justices R P Mohite-Dere and S M Modak was informed that Binoy had paid a settlement amount of Rs 80 lakh, following which the woman had withdrawn the rape charges.
The complainant, who was present in the high court, was asked by the court if she was voluntarily accepting the settlement terms. When she confirmed the same, Binoy's petition was disposed off by the high court.
The consent terms filed before the high court mentioned that the relationship was consensual and both parties were adults.
READ ORDER | FIR Of Assault, Unnatural Sex Quashed By Delhi High Court After Husband Pays Rs 75 Lakh As Permanent Settlement
VFMI Take:
The man here, cannot be called a victim either, since he was married and nurturing another family
However, the complainant woman got into the relationship voluntarily and it seems unbelievable that she was not aware of his marital status for nearly a decade, especially when he happens to be the son of a public figure
The rape FIR was only filed, when the man stopped paying maintenance & the charges were withdrawn when the woman was paid Rs 80 lakh
Are Courts not trivialising genuine cases of rape, by allowing such FIRs and then quashing them by mutual consent?
This is the biggest fear we have if Marital Rape law goes through – almost all cases will be settled with mutual consent after husband pays alimony or transfers property to his wife
If the man is a rapist, he must be sent to jail
If he is not, no woman should be allowed to take money and withdraw charges
Bombay HC Quashes Rape FIR After Son Of CPM Former State Secretary Pays Rs 80 Lakh To Complainant Woman As Settlement

▪️Woman learnt that accused was married after a decade with him
▪️Rape FIR was filed when Man stopped paying maintenance#FalseRapehttps://t.co/1tCERsvRIP

— Voice For Men India (@voiceformenind) October 4, 2022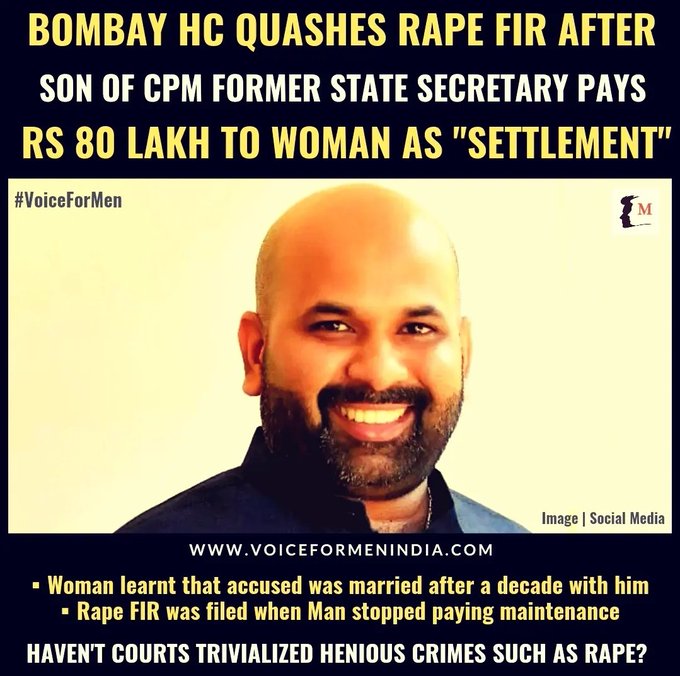 MUST WATCH: 
Join our Facebook Group or follow us on social media by clicking on the icons below
Donate to Voice For Men India
Blogging about Equal Rights for Men or writing about Gender Biased Laws is often looked upon as controversial, as many 'perceive' it Anti-Women. Due to this grey area - where we demand Equality in the true sense for all genders - most brands distance themselves from advertising on a portal like ours.
We, therefore, look forward to your support as donors who understand our work and are willing to partner in this endeavour to spread this cause. Do support our work to counter one sided gender biased narratives in the media.
To make an instant donation, click on the "Donate Now" button above. For information regarding donation via Bank Transfer, click here.
Alternately, you can also donate to us via our UPI ID: voiceformenindia@hdfcbank