Marital Rape PIL hearing was listed at the Supreme Court today, where the top court has sought Centre's response on a batch of petitions related to criminalisation of the same.
The bench for the matter was led by:
Chief Justice of India DY Chandrachud
Justices PS Narasimha and JB Pardiwala
The bench has instructed the Union government to file its response on the issue by February 15 and subsequently, the final hearing on the pleas would commence from March 21 this year.
Marital Rape Law In India: The Greys Around An Issue Being Seen As Legal Black & White | Writes Deepika Narayan Bhardwaj
Amidst this development, a concerned citizen of India, who chooses to remain anonymous, has written a letter to honourable Chief Justice of India, requesting him to reconsider the formation of the bench in the said matter. According to this citizen, 2 out of 3 judges on the bench have already publicly expressed their opinion in favour of criminalisation of marital rape, and thus, the outcome may not be balanced with respect to arguments from all sides.
The letter reads as follows:
________________________________________________
Respected Sir,
I write to you as citizen of India who is quite interested in outcome of various appeals filed in The Hon'ble Supreme Court, hereinafter referred as Hon'ble SC, against the split verdict of Hon'ble The High Court of Delhi, hereinafter referred as Hon'ble HC, pertaining to Exception 2 to Section 375 of IPC being ultra vires to Article 14,15,19 and 21 of Constitution, in short called Martial Rape matter. Through credible news portals and reading through orders passed by Hon'ble SC in various appeals in Marital Rape matter I came to know that it is to be listed in the month of January'23. The Cause List of January 16, 2023 is out and a cursory glance at it shows that Marital Rape matter is listed on the same day. It also reveals that Marital Rape matter would be taken up by a bench led by Hon'ble The Chief Justice of India along with Hon'ble Mr. Justice PamidiGhantam Sri NaraSimha and Hon'ble Mr. Justice J.B. Pardiwala.
I, who have been following the matter for years now since the days when matter was first heard in Hon'ble HC, couldn't help but notice that two of the Hon'ble Judges in the designated bench of the Hon'ble SC have already been vocal through their judgements that they believe Exception 2 to Section 375 of IPC is legal fiction and thereby indicating it must go.
To buttress my claim, I would like to draw your kind attention to the judgement in the matter, Nimeshbhai Bharatbhai Desai vs State Of Gujarat on April 2, 2018, R/CR.MA/26957/2017, delivered by Hon'ble Justice Pardiwala during his tenure as judge of Hon'ble Gujarat High Court. A bare perusal of the judgement would confirm that he firmly believes Exception 2 to Section 375 of IPC must go and doesn't deserve a place in statute.
Further, Hon'ble CJI himself recently while writing for the bench to which even Hon'ble Justice Pardiwala was part of in the matter, X vs The Principal Secretary, Health and Family Welfare Department, Govt. of NCT of Delhi & Anr on September 29, 2022, Civil Appeal No 5802 of 2022, stated as follows:
74. It is only by a legal fiction that Exception 2 to Section 375 of the IPC removes marital rape from the ambit of rape, as defined in Section 375. Understanding "rape" under the MTP Act and the rules framed thereunder as including marital rape does not have the effect of striking down Exception 2 to Section 375 of the IPC or changing the contours of the offence of rape as defined in the IPC. Since the challenge to Exception 2 to Section 375 of the IPC is pending consideration before a different Bench of this Court, we would leave the constitutional validity to be decided in that or any other appropriate proceeding.
It is clear from above that while calling Exception 2 to Section 375 of IPC legal fiction it was acknowledged by Hon'ble CJI in above mentioned judgement that matter on constitutionality of exception is pending before a different bench to which neither Hon'ble CJI was part of nor Hon'ble Justice Pardriwala at that point of time.
Given that stands of both Hon'ble CJI and Hon'ble Justice Pardiwala pertaining to Exception 2 to Section 375 of IPC is in public domain, sudden change in bench puts an extra burden on parties opposing the removal of exception as they may have to first bring the majority (bench of three (3) judges) in the bench to the point of neutrality which inherently gives an advantage to parties advocating removal of exception over parties opposing it.
In the end, I would state that justice should not just be done but it must be seen to have been done. Someone who is only interested that matters must be decided in fair manner, irrespective in whose favor outcome would be, I would like to impress upon that in the interest of justice and to be fair to all parties especially to those in favor of Exception 2 to IPC 375, Hon'ble CJI should reconsider formation of bench and possibly matter should be listed in front of bench with no history of any opinion through public speaking or judgements in the Martial Rape matter to be adjudicated.
Thanking You.
Yours Faithfully,
Citizen of India
________________________________________________
References: 
1)
September 2022

: Rape for purpose of MTP Act includes marital rape; married woman can seek abortion of pregnancy from forced sex by husband: Supreme Court:

[

Read Here]
2)

December 2021

: Marital Rape ought to be a crime: Justice Pardiwala of Gujarat HC [Read Judgment]
It must be noted that Delhi High Court had appointed Senior Advocate Rebecca John as Amicus Curiae in final stages of Marital Rape PIL in January 2021. John's strong opinions in favour of criminalisation of marital rape are also in public domain. Read below.
Delhi HC Appoints Rebecca John As Amicus Curiae In Final Stages Of Marital Rape PIL Arguments
ALSO READ – 
"Rape Laws Should Be Gender Neutral": Delhi High Court Judge Who Supported Criminalisation Of Marital Rape
What is the Marital Rape PIL about?
Section 375 IPC defines rape and lists seven notions of consent which, if vitiated, would constitute the offence of rape by a man. However, the provision contains a crucial exemption: "Sexual intercourse or sexual acts by a man with his own wife, the wife not being under eighteen years of age, is not rape."
A batch of petitioners have challenged the constitutional validity of this exception under Section 375 of the IPC.
Karnataka HC Order On Marital Rape Exposes Passion, Not Road To Justice | Men's Rights NGO Writes To CJI
Delhi High Court Split Verdict
In May last year, a division bench of the Delhi High Court delivered a split verdict in the said matter:
Judge Rajiv Shakdher: "Right to withdraw consent at any given point in time forms the core of the woman's right to life and liberty."
Justice C Harishankar: "Legitimate expectation of sex is an inexorable aspect of marriage."
Marital Rape PIL | Read Written Submissions By Advocate Raj Kapoor For Hridey NGO, & Men Welfare Trust
VFMI Take:
At the outset, any counter opinion to why Marital Rape law should not be brought in, must not be looked upon as Right of Men to rape their wives. This is not as easy as black or white, and certainly has shades of grey which need to be addressed
Sexual Violence within Marriage is already covered under Section 498-A IPC, Section 377 IPC & Domestic Violence Act 2005
Marital Rape allegations will be framed, merely, on basis of word of the wife
Effectively, every matrimonial battle or a divorce proceeding will be turned into a case of marital rape, leaving the husband with no scope of defence
A wife can file a case of Marital Rape after years of the alleged incident, and perhaps even use the pretext of rape to approach court for abortion (of a child that belongs or does not belong to the husband)
Raped By Our Wives Without Consent; Why Is Marital Rape Debate Not Gender Neutral?
Over the decades, multiple courts including Supreme Court of India, have pointed out blatant misuse of Section 498-A IPC, by disgruntled wives to harass innocent husbands and their families
After fighting for years in the court, all that men are getting is an acquittal – there are no repercussions whatsoever to punish the woman who files a false case
Petitioners in the Marital Rape PIL have been citing examples of different countries – however, the same is being done selectively. None of the countries have an existing 498-A kind of law, which already secures married women from sexual violence within marriage. Marital Rape law, in almost all jurisdictions that have been cited, is Gender Neutral, whereas, petitioners who are arguing in India in favour of criminalisation of marital rape, are opposed to the idea of making it Gender Neutral
Marital Rape law cannot be pushed by creating social media campaigns, based on one sided emotions. Whatever law that will be framed in this case, will have serious ramifications on the fabric of marriage, society and absolute power in the hands of a 'resentful' wife to get her husband arrested at any point in time
Leave your thoughts below:
Citizen of India Requests CJI To Reconsider Formation Of Bench In #MaritalRape PIL…"2 Out Of 3 Judges' Opinion Already In Public Domain"

▪️"Matter should be listed in front of bench with no history of any opinion through public speaking or judgements"https://t.co/cVcckdVVZh

— Voice For Men India (@voiceformenind) January 16, 2023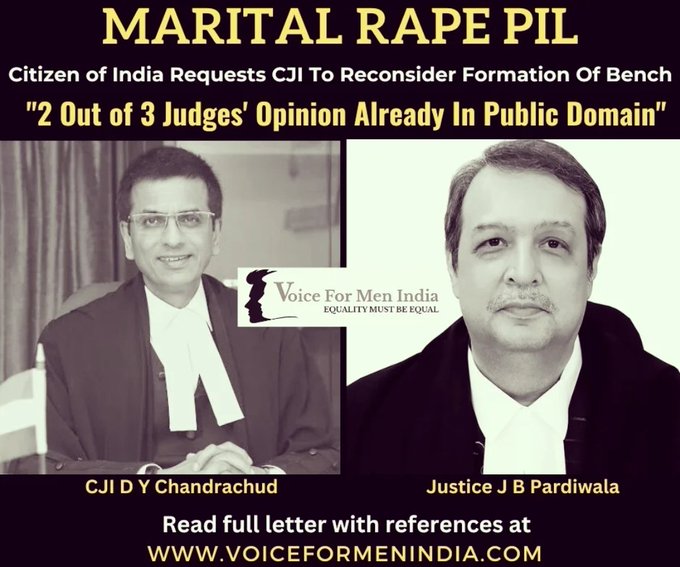 MUST WATCH:
Marital Rape Verdict | Advocate J Sai Deepak | Other Side
MUST READ:
UPA-II Under Dr Manmohan Singh Had Rejected Recommendation Of Justice Verma Committee To Make Marital Rape An Offence Citing Below Reasons
UPA-II Had Rejected Recommendation Of Justice Verma Committee To Make Marital Rape An Offence
Join our Facebook Group or follow us on social media by clicking on the icons below
Donate to Voice For Men India
Blogging about Equal Rights for Men or writing about Gender Biased Laws is often looked upon as controversial, as many 'perceive' it Anti-Women. Due to this grey area - where we demand Equality in the true sense for all genders - most brands distance themselves from advertising on a portal like ours.
We, therefore, look forward to your support as donors who understand our work and are willing to partner in this endeavour to spread this cause. Do support our work to counter one sided gender biased narratives in the media.
To make an instant donation, click on the "Donate Now" button above. For information regarding donation via Bank Transfer, click here.