Congress has officially made its stand clear on the #MaritalRape debate issue, after their MP and Ex- (perhaps the future too) President Rahul Gandhi on Sunday tweeted how consent is one of the under-appreciated concepts in the society and should be kept paramount to ensure the safety of women.
Rahul Gandhi's tweet was in response to the ongoing PIL in Delhi High Court that is hearing pleas to criminalize marital rape. The PILs filed by non-governmental organization (NGO) RIT Foundation and All India Democratic Women's Association.
In his tweet on Sunday, Wayanad MP said that it was important to lay emphasis on consent to ensure the safety of women. He quoted,
Consent is amongst the most underrated concepts in our society. It has to be foregrounded to ensure safety for women. #MaritalRape
Currently, BJP Government has opposed criminalisation of #MaritalRape in it affidavit to Delhi High Court on Thursday. (Read full response by Modi Government at the end of this article). This was the same stance by BJP even in 2017 in response to the PIL that was initially filed in Delhi HC in 2015. 
Lets revisit how Dr Manmohan Singh government in 2013 had responded to criminalisation of #MaritalRape when Congress was in power during UPA-II.
Official Stance By UPA-II On Criminalisation of Marital Rape (2013) 
After the unfortunate Nirbhaya incident in December 2012, the UPA-II government had brought in an ordinance to introduce stricter penalties for crimes against women, including death in extreme cases, however, they clearly ignored the Justice JS Verma commission's recommendations on criminalising marital rape and reviewing controversial sections of the Armed Forces Special Powers Act (AFSPA).
The Justice Verma commission had suggested that marital rape should be made an offence, a key demand of women's rights activists
It also observed that sexual violence was being legitimised under AFSPA and suggested that such crimes by members of the armed forces be tried under ordinary criminal law
The ordinance introduced in 2013 was also silent on the recommendation to bar politicians facing charges of sexual offences from contesting elections. 
The ordinance incorporated some but not all recommendations of the commission.
Death Penalty in Rape Cases
The Justice Verma commission was against death penalty in rape cases and recommended a maximum punishment of life in jail. But the government then favoured capital punishment in rare cases.
Dr Manmohan Singh Government Rejected Criminalisation Of Sex Within Marriage (Marital Rape) citing two critical reasons:
It would weaken institution of marriage

It may lead to accusations of rape in the wake of marital disputes
Click here to read full article.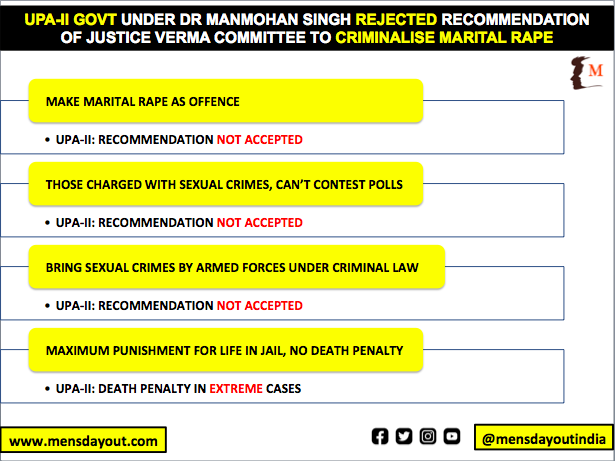 Modi Government's Response to Delhi HC in #MaritalRape PIL (2022) – Click Below
In a twitter spat with Dr Anand Ranganathan, (Author & Columnist), Congress spokesperson Pawan Khera tweeted how Congress was now willing to "correct their mistakes". Khera wrote,
Some of us are willing to correct our mistakes while others can wag their tails and tongues… I will comment on your credibility and intelligence, as soon as I find traces of either in you.
MDO Take:
MDO is not against justice to Women, however, we strongly oppose more and more stringent one sided laws against Men, that have become tools of harassment and legal extortion, also known as alimony
Women have enough recourse, under the existing draconian Section 498A of IPC, Domestic Violence Act, Section 125 CrPC and several other biased laws, to free them from an abusive marriage
However, Men in India do not even have a basic Gender Neutral Domestic Violence Act, which has resulted in recent NCRB Suicide 2020 report which projects suicide of married men 2.5 times that of married women
Politicians who are trying to score brownie points fuelling women empowerment emotions in social media, have most likely not even read the PIL in Delhi HC. Such politicians are out of sync with ground realities at family courts, as they continue to strike opportunities to corner ruling government
In the current case, it is Congress using the woman card, however, every other political party is guilty of doing so, in states which are not ruled by them
While our Men are busy fighting for Rahul and Modi on social media, feminists are silently moving courts to make lives of husbands and their families even worse than before
If Men (from either ideologies) fail to speak up now, sooner or later they will pay a huge price for remaining mum
MUST READ –
Leave Your Thoughts On The Tweet Below:

Is Feminism A Political Arm To Destabilise Governments?
ALSO READ –
ALSO WATCH –
Late Ram Jethmalani On Marital Rape Law
Karan Thapar Interview (2006) With WCD Minister Renuka Choudhary (Domestic Violence Act)
Join our Facebook Group or follow us on social media by clicking on the icons below
Donate to Voice For Men India
Blogging about Equal Rights for Men or writing about Gender Biased Laws is often looked upon as controversial, as many 'perceive' it Anti-Women. Due to this grey area - where we demand Equality in the true sense for all genders - most brands distance themselves from advertising on a portal like ours.
We, therefore, look forward to your support as donors who understand our work and are willing to partner in this endeavour to spread this cause. Do support our work to counter one sided gender biased narratives in the media.
To make an instant donation, click on the "Donate Now" button above. For information regarding donation via Bank Transfer, click here.
Alternately, you can also donate to us via our UPI ID: voiceformenindia@hdfcbank