On one hand Supreme Court is hearing the Marital Rape PIL, challenging split verdict given by Delhi High Court in May 2022. However, on the other hand, the Delhi High Court has quashed a case of unnatural sex under Section 377 IPC, after both parties – husband and wife – have reached a 'settlement'.
The Delhi High Court observed,
In matrimonial cases, where settlement has taken place, offence under Section 377 of Indian Penal Code can be compromised and FIR can be quashed as parties have to move ahead in life.
READ ORDER | Delhi High Court Quashes False Rape FIR Directing Complainant Woman To Do Social Service In Blind School For Two Months
Case:
In 2016, the wife had filed an FIR under Section 406, 498A, 354, 377 and 34 of IPC against her husband and in-laws at Police Station Crime Women Cell, Nanak Pura in Delhi. 
In September 2021, the husband had approached the Delhi High Court seeking quashing of the FIR on the ground that the wife had settled all her disputes amicably with the husband and in laws and that a settlement was arrived at between the parties then.
Settlement Amount Agreed Between Husband & Wife
As per the settlement agreed mutually, the husband shall pay lump sum amount of Rs. 74,00,000 to the wife as full and final settlement towards all claims, stridhan, child maintenance and permanent alimony. It was agreed that husband will pay:
Rs 20,00,000 at the time of signing settlement agreement
Rs 20,00,000 at the time of recording of statements of the parties in the first motion petition of divorce
Rs 20,00,000 at the time of recording of statements of the parties in the second motion petition of divorce
Rs 14,00,000 at the time of quashing the above FIR
Out of total Rs 74 lakh, Wife will deposit Rs 10 lakh in the name of the minor son for his benefit till he attains the age of majority.
Delhi High Court Says No Punishment To False Rape Accuser Because "She Admitted Truth Fairly"
Custody of Child
It is agreed between the parties that the custody and guardianship of the minor child aged about 9-years shall remain with the wife, who shall be the sole custodian of the child. The petitioner husband may have a video call with the child for one hour on the birthday of the child or may, alternatively, meet the child for one hour in the week, the child has his birthday, subject to, the convenience of the child. Both husband and wife shall plan the same on whatsapp.
Affidavit by Wife after Settlement
The complainant wife also filed affidavit affirming the fact that her claims and grievances against the petitioners (husband and in-laws) in the above-mentioned FIR stands settled. The affidavit also stated that the complainant does not have any objection if the FIR against the petitioners is quashed as she has already settled her claims due to her.
READ ORDER | Wife Confirms Receiving Full & Final Settlement; Punjab & Haryana High Court Quashes Case U/s 498A Calling It Matrimonial Dispute
Delhi High Court
Justice Talwant Singh referred to a decision of a coordinate bench in Rifakat Ali & Ors v. State & Anr. decided on February 26, 2021 wherein the Court had quashed an FIR under Section 377 of IPC on the ground that the parties had compromised the matter with each other only because it arose out of a matrimonial dispute. The High Court remarked
So, the view of the co-ordinate bench is that in matrimonial cases, where settlement has taken place, even the offence under Section 377 IPC can be compromised and FIR can be quashed as parties have to move ahead in life.

I concur with the said view.
Quashing the FIR under Section 354 IPC in the matrimonial dispute after monetary settlement, the Delhi High Court said,
Keeping in view the fact that parties have settled all their disputes, hence the offence under Section 354 IPC is also allowed to be quashed to put an end to all bickerings between the parties and allow them to begin a new chapter of their lives.
While quashing the FIR, the Bench said also noted,
The respondent No.2/complainant (wife) states that she has settled all her matrimonial disputes with the petitioners out of her own free will, without pressure, coercion or undue influence and states that she does not want to pursue with the present case any further and requests that the present FIR and the proceeding emanating therefrom may be quashed.
READ ORDER | Delhi High Court Allows Complainant Woman To Quash False Rape Charges Against Father-in-Law After Receiving Rs 10 Lakh Settlement Amount
VFMI Take:
This is one of the major reasons why Men's Rights Activists are fighting against the criminalisation of sex within marriage – that will be termed as Marital Rape by wives if they want to use it against husbands
Every contested divorce case will be possibly turned into Marital Rape, and a law which is meant to serve justice for the real victims, will be misused by disgruntled wives as a negotiating tool
The husband will fight his innocence at courts for a few years, and subsequently agree to pay up a lumpsum, and in some cases also give up on child custody
This is nothing but a legal extortion aided by the system, where there are no consequences against a woman who files criminal cases against her husband and in-laws, and withdraws the same, once settlement is done
The silence of feminists is shocking in such cases, because lets assume genuine victims are pressurised by money to withdraw cases against violent husbands & in-laws
Do we ever see any outrage by women rights organisations once matrimonial cases are settled with money? SHAME
Leave your comments on this case below:
READ ORDER | FIR Of Assault, Unnatural Sex Quashed By Delhi HC After Husband Pays Rs 75 Lakh As Permanent Settlement

▪️HC: "FIR can be quashed if parties arrive at mutual settlement so both can move ahead"#VoiceForMen #SpeakUpMen #MaritalRape CONT…https://t.co/kaH8ZkOpzj

— Voice For Men India (@voiceformenind) September 16, 2022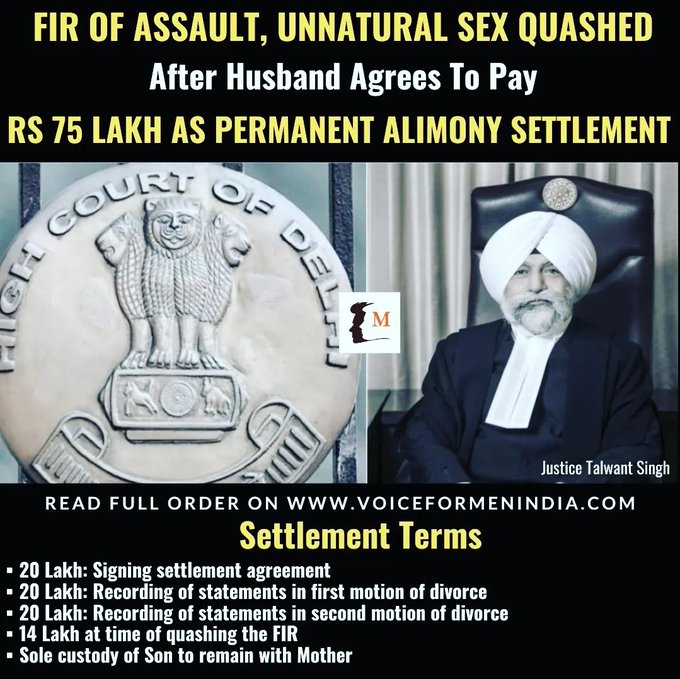 MUST WATCH – BALANCED DISCUSSION ON MARITAL RAPE PIL
Marital Rape Verdict | Advocate J Sai Deepak | Other Side
Join our Facebook Group or follow us on social media by clicking on the icons below
Donate to Voice For Men India
Blogging about Equal Rights for Men or writing about Gender Biased Laws is often looked upon as controversial, as many 'perceive' it Anti-Women. Due to this grey area - where we demand Equality in the true sense for all genders - most brands distance themselves from advertising on a portal like ours.
We, therefore, look forward to your support as donors who understand our work and are willing to partner in this endeavour to spread this cause. Do support our work to counter one sided gender biased narratives in the media.
To make an instant donation, click on the "Donate Now" button above. For information regarding donation via Bank Transfer, click here.
Alternately, you can also donate to us via our UPI ID: voiceformenindia@hdfcbank