The Delhi High Court in its order dated September 5, 2023 dissolved a dead marriage where parties had been living separately since 15-years, yet the woman did not consent to divorce.
The Delhi High Court has made sharp remarks on how the Hindu Marriage Act does not recognise irretrievable breakdown in marriage as a grounds for divorce and still follows 'fault' based theory. 
READ ORDER | Continued Bitterness, Dead Emotions & Long Separation To Be Construed As Irretrievable Breakdown In Marriage: Supreme Court
Case:
Parties got married in April 2006 and a son was born to the couple in January 2007. 
Due to matrimonial disputes, the wife left her husband's home along with the son in December 2008. Thereafter, the woman filed several cases against the husband and his family, including under Section 498-A IPC. 
Despite no co-habitation since almost 15-years, woman challenged the Family Court order that granted divorce to the husband in 2020. 
Punjab & Haryana HC Grants Divorce To Man After 31-Years Citing Constant Harassment By Wife Forcing Him To Live Separately From Parents
Submissions by Husband
According to the husband, his wife was aggressive, quarrelsome and violent in nature towards him and his family members. She used to frequently leave the matrimonial home without informing him or the family members and whenever they sought an explanation, she used to quarrel. She would misbehave with husband's relatives whenever they visited his home.
It was further claimed that the appellant/wife did not mend her ways despite repeated requests and remained adamant and refused to do household work. She went to her parental home after quarrelling with the respondent on 08.12.2008. In the morning of 09.12.2008, the parents and the brother of the appellant along with three other unknown persons came to the house of the respondent and took away her jewellery and other valuable articles after manhandling the respondent and his family members for which they made a complaint to the police.
READ JUDGMENT | Interim Maintenance, Child Custody; Delhi HC Sets Timeframe To Dispose Off Matrimonial Matters
Arguments by Wife
In retaliation, the appellant filed a complaint in Crime Against Women (CAW) Cell against the respondent and his family members but subsequently withdrew the same. Later in November 2010, she filed a complaint case under the Protection of Women from Domestic Violence Act, 2005 before the MM, Saket Court, which also was withdrawn by her in May 2011.
Additionally, the appellant wife also filed a petition under Section 125 CrPC wherein the respondent has been directed to pay Rs 3000 per month as interim maintenance which he has been regularly paying and the said petition is still pending trial.
Thereafter, the respondent/husband filed a complaint under Section 156(3) CrPC against the appellant/wife and her family members but the same was withdrawn on 27.06.2011 following a compromise between the parties.
In 2016, the appellant had again filed a complaint in CAW Cell and also an FIR under Section 498A/406/34 of the IPC was registered against the respondent and his family members.
The appellant wife contested the Divorce petition by asserting that she was harassed on account of dowry and was given merciless beatings. 
Punjab & Haryana HC Dissolves Marriage After 23-YEARS Of Separation Citing Irretrievable Breakdown As Ground For Divorce
Family Court, Saket, Delhi 
In February 2020, the Family Court observed that though as per the testimony of the respondent/petitioner, their marriage was very good in the beginning, but he has proved various incidents in his testimony which clearly reflect that he was subjected to cruelty by the appellant/wife.
It was also observed that no adverse inference can be drawn against the respondent/husband and his family members merely because of registration of case under Section 498A IPC. The Court also remarked that the entire facts have to be seen as a whole and each incident cannot be considered separately.
There was sustained cruelty committed by the appellant/wife upon the respondent/husband over a period of time and thus, it was concluded that the respondent was entitled to divorce under Section 13 (1) (ia) of the Act, 1955 on the ground of cruelty.
The wife challenged this order in the High Court.
No Proposal To Allow Both Parties File For Divorce On Grounds Of "Irretrievable Breakdown" Of Marriage | Modi Government
Delhi High Court
A division bench of Justice Suresh Kumar Kait and Justice Neena Bansal Krishna observed that under the Hindu Marriage Act (HMA), divorce is granted only on the grounds of adultery, cruelty, desertion etc., and irretrievable breakdown of marriage has not been recognised as a ground.
The bench then remarked that marriages under the old Hindu law were considered as a sacrament and that there was no concept of divorce. Having said so, the bench added that "despite phenomenal change in social ethos", the HMA recognises the ground of divorce only on "fault theory". The bench quoted:
Unless the opposite party was shown to be at fault (adultery, cruelty, desertion or other grounds as specified under Section 13 of HMA) no divorce can be granted. With the passage of time, experience has shown that many a times, the marriages do not work because of incompatibility and temperamental differences, for which neither party can be blamed.

However, since only fault theory prevails, these parties end up warring with each other for years to come only because they have no way of exiting this relationship. While many debates have been held to introduce 'irretrievable breakdown of marriage' as a ground, it has not met the approval and consent of the legislation.
The Delhi High Court said that the Courts were bound by the limits defined under the HMA and unless the fault of the other spouse is shown, "the parties are left to suffer acrimonious relationship with no way to exit".
Rakesh Raman Vs Kavita | Supreme Court Landmark Judgement | Irretrievable Breakdown Of Marriage Can Be Read As Grounds Of Cruelty To Grant Divorce
Upholding the family court order, the Delhi High Court dissolved the marriage and granted divorce to the husband. The order read:
The parties had been living separately for 15 years and there was no chance of reconciliation between them. The long separation peppered with false allegations, police reports and criminal trial by the woman had become a source of mental cruelty.

Any insistence either on continuing this relationship or modifying the family court order will only be inflicting further cruelty upon both parties.

Living together in a marriage is not an irreversible act. But marriage is a tie between two parties and if this tie is not working under any circumstances, we see no purpose in postponing the inevitability of the situation.
Voice For Men India Note: Currently, only Supreme Court of India has powers under Article 142 of the Constitution to dissolve a marriage even if one spouse endlessly contests the same. This leaves High Courts & Family Courts powerless, where even if the Judges want to dissolve these ego battles, they are bound by the law. 
DO WATCH:
Irretrievable Breakdown of Marriage A Ground To Dissolve Marriage Under Article 142 | Supreme Court
LEAVE YOUR COMMENTS BELOW:
READ ORDER | Hindu Marriage Act Still Does Not Recognise Irretrievable Breakdown In Marriage As Grounds For Divorce Leaving Parties To Suffer: Delhi HC

▪️2007: Marriage
▪️2008: Wife left with son, separated since 15yrs
▪️2023: Delhi HC grants divorcehttps://t.co/pFpFHiLSSa

— Voice For Men India (@voiceformenind) September 7, 2023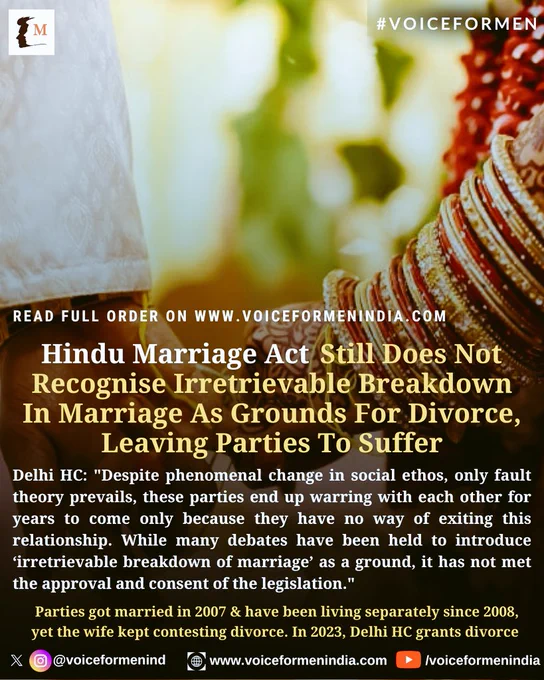 Join our Facebook Group or follow us on social media by clicking on the icons below
Donate to Voice For Men India
Blogging about Equal Rights for Men or writing about Gender Biased Laws is often looked upon as controversial, as many 'perceive' it Anti-Women. Due to this grey area - where we demand Equality in the true sense for all genders - most brands distance themselves from advertising on a portal like ours.
We, therefore, look forward to your support as donors who understand our work and are willing to partner in this endeavour to spread this cause. Do support our work to counter one sided gender biased narratives in the media.
To make an instant donation, click on the "Donate Now" button above. For information regarding donation via Bank Transfer, click here.
Alternately, you can also donate to us via our UPI ID: voiceformenindia@hdfcbank