The Delhi High Court in its order dated September 12, 2023 upheld the Family Court order denying maintenance to a wife as she is "highly qualified and earning".
A division bench of Justice Suresh Kumar Kait and Justice Neena Bansal Krishna said:
Section 24 of HMA is not meant to create an Army of idle people waiting for a dole to be awarded by the other spouse.
Delhi Court Rejects Maintenance To Working Wife Remarking It Will Obstruct Her Own Progress
Case:
Parties got married got married in April 2014, however, due to incompatibility and differences, they were not able to continue in their matrimonial relationship leading to the husband filing for a Divorce Petition under Section 13 (1)(ia).
The wife was very much working till then, but resigned from her job on 22.05.2015 after the husband filed for divorce. Soon, there was a mutual settlement between the parties and the husband withdrew his divorce petition in February 2016.
In May 2016, the wife filed a police complaint against the husband. Subsequently, the husband filed the petition for divorce once again.
Delhi: Minor Boy Approaches Family Court For Monthly Maintenance From Working Mother Who Left Him Years Ago
Qualifications & Maintenance Demanded
The wife was a qualified M. Phil at the time of her marriage and was pursuing Ph.D which she has completed and is now having the qualification of Ph.D (Management) with professional qualification in Computers. While on the other hand the respondent-husband is a simple graduate.
The wife has sought interim maintenance of Rs 35,000 per month in addition to litigation expenses of Rs 55,000. 
Evidence Submitted by Husband
In support of his assertions, the husband had relied upon a CD showing the appellant wife working in the Connaught Place office of Member of Parliament Udit Raj and also marking her attendance in the Register. The wife who had initially taken a stand that she was not working, when confronted with this CD, gave an explanation that she has a friend working in the office of Mr. Udit Raj and at times when she goes to visit her friend, she also looks after the office work.
Read Order | Supreme Court Rejects Maintenance To Working Wife; Father To Pay For Minor Daughter
Trial Court
The Trial Court dismissed the wife's application for maintenance in August 2018. After her appeal, the matter was remanded back for re-adjudication in March 2019.
In September 2019, the learned Principal Judge, Family Court considered the matter afresh and observing qualifications of the appellant wife, noted that she had been working even after the marriage and thus declined to grant her any interim maintenance.
Aggrieved by this order, the wife approached High Court for relief. 
READ ORDER | Delhi Court Rejects Maintenance To Educated Wife As It Would Promote Idleness & Dependency On Husband
Delhi High Court
The Delhi High Court noted facts and status of both parties and upheld the family court order dismissing the wife's application for maintenance under Section 24 of Hindu Marriage Act, 1955.
A division bench of Justice Suresh Kumar Kait and Justice Neena Bansal Krishna were critical about the wife being educated and working. The bench remarked:
We find that in the present case it is not only that the appellant (wife) is highly qualified and has an earning capacity, but in fact she has been earning, though has not been inclined to truthfully disclose her true income. Such a person cannot be held entitled to maintenance.
The woman had also filed for maintenance under Domestic Violence Act which had also been rejected by lower court. To this the Delhi High added:
Pertinently, the claim for maintenance by the appellant under the provisions of Protection of Women against Domestic Violence Act has also met the same fate and the maintenance has been declined to her. We, therefore, find no merit in the Appeal which is hereby dismissed.
Pay Rs 50K Permanent Alimony To Husband: Pune Civil Court Orders Wife In Divorce Case
LEAVE YOUR COMMENTS BELOW:
https://x.com/voiceformenind/status/1701858434512011576?s=20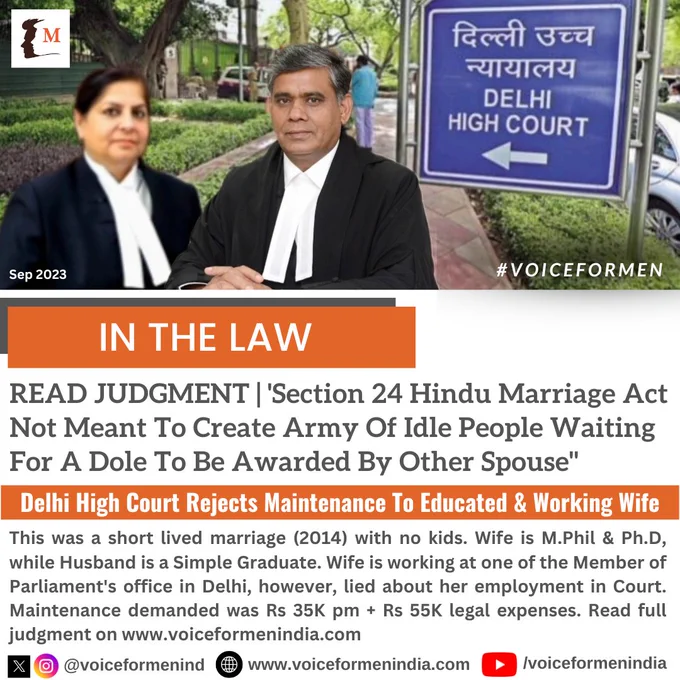 Join our Facebook Group or follow us on social media by clicking on the icons below
Donate to Voice For Men India
Blogging about Equal Rights for Men or writing about Gender Biased Laws is often looked upon as controversial, as many 'perceive' it Anti-Women. Due to this grey area - where we demand Equality in the true sense for all genders - most brands distance themselves from advertising on a portal like ours.
We, therefore, look forward to your support as donors who understand our work and are willing to partner in this endeavour to spread this cause. Do support our work to counter one sided gender biased narratives in the media.
To make an instant donation, click on the "Donate Now" button above. For information regarding donation via Bank Transfer, click here.
Alternately, you can also donate to us via our UPI ID: voiceformenindia@hdfcbank