In India, we as a society, only make noise when a married man walks out from marriage without shouldering the responsibility of his wife and children. As much as we want to get rid of patriarchy, we still hold men in the position of providers.
Do we know there are several cases where women have walked out from marriage, almost dumping their children with the husbands?
In a recent case reported from Delhi, a minor boy has approached Family Court seeking monthly maintenance from his working mother.
Mumbai Court Denies Maintenance To Wife Earning Rs 4 Lakh More Per Annum Than Estranged Husband
Case:
A couple in Delhi has been separated from nearly 15-years. A son was born to them in the year 2008, post which the mother allegedly left him with the father, leaving her matrimonial home. The boy is 14-years of age as on date.
The father works as a junior advocate while the mother is working as a nurse with The Indian Institute of Medical Science (AIIMS).
READ ORDER | Earning Parents Have Shared Responsibility To Maintain Their Children: Supreme Court Of India
Maintenance Petition by Minor Boy 
The petition has been moved by the father on behalf of the minor boy seeking a monthly maintenance of Rs 60,000. As per an ANI report, the petition reads as below:
The boy is studying in a private school in class eight. It is alleged that the mother is guilty of not only neglecting the minor child but also of abandoning the child by throwing him in the open street when the child was only 40-days old.
Since last more than one and half decades neither the respondent has cared for the child nor made any efforts for reconciliation for the welfare of the child.
It is also stated that his father is paying a school fee of Rs 11,000 and spending Rs 40,000 on food, clothing, study material etc. per month. He is also paying an insurance premium of Rs one lakh.
The petition stated that due to the filing of a false and frivolous case related to dowry by the respondent-wife, the father of the petitioner was mentally upset and unable to work.

The father stated that he spent all the time taking care of the minor child and his old-aged parents. Hence, the father of the petitioner could not sustain his livelihood. The father of the petitioner has also the liability of his old parents.

The father of the petitioner has been taking care of the upbringing of the minor child alone for the last 14-years and no help was being rendered by the respondent's mother.

According to the petition, the mother who works as a nurse with AIIMS is drawing a salary of Rs 2 lakh per month. 
Child Visitation Cannot Be Linked To Maintenance; Husband Duty Bound To Pay Even If Wife Has Own Income: Madras High Court
Other Side
The mother of the petitioner has already filed a case related to dowry and that is pending in Tis Hazari court, Delhi.
Read Landmark Judgment | Both Parents Liable To Pay Maintenance To Child Under Section 125 CrPC: Uttarakhand High Court
Family Court, Saket
Pritam Singh, Saket Family Court Judge, on Saturday issued notice to a mother with respect to this plea. The matter has been listed on December 9, 2023, for further hearing.
DO WATCH:
Hold Back Wife's Salary Until She Hands Over Daughter's Custody To Husband | Karnataka High Court
LEAVE YOUR COMMENTS BELOW:
#Delhi: Minor Boy Approaches Family Court For Monthly Maintenance From Working Mother

🔹Petition by Father on behalf of son:

▪️Mother left son when he was 40-days old
▪️Since 14-yrs, he has single handedly raised son
▪️Mother is earning Rs 2 lakh pmhttps://t.co/hFZ4l9XL1Y

— Voice For Men India (@voiceformenind) September 8, 2023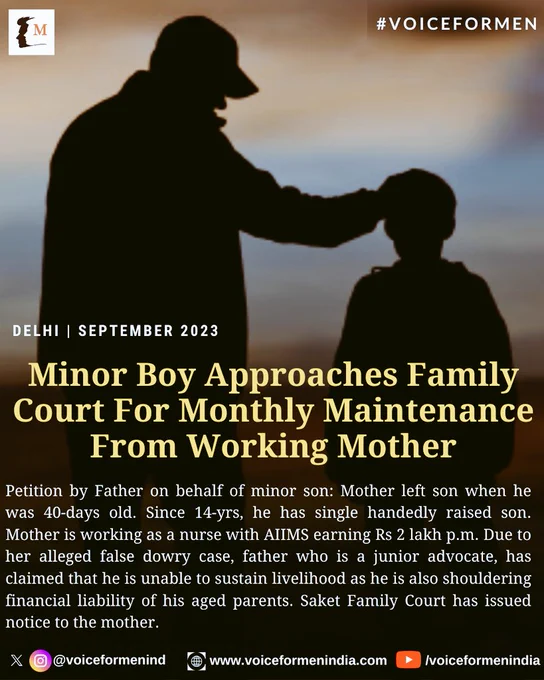 Join our Facebook Group or follow us on social media by clicking on the icons below
Donate to Voice For Men India
Blogging about Equal Rights for Men or writing about Gender Biased Laws is often looked upon as controversial, as many 'perceive' it Anti-Women. Due to this grey area - where we demand Equality in the true sense for all genders - most brands distance themselves from advertising on a portal like ours.
We, therefore, look forward to your support as donors who understand our work and are willing to partner in this endeavour to spread this cause. Do support our work to counter one sided gender biased narratives in the media.
To make an instant donation, click on the "Donate Now" button above. For information regarding donation via Bank Transfer, click here.
Alternately, you can also donate to us via our UPI ID: voiceformenindia@hdfcbank