TV anchors go on mute when a woman stabs her live-in partner. We never see endless debates on "intimate partner violence" or lecturing by designer women rights activists.
In a recent incident reported from Karnataka, a woman allegedly stabbed her male live-in partner to death after a heated argument.
Ghaziabad Woman Murders Live-in Partner Because He Refused To Marry Her | NO MEANS NO FOR MEN TOO
Case:
Renuka Basavaraju Bandiwaddar (34) also known as Rekha Gowda is a single mom who has a six-year-old daughter.
Renuka is a BA dropout and has been living in Bengaluru for the past 15-years. She didn't have a job and went to pubs with single men and gave them company. She wanted to lead a luxurious life.
The woman had been in a live-in relationship with Javed (29) and the two were living at at a service flat in Akshayanagar, a neighbourhood off Bannerghatta Road in Hulimavu. Javed was a mobile service technician from Kannur in Kerala.
The couple was residing together since the past three and a half years, staying in hotels, lodges, service flats, and rental homes among other places. They often fought over Renuka's alleged connections with other men. On Tuesday, the fight took an ugly turn, where the woman turned violent and allegedly stabbed her partner in the chest in a fit of rage.
24-Year-Old Pune Woman Arrested For Murdering Her Live-in Partner
Renuka's minor daughter was also present in the flat at the time of this incident.
The apartment in which the crime took place was on the second level of a multi-story structure that had been booked by the deceased, Javed, for three days starting on September 2.
Guwahati Double Murder: Woman Kills Husband, Mother-in-Law & Stores Their Body Parts In Freezer For Days
Police Statement
According to local police, the neighbours could sense something was wrong and rushed to the said flat. They witnessed Renuka sitting next to Javed who was lying in a puddle of blood. The victim was rushed to the hospital, where he was pronounced brought dead.
The Hulimavu police has detained Renuka after she confessed to her crime. Javed's body was handed over to his family on Wednesday by the police.
WATCH | Anjan Das Delhi Murder: Woman & Son Murder Husband; Chop Body Into 10 Pieces & Refrigerate Before Disposing
Voice For Men India Note: Everytime live-in partners murder each other, we raise questions over the sanctity of such relationships. However, brutal murders also happen within marriages, so it may be unfair to ridicule the nature of a relationship completely. Crimes have no gender, no pattern. Every crime must be called out irrespective of who is the perpetrator or victim.
DO WATCH:
Men's Rights Vs Women's Rights | Do We Need A Gender War? | Sanjukta Basu | Arnaz Hathiram
LEAVE YOUR COMMENTS BELOW:
#Bengaluru: Single Mom Brutally Stabs Live-in Partner To Death After Heated Argument

▪️Renuka (34) has a 6-year-old daughter
▪️She was living in with Javed (29) for the past three & a half years
▪️Renuka stabbed Javed after a heated argument on Tueshttps://t.co/CbnuhFmpNy

— Voice For Men India (@voiceformenind) September 8, 2023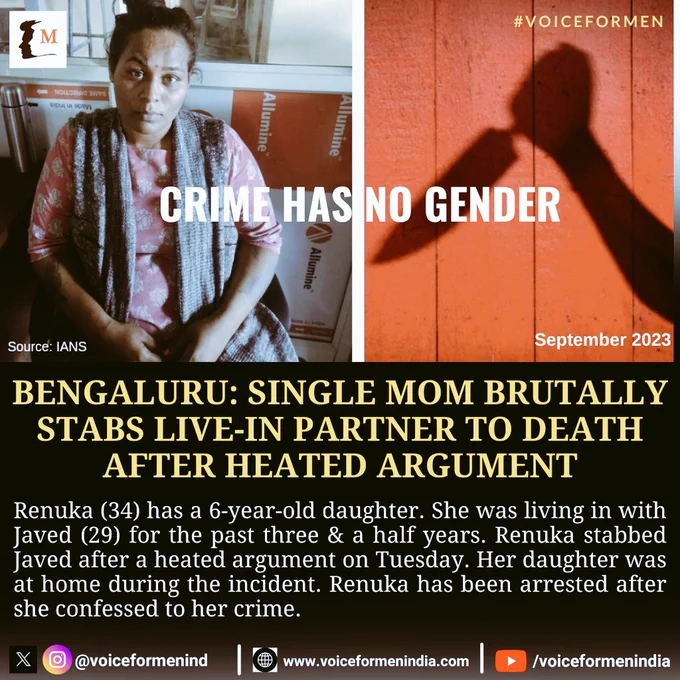 Join our Facebook Group or follow us on social media by clicking on the icons below
Donate to Voice For Men India
Blogging about Equal Rights for Men or writing about Gender Biased Laws is often looked upon as controversial, as many 'perceive' it Anti-Women. Due to this grey area - where we demand Equality in the true sense for all genders - most brands distance themselves from advertising on a portal like ours.
We, therefore, look forward to your support as donors who understand our work and are willing to partner in this endeavour to spread this cause. Do support our work to counter one sided gender biased narratives in the media.
To make an instant donation, click on the "Donate Now" button above. For information regarding donation via Bank Transfer, click here.
Alternately, you can also donate to us via our UPI ID: voiceformenindia@hdfcbank