We are heading in the right direction with regards to matrimonial laws in India. While the changes are seen in Tier I cities, it may take much longer for the mindset to be adopted in Tier II, III cities and others.
In a recent order that came last month, a trial court in Mumbai refused to grant interim maintenance to an educated and working woman. The same was upheld by the sessions court. The wife in the case was earning more than the husband, yet she approached court for 'relief'.
READ ORDER | Mumbai Court Denies Rs 1 Lakh Maintenance To Dentist Wife; Asks Her To Find Job
Case:
The woman had filed a case of domestic violence against her husband and in-laws in the year 2021, alleging that she was forced to leave their home after she gave birth to a child.
The woman informed the court that she was cohabiting with her husband when she became pregnant. However, she also stated that her husband was undergoing treatment for sexual dysfunction but had not informed her. She then accused her husband and his family of doubting her character when they learnt of her pregnancy.
In this case, the woman, who lives in Tardeo, was actually earning Rs 4 lakh more per annum vis-a-vis her estranged husband. Despite this, she approached court seeking maintenance for herself and her child.
The child's paternity was disputed by the husband.
Delhi Court Denies Interim Maintenance To Wife As She Suppressed Employment Details
Trial Court, Mumbai
In November 2022, the trial court after learning about the woman's income, refused to grant her interim maintenance. However, the judge ordered the husband to pay Rs 10,000 per month for the upkeep of their young child.
Subsequently, both the estranged husband and wife filed their respective appeals with the sessions court. While the wife sought maintenance for herself as well as an increase in child support, the husband refused to pay for the child whose paternity was denied.
Sessions Court, Mumbai
The Trial Court order was upheld by the Sessions Court of Mumbai, which too denied the wife any monetary relief. The Court ruled that since the woman earned more than her husband, she was not entitled to any money from him.
Additional Sessions Judge CV Patil said:
That an earning wife is entitled to maintenance as well, but other circumstances must be considered. In this case, too, whether the husband earns more than the wife or whether the wife is entitled to maintenance will be determined on merit.

However, given the parties' apparent income, the magistrate's order is legal and proper at this point.
READ ORDER | Earning Parents Have Shared Responsibility To Maintain Their Children: Supreme Court Of India
Dispute on Paternity, Child Maintenance
Referring to the Section 112 of the Evidence Act, the Court observed that if a child is conceived during the subsistence of the marriage, the presumption is available in the favour of the child. The Judge said,
Here the husband and wife were residing together. The wife has conceived while residing with her husband in his house. There is no case that the husband did not have access with the wife. In such cases, considering the presumption of Section 112 of the Evidence Act, it can be said at this stage that the child is legitimate child. 
With regards to child's maintenance, the ASJ Patil said,
Under the domestic violence act, an interim order needs to be passed at the earliest stage, on the basis of material record available. 

At this stage, it is not necessary to go into details. Therefore, considering the facts of the case, maintenance to the child was allowed.
LEAVE YOUR COMMENTS BELOW:
Mumbai Court Denies Maintenance To Wife Earning Rs 4 Lakh More P.A. Than Estranged Husband

▪️Husband undergoing sexual dysfunction treatment
▪️Wife conceived while living with husband
▪️Court: Can't dispute paternity at this stage, grants maintenancehttps://t.co/hQDumRSi8e

— Voice For Men India (@voiceformenind) June 5, 2023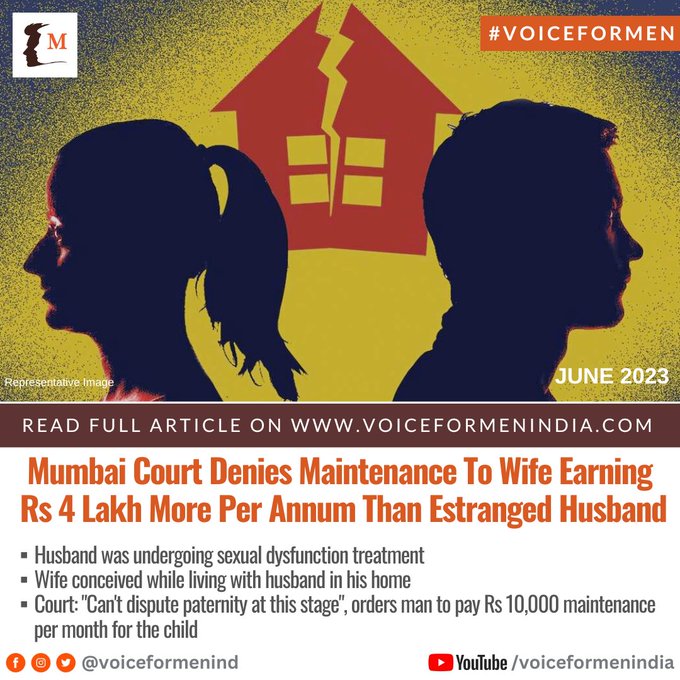 DO WATCH:
Pune Court Orders Woman To Pay Rs 50,000 Alimony To Husband
ALSO READ:
READ JUDGEMENT: Wife's Infidelity Cannot Be Basis To Seek DNA Test For Determining Child's Paternity In Matrimonial Dispute: Supreme Court of India
Join our Facebook Group or follow us on social media by clicking on the icons below
Donate to Voice For Men India
Blogging about Equal Rights for Men or writing about Gender Biased Laws is often looked upon as controversial, as many 'perceive' it Anti-Women. Due to this grey area - where we demand Equality in the true sense for all genders - most brands distance themselves from advertising on a portal like ours.
We, therefore, look forward to your support as donors who understand our work and are willing to partner in this endeavour to spread this cause. Do support our work to counter one sided gender biased narratives in the media.
To make an instant donation, click on the "Donate Now" button above. For information regarding donation via Bank Transfer, click here.
Alternately, you can also donate to us via our UPI ID: voiceformenindia@hdfcbank