Dowry is a curse, but maintenance/alimony demanded by fully-abled educated (often working) women, becomes a legal right. Such is the fallacy of Indian matrimonial laws which are completely gender biased, and that make all women, irrespective of husband's fault, feel empowered to get lifelong tax free money.
Fortunately, a Magistrate Court in Mumbai has rejected such obnoxious claims by a woman, who is dentist by profession.
Court Rejects Maintenance To Educated Wife For Hiding True Income | Marriage Lasted For 32-Days
Case:
Couple got married in May 2015 and have two children aged 5 and 3. The husband's father is a two-time MLA and belongs to a well-off family from Ajmer, Rajasthan.
In 2018, the wife left her matrimonial home in Rajasthan (joint family) when she was pregnant with her second child and since then, she has been residing with her parents and children at Malad in Mumbai. She is a dentist by profession.
Wife Files For Maintenance
The wife then filed a case of Domestic Violence against her husband, claiming a monthly maintenance of Rs 1.10 lakh for her and her two minor children.
In her plea, she said her husband runs a business, earns well, lives in a 3,500 sq. ft villa and that his family own four cars. She said she has been a homemaker for the past three years because of the responsibility of her young children and that all their expenses are being looked after by her parents. She urged that the court pass an order directing the husband to provide her rent for accommodation in Mumbai.
Court Shows Door To 'Educated' 'Talented' Wife Who Demanded Rs 3.5 Lakhs As Monthly Interim Maintenance
Defense by Husband
According to the husband, the applicant left for her second delivery and did not return to her matrimonial house despite efforts by him. He said that she wanted him to settle down in Mumbai along with her, a proposition which was not acceptable to him. He, therefore, filed a petition for restitution of conjugal rights in the Family Court at Ajmer.
Metropolitan Magistrate Court, Mumbai
Denying interim maintenance to the wife, a Mumbai Metropolitan Magistrate Court observed that such a qualified applicant is not entitled to maintenance from her husband.
Rent Demanded
The court pointed out that the woman was residing with her parents in a house in which she has every right to reside, as the law treats a boy and a girl equal in respect of rights in the properties of parents.
The Court thus held that she was not entitled to relief with regards to accommodation expenses.
READ ORDER | Able-Bodied Husband Legally & Morally Responsible To Pay Maintenance For Post-Graduate Wife: Punjab & Haryana High Court
Dentist by Profession
The Court observed that the wife is a doctor by profession and resides in the financial capital of India. It said that she was expected to practise as a dentist (BDS 2010-11 batch) and it is very easy to find such a job in Mumbai. The court said,
The applicant is Doctor. She resides in Metropolitan city i.e. Mumbai. She is expected to do medical profession as a Dentist and very easily she can get opportunity to do such job in Mumbai. Such a qualified applicant, in view of the ratio laid down in the cases noted herein ­above, is not entitled for her maintenance from the husband in present case.
Its Her Choice To Work Or Not | Bombay High Court Justifies Why Educated Wife Must Get Maintenance
No Efforts To Reconcile With Husband
The magistrate also noted that there had been no efforts on the wife's part for cohabitation with her husband, which go against her. Noting that the wife had no intentions returning to her matrimonial home at Ajmer, the Court remarked,
Absence of efforts for co­habitation on the part of the applicant and her parents goes against her. She seeks accommodation or rent for accommodation at Mumbai…which shows that she intends to reside at Mumbai only.

In fact, her matrimonial place is Ajmer in Rajasthan State. This also goes against the applicant.

Presently, she has been residing with her parents means the applicant is residing in the house in which she has every right to reside as the law treats daughter and son equal in law in respect of the rights in the properties of the parents. In my considered view, the applicant is not entitled for any relief on account of residence order.
Husband Ordered To Pay For Kids
Keeping in mind the overall situation, the magistrate ordered the husband to pay a total of Rs 20,000 monthly towards maintenance of his two children.
READ ORDER | Mumbai Court Denies Rs 1 Lakh Per Month Maintenance To Dentist Wife; Asks Her To Find Job

▪️Wife left matrimonial home with 2-kids, demanded maintenance claiming all expenses were borne by her parents
▪️Read thread#VoiceForMen #SpeakUpMenhttps://t.co/RBXl8txfBM

— Voice For Men India (@voiceformenind) August 8, 2022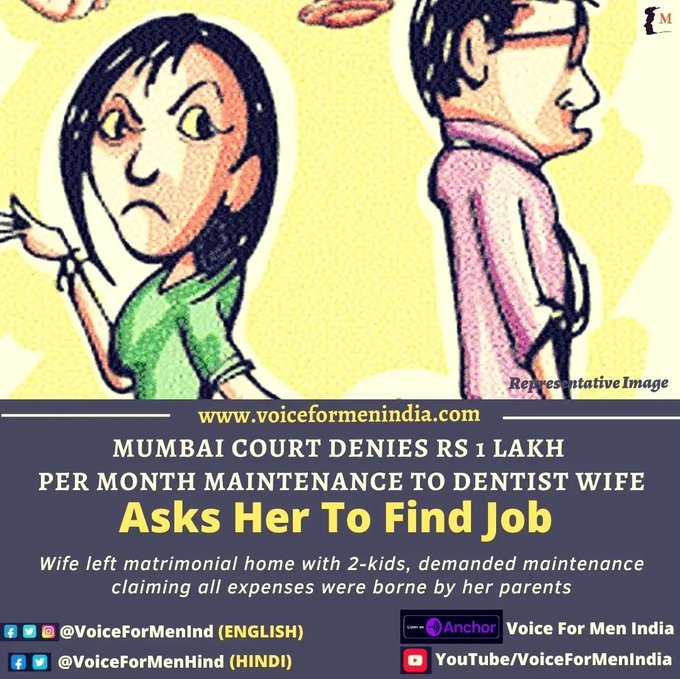 WATCH:
No Maintenance To Educated Wife | Interview | Kanupriya Kejriwal, Matrimonial Lawyer
Join our Facebook Group or follow us on social media by clicking on the icons below
Donate to Voice For Men India
Blogging about Equal Rights for Men or writing about Gender Biased Laws is often looked upon as controversial, as many 'perceive' it Anti-Women. Due to this grey area - where we demand Equality in the true sense for all genders - most brands distance themselves from advertising on a portal like ours.
We, therefore, look forward to your support as donors who understand our work and are willing to partner in this endeavour to spread this cause. Do support our work to counter one sided gender biased narratives in the media.
To make an instant donation, click on the "Donate Now" button above. For information regarding donation via Bank Transfer, click here.
Alternately, you can also donate to us via our UPI ID: [email protected]