Maintenance laws in India are totally flawed against husbands. These laws were meant to protect women who were unable to maintain themselves in earlier days without basic education and job, however, in current times, these laws have largely become means of lifelong harassment to separated men without divorce.
In a recent order, the Madras High Court ordered a husband to pay maintenance to his estranged wife, even if she has her own means of income.
Tennis Ace Leander Paes Moves Court Against Maintenance Granted To Former Live-in Partner Rhea Pillai
Case:
In the current case, wife had approached Madras High Court to transfer her matrimonial proceeding from Poonamallee court to a family court at Trichy since she is residing with her parents in Trichy. Husband works as a public servant.
While the wife's plea was allowed by the high court, the counsel for the husband argued that he was willing to take care of their minor daughter (11-months-old), however, the wife was not permitting him to meet with his child. Husband said,
Therefore, I am not in a position to pay the interim maintenance. Unless the wife permits me to visit the child, I will not be in a position to pay the interim maintenance.
READ ORDER | Taunting Polio-Stricken Husband's Disability, Snatching His Crutches, Manhandling & Throwing Him Around Is Physical & Mental Cruelty: Punjab & Haryana HC Grants Divorce
Madras High Court
After hearing the matter, Justice S M Subramaniam of the Madras High Court stated,
Even if a wife has her own means of income, it will not be a bar for a court to order the husband to provide maintenance to her.
The Judge further added,
(Child) Visitation rights could not be linked to payment of maintenance.
READ JUDGEMENT | Able Bodied Husband To Earn Even By Physical Labour But Maintain His Wife, Minor Child U/s 125 CrPC : Supreme Court
Justice Subramaniam said,
Obligation of the husband to provide maintenance stands on a higher pedestal than the wife, even if the wife is earning, it cannot operate as a bar from being awarded maintenance by the husband.

Also, courts could order payment of maintenance to a minor child even in the absence of an application for interim maintenance by the mother.
Speaking on the concept of maintenance, Justice Subramaniam said,
Remedy of maintenance is the measure of social justice as envisaged under the Constitution to prevent the wife and the children from falling into destitution and vagrancy.

The Constitution envisages social justice and positive state action for empowerment of women and children.
30-Year-Old Man Dies By Suicide After Women Empowerment NGO Pressurises Him To Pay Rs 20 Lakh Alimony – Despite Wife's Extra Marital Affair
Recording the submissions, and rejecting them, the court said,
The tenor of the husband expressed through his counsel shows his attitude and conduct. He is none other than the father of the 11-months-old female child.

Such an approach of the husband, who is a public servant, at no circumstances, be encouraged by this court.
LEAVE YOUR COMMENTS BELOW:
"Child Visitation Cannot Be Linked To Maintenance; Husband Duty Bound To Pay Even If Wife Has Own Income": Madras HC

▪️Husband: "Unless wife permits me to visit child, I will not be in position to pay maintenance"

▪️HC Rejects Argument#VoiceForMenhttps://t.co/EAuUo3qQQF

— Voice For Men India (@voiceformenind) January 2, 2023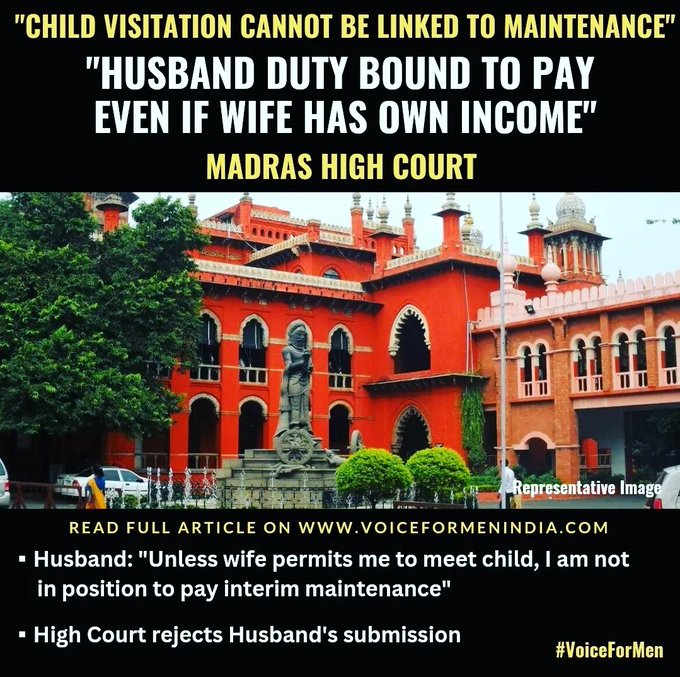 MUST WATCH:
Occasional Adultery No Grounds To Deny Maintenance To Wife | Delhi High Court
Join our Facebook Group or follow us on social media by clicking on the icons below
Donate to Voice For Men India
Blogging about Equal Rights for Men or writing about Gender Biased Laws is often looked upon as controversial, as many 'perceive' it Anti-Women. Due to this grey area - where we demand Equality in the true sense for all genders - most brands distance themselves from advertising on a portal like ours.
We, therefore, look forward to your support as donors who understand our work and are willing to partner in this endeavour to spread this cause. Do support our work to counter one sided gender biased narratives in the media.
To make an instant donation, click on the "Donate Now" button above. For information regarding donation via Bank Transfer, click here.
Alternately, you can also donate to us via our UPI ID: [email protected]