If you have been following Leander Paes & Rhea Pillai's domestic violence case, here's an update. The ace tennis star has moved the sessions court recently, against a magistrate court's order that came in February this year.
The court had ordered Paes to pay Rs 1 lakh per month plus monthly rent to his former live-in partner Rhea and their minor daughter – who is in the custody of the mother.
"Urvashi Stop Stalking Pant"…Netizens Compare Rautela To SRK Of Darr After She Lands In Australia
Background
Rhea Pillai was married to a US National from 1984 to 1994. She was also the second wife of Bollywood actor Sanjay Dutt (1998-2008) While the two had separated, Rhea met Paes in 2005 and the couple had a daughter in the year 2006. Rhea got officially divorced with Dutt only in 2008.
Soon the relationship between Paes and Pillai got estranged and the latter filed a domestic violence complaint against the tennis star in 2014. According to Paes, no relationship existed between them at the time Pillai filed the domestic violence case, and that Rhea also refused to vacate his Carter Road (Bandra) apartment.
Cricketer Mohd Shami Wanted To Commit Suicide Thrice Due To Harassment & False Cases By Wife
Domestic Violence Case by Pillai
According to Pillai, Paes cheated and betrayed her at every juncture of their relationship, emotionally, physically and financially. She claimed that through his acts and conduct, he had "caused verbal, emotional and economic abuse, which resulted in tremendous emotional violence and trauma".
Magistrate Court Order (February 2022)
The magistrate court in February this year directed Paes to pay a monthly rent of Rs 50,000 to Pillai on the condition that she would leave his Carter Road, Bandra (West) flat, within two months.
The court then said rather than denying the allegations, Paes preferred to justify these facts by putting forward his own version about every aspect, including desertion, adultery, non-payment of expenses, hacking of a computer, and presence of other people in the house, among others. While granting maintenance to Pillai, the court had observed,
The proceedings are of summary nature. The test to be applied is a preponderance of probabilities or below that. No strict proof of each and every aspect is required beyond reasonable doubt.
Industrialist Jaidev Shroff Divorce | Supreme Court Rejects Wife's Plea For Rs 35 Lakh Rent Per Month
Leander's Plea Challenging Maintenance Order
In his plea, Paes has denied that his relationship with Pillai was in the "nature of marriage". He said that after the birth of the child, their relationship broke down and he remained cordial for the sake of the baby.
Paes has submitted that Rhea received two sea-facing Bandra (West) flats worth over Rs 20 crore from her former husband Sanjay Dutt as settlement during their divorce in 2008. Despite this, Pillai chose to continue to live in his apartment, leaving him financially burdened. He alleged that the monthly electricity bill would run up to around Rs 50,000-60,000.
Subsequently, Paes sought the quashing of and setting aside of the lower court's order. Further, he has also sought a stay on the maintenance order.
According to Paes, there has been a delay in challenging the lower court order due to his father's health condition, appointment of new lawyers and Pillai's alleged refusal to leave his home. Represented by advocate Prasanna Bhangale, the tennis great's plea will be heard this week.
Paes' plea claimed that he had always taken his daughter's financial responsibilities, while Pillai only splurged on herself. He claimed that his own apartment is mortgaged and he is unable to take care of Pillai's financial demands made in the name of their child.
Yuvraj Singh's Sister-In-Law Receives Rs 48 Lakhs As Alimony | Apologises & Drops All Domestic Violence Charges
Pillai allegedly defied court orders
Leander's plea further suggests that despite court orders, Pillai had manipulated their daughter to ensure that she did not travel with him for international tournaments or when he received honours such as the Padma Bhushan.
Leave your comments below:
#LeanderPaes Moves Court Against Maintenance Granted To Former Live-in Partner Rhea Pillai

▪️Rhea 2nd wife of Sanjay Dutt
▪️Rhea has child with Leander before divorce
▪️Acc to @Leander, Rhea recd 2 Sea Facing apartments worth 20CR from Dutt as Alimonyhttps://t.co/0n5Ss04MPH

— Voice For Men India (@voiceformenind) November 23, 2022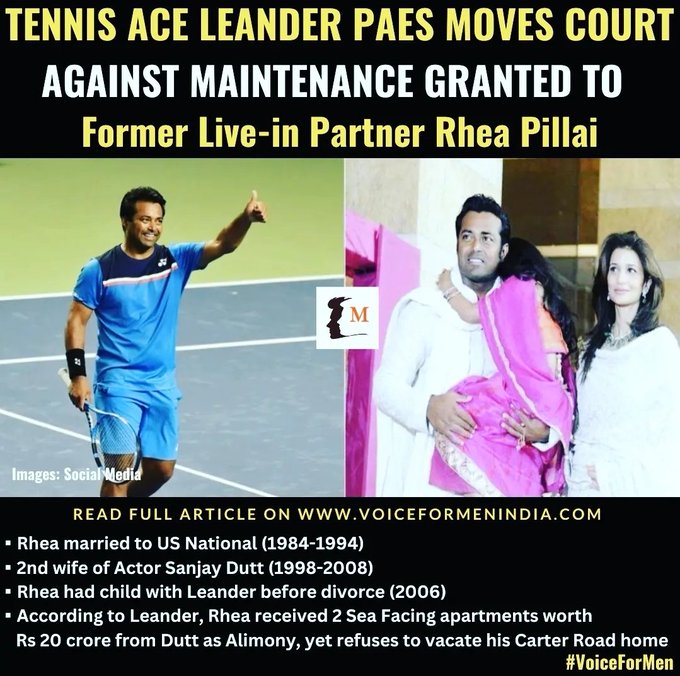 DO READ –
Mumbai Court Orders Leander Paes To Pay Monthly Maintenance To Former Live-in Partner Rhea Pillai | Read Alimony Details From Second Husband Sanjay Dutt
MUST WATCH –
Karan Thapar Interview (2006) With WCD Minister Renuka Choudhary
[WHEN DOMESTIC VIOLENCE ACT WAS INTRODUCED IN INDIA (2005)]
Join our Facebook Group or follow us on social media by clicking on the icons below
Donate to Voice For Men India
Blogging about Equal Rights for Men or writing about Gender Biased Laws is often looked upon as controversial, as many 'perceive' it Anti-Women. Due to this grey area - where we demand Equality in the true sense for all genders - most brands distance themselves from advertising on a portal like ours.
We, therefore, look forward to your support as donors who understand our work and are willing to partner in this endeavour to spread this cause. Do support our work to counter one sided gender biased narratives in the media.
To make an instant donation, click on the "Donate Now" button above. For information regarding donation via Bank Transfer, click here.
Alternately, you can also donate to us via our UPI ID: [email protected]