Crime Has No Gender – Its time society at large realises that all women are not victims and all men…are not monsters.
In a shocking story reported from Punjab, a man has been allegedly kidnapped, drugged and raped by four women.
Gurugram Police Arrests Woman For Kidnapping Two Minor Girls, Including Own Daughter To Avoid Suspicion While Demanding Rs 50 Lakh Ransom
Here's What Happened!
The victim is a married man who hails from Jalandhar and works as a labourer in a leather factory. While he has chosen not to report the matter to the police, he shared the entire ordeal with the media.
According to the man, his kidnapping was done for sexual motive while he was on his way home on Monday.
Speaking with the media, the man said,
A white car stopped near me on the Kapurthala road and there were four women inside. The woman on the driver's seat asked me for some address written on a slip. As soon as I started looking what was written, she sprayed some chemical in my eyes, after which I could not see anything and eventually I fainted. 

When I gained consciousness, I was sitting with them in the car, blindfolded with hands tied behind my back.
Female Tutor Arrested For Inserting Pencil In Minor Student's Private Part & Sending Video To Her Boyfriend
The man further shared that he was taken to an unknown place where the women allegedly drugged him. He also stated that all the accused women were constantly drinking alcohol and forced him to drink as well. Adding to the incident, the victim expressed,
After this, all four women took turns to rape me. Later at around 3am, the girls left from there leaving me blindfolded and with hands tied.
The man then informed the reporters that the women, who would be in their 20s, seemed to be from good families. All were talking among themselves mostly in English. However, they talked to him in Punjabi only.
Female Tuition Teacher Fraudulently Marries 13-Year-Old Student To Ward Off 'Manglik Dosha'
No Police Complaint Filed
Despite such shocking details, the man has chosen not to report the matter to the police, since he is married and has kids.
According to him, his wife asked him not to file a complaint since he came back alive and that is what mattered to the family.
However, the Intelligence Department of Punjab police has initiated a suo moto probe in the matter.
#Punjab Shocker: Jalandhar Man Allegedly Kidnapped, Drugged & Raped By Four Drunk Women | #CrimeHasNoGender

▪️According to victim, his wife asked him not to file police complaint
▪️However, @PunjabPoliceInd has taken up the matter suo moto#VoiceForMenhttps://t.co/RBlDSe44Ds

— Voice For Men India (@voiceformenind) November 24, 2022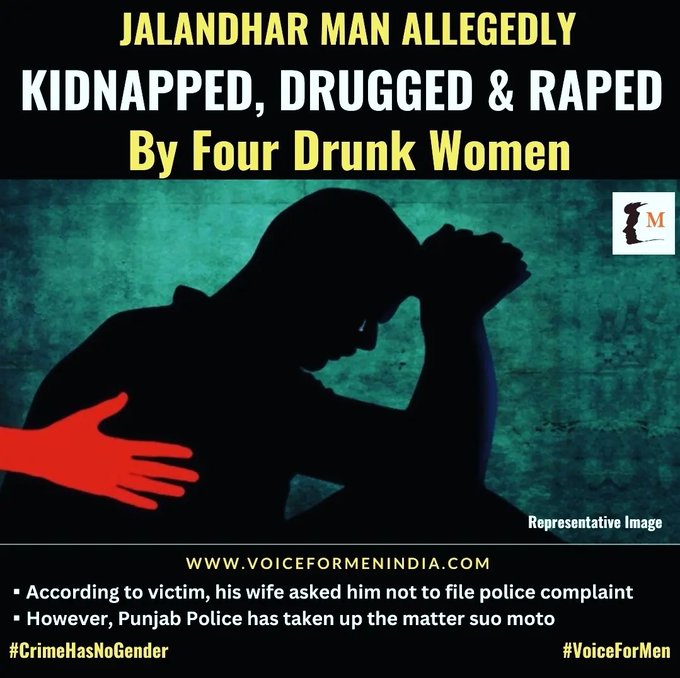 MUST WATCH:
Sarvjeet Singh Bedi | Cant Prosecute Jasleen Kaur U/s 340 CrPC For Mere Loss Of Reputation: Delhi HC
Join our Facebook Group or follow us on social media by clicking on the icons below
Donate to Voice For Men India
Blogging about Equal Rights for Men or writing about Gender Biased Laws is often looked upon as controversial, as many 'perceive' it Anti-Women. Due to this grey area - where we demand Equality in the true sense for all genders - most brands distance themselves from advertising on a portal like ours.
We, therefore, look forward to your support as donors who understand our work and are willing to partner in this endeavour to spread this cause. Do support our work to counter one sided gender biased narratives in the media.
To make an instant donation, click on the "Donate Now" button above. For information regarding donation via Bank Transfer, click here.