Several men need to thank Urvashi Rautela who is constantly demonstrating harassment and stalking by women against 'ex-boyfriends'. While consent is must for women, it is equally important and non-negotiable for men as well.
Little Background to this Saga
Actor Urvashi Rautela and cricketer Rishabh Pant had allegedly dated briefly sometime ago. Soon, there were cryptic messages from both sides which indicated a break up.
In August this year, Urvashi referred to Pant as Mr RP in one of her interviews where she quoted,
'RP' waited all night to meet me during one of my shoots in Delhi. Mr RP came to the hotel lobby and wanted to meet. Ten hours passed and I fell asleep. I couldn't attend any calls and when I woke up I saw 16-17 missed calls and I felt so bad that someone was waiting for me and I couldn't meet them.

I told him we'll meet when you come to Mumbai. We met in Mumbai but a huge drama happened with the paps and all.
Subsequently, Pant posted an instagram story, which he deleted within minutes. The post by the cricketer then read:
Its funny how people lie in interviews just for some meagre popularity and for hitting headlines. Sad how some people are so thirsty for fame and name. May God bless them…
Pant added hashtags such as:
#merapichachorohoBehen #jhutkibhilimithotihai
Urvashi was prompt to jump in and rebutted via her Instagram account where she wrote,
Chotu bhaiyaa should play bat ball. Main koyi munni nahi hoon badnam hone with young kiddo darling tere liyee.
She even added several hashtags, one of which read:
#cougarhunter
Asia Cup Co-incidence?
After bitter exchange of Social Media words, Urvashi was spotted at the Asia Cup Matches in Dubai last month. She attended all matches whenever team India was playing. The media too grabbed TRPs while panning their cameras on Rautela multiple times, including when her alleged ex-beau pant lost his wicket.
Urvashi Flies To Australia
Social media has reacted sharply this time, when Rautela has posted another Insta message informing all of her flight to Australia, where the Indian cricket team will be playing T20 World Cup Matches.
On Sunday, Urvashi posted her pictures on a flight and wrote,
…followed ♥️, and it led me to Australia 🎥
In a following post, Urvashi wrote,
Kaise bhula doon usko. Maut insaan ko aati hai, yaadon ko nahi…
Netizens have slammed Rautela, comparing her to the likes of SRK in Darr…one may also recall how another Bollywood actor Hrithik Roshan had accused Kangana Ranaut of stalking him constantly many years ago.
Infact, Congress Rajya Sabha MP and lawyer Abhishek Manu Singhvi also tweeted,
Rishabh Pant deserves a good advocate & a restraining order in his favour.
Rishabh Pant deserves a good advocate & a restraining order in his favour.

— Abhishek Singhvi (@DrAMSinghvi) October 9, 2022
LEAVE YOUR COMMENTS BELOW:
"Urvashi Stop Stalking Pant"…Netizens Compare Rautela To SRK Of Darr After She Lands In Australia

▪️When will Women understand the meaning of Consent? NO MEANS NO

▪️This is not funny: #SpeakUpMen#UrvashiRautela #RishabhPant #T20WorldCup #VoiceForMenhttps://t.co/OLcAUAZWUN

— Voice For Men India (@voiceformenind) October 10, 2022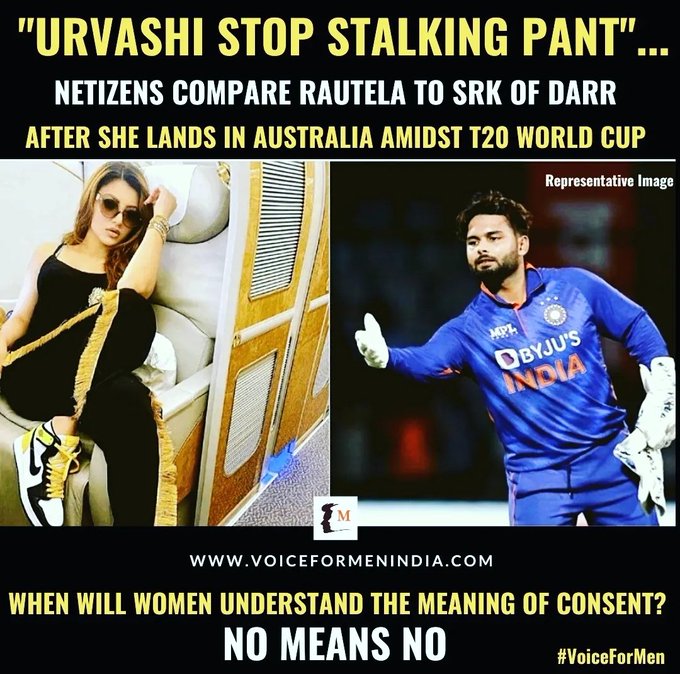 HERE'S HOW SOCIAL MEDIA REACTED!
What Urvashi Rautela is doing, if any Man would have done the same thing.

Ab Tak bande par harassment ka case file ho jata. #UrvashiRautela #Rishabpant

— Avinash Aryan (@AvinashArya09) October 9, 2022
Rishabh Pant To BCCI :#Rishabpant #UrvashiRautela pic.twitter.com/uIMV1jnJnK

— Sahil Gajera (@sahilgajera02) October 9, 2022
When Urvashi Rautela reaches Australia. pic.twitter.com/SLpTGu7Aw1

— Dr.D G (@RetardedHurt) October 9, 2022
We are living in a society where if Rishabh Pant does what Urvashi Rautela is doing right now , it would be called harassment. She has no self respect whatsoever.

— Sourabh (@1handed6) October 9, 2022
Urvashi rautela is a psychopath. What she is doing is not funny or cute, its harassment. Chasing a committed man for attention is very creepy. Also proves women cant handle rejection either. Imagine any man doing this to smriti mandhana, whole feminist mafia will lose their sleep

— Mithie (@_ahania) October 9, 2022
Whatever urvashi rautela is doing is pure harassment, she reached to australia for stalking pant imagine if pant does this for he, he will be behind bars in no time. i seek justice for pant #ArrestUrvashiRautela

— 🐰 (@firki07) October 9, 2022
Urvashi Rautela is cheap copy of Srk's Rahul Mehra from Darr pic.twitter.com/NuQkQVBfzn

— Veer (@HiiThisIsVeer) October 9, 2022
ALSO READ:
Cricketer Mohd Shami Wanted To Commit Suicide Thrice Due To Harassment & False Cases By Wife
Sports Portal Asks Readers To Reply With 'Something' You Can Say Both During Cricket & Sex
"I AM SORRY"…Harsha Bhogle Pressurised By Feminists To Apologise For Calling Deepti Sharma…"Girl" | Twitter Reactions
Husband Must Pay Maintenance Since Virat Kohli Brand Ambassador Of His Company | Delhi Court
UP Man Files FIR Against Estranged Wife, In-Laws For Allegedly Celebrating Pakistan's Win Over India In T20 Match
Join our Facebook Group or follow us on social media by clicking on the icons below
Donate to Voice For Men India
Blogging about Equal Rights for Men or writing about Gender Biased Laws is often looked upon as controversial, as many 'perceive' it Anti-Women. Due to this grey area - where we demand Equality in the true sense for all genders - most brands distance themselves from advertising on a portal like ours.
We, therefore, look forward to your support as donors who understand our work and are willing to partner in this endeavour to spread this cause. Do support our work to counter one sided gender biased narratives in the media.
To make an instant donation, click on the "Donate Now" button above. For information regarding donation via Bank Transfer, click here.