Supreme Court on one hand calls for Gender Equality, but ironically holds only and only the Husband as the sole provider for his family.
In its recent judgement dated September 28, 2022, the top court ruled,
A husband is required to earn money "even by physical labour" to meet his sacrosanct duty to provide financial support to the estranged wife, minor children and couldn't avoid his obligation.
This matter pertains to maintenance under Section 125 CrPC, which entitles a married woman for lifelong maintenance, unless she remarries. This maintenance is awarded to the woman, even if she chooses to live separately and does not consent to divorce after years and decades of separation. 
New Supreme Court Maintenance Guidelines Is Furthering Legal Terrorism On Already Suffering Men : MyNation Hope Foundation
Case:
Parties got married in December 1991 as per the Hindu rites and have two children i.e., daughter (1992 born) and one son (1999 born). Wife had left her matrimonial home along with both children in 2010 and subsequently approached court for maintenance under Section 125 CrPC.
Allegations by Wife
Wife – appellant No. 1 accused her husband and his family of utmost cruelty, physical and mental torture. As a result thereof, she had to leave her matrimonial home along with children time and again. Allegations were also made against the respondent that he was demanding Rs One crore as dowry from her father. Ultimately, the appellant along with her children left the matrimonial home in 2010 and started residing in a rental premises.
Submissions by Husband
The said petition was contested by the respondent-husband by filing a reply. The respondent while not denying the marriage with the appellant no.1, had denied the allegations with regard to the demand of dowry and harassment. He also denied that he had failed and neglected to maintain the appellants. According to him, the appellant had left her matrimonial home along with children without any reason. The respondent while admitting that daughter was born out of his wedlock with the appellant, had alleged that the son was not his biological child.
READ JUDGEMENT | Maintenance Awarded Must Be Reasonable & Realistic; Objective Of Alimony Is Not To Punish Other Spouse: Supreme Court
Family Court, Faridabad
The husband had filed an application in the Family Court praying for the DNA test to substantiate his allegation that the son was not his biological child, however his application was dismissed by the Family Court vide order dated Feb 2014.
In 2016, Family Court after appreciating the said evidence on record passed the order rejecting the application of of maintenance to the wife. Maintenance was also rejected for the daughter who had attained majority, however, an allowance of Rs 6,000 per month was awarded for the minor son. 
Punjab & Haryana High Court
In 2018, the high court had also dismissed the Revision application filed by the appellants, challenging the order passed by the District Judge, Family Court, Faridabad. The wife subsequently moved Supreme Court. 
READ ORDER | Supreme Court Allows Lumpsum Maintenance To Woman Despite Divorce To Husband On Grounds Of Cruelty By Wife
Supreme Court
At the outset, the bench of Justices Dinesh Maheshwari and Bela M Trivedi elaborated the conditions of maintenance under Section 125 CrPC. The bench observed,
Maintenance u/s 125 CrPC is a measure of social justice that was specially enacted to protect women and children.
The top court refused to accept plea of a husband who submitted he had no source of income as his party business has now been closed.
Adding further, the top court said,
The respondent (husband) being an able bodied, he is obliged to earn by legitimate means and maintain his wife and the minor child.

Having regard to the evidence of the appellant-wife before the family court, and having regard to the other evidence on record, the court has no hesitation in holding that though the respondent had sufficient source of income and was able-bodied, had failed and neglected to maintain the appellant.
Accordingly, the apex court ordered the husband to pay (with retrospective effect):
Rs 10,000 per month to his wife
Rs 6,000 to his minor son

The Supreme Court also pulled up the family court to deny maintenance to the woman and her children after she left the matrimonial home and started living separately and said that the court was not alive to the objects and reasons, and the spirit of the provisions under Section 125 of the code.
"Wife Cannot Be Granted Maintenance U/s 125 CrPC Who Was Granted Permanent Alimony U/s 25 Hindu Marriage Act": Supreme Court
The Court even went on to add,
The family court had disregarded the basic canon of law that it is the sacrosanct duty of the husband to provide financial support to the wife and to the minor children.

The husband is required to earn money even by physical labour, if he is an able-bodied, and could not avoid his obligation, except on the legally permissible grounds mentioned in the statute.

In Chaturbhuj vs Sita case, it has been held that the object of maintenance proceedings is not to punish a person for his past neglect, but to prevent vagrancy and destitution of a deserted wife, by providing her food, clothing, and shelter by a speedy remedy.
The bench was also not satisfied the way Punjab and Haryana high court 'casually' passed the order by upholding "an erroneous and perverse order of family court".
Concluding the matter, the Supreme Court said,
The entire amount of arrears shall be deposited by the respondent in the Family Court within eight weeks from today, after adjusting the amount, if any, already paid or deposited by him.
VFMI Take:
How was the wife surviving for more than a decade? 
Why is there no onus on the wife to rebuild her life, even after a decade of separation?
Of course, even after husband clears this payment, he is not legally divorced and will continue to pay maintenance to son till majority, to wife for life
Leave your comments below:
READ JUDGEMENT | Able Bodied Husband To Earn Even By Physical Labour But Maintain His Wife, Minor Child U/s 125 CrPC : Supreme Court

▪️Parties separated 2010
▪️Both FC & HC rejected maintenance for wife
▪️SC orders husband to pay wife & son w.e.f 2010https://t.co/VP4fnKqdDg

— Voice For Men India (@voiceformenind) October 7, 2022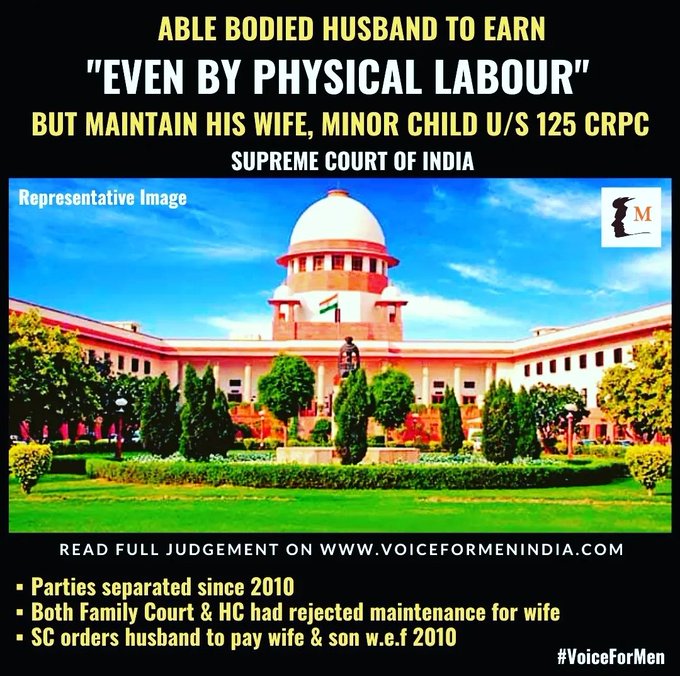 WATCH VIDEO:
No Maintenance To Educated Wife | Interview | Kanupriya Kejriwal, Matrimonial Lawyer
JUDG
Join our Facebook Group or follow us on social media by clicking on the icons below
Donate to Voice For Men India
Blogging about Equal Rights for Men or writing about Gender Biased Laws is often looked upon as controversial, as many 'perceive' it Anti-Women. Due to this grey area - where we demand Equality in the true sense for all genders - most brands distance themselves from advertising on a portal like ours.
We, therefore, look forward to your support as donors who understand our work and are willing to partner in this endeavour to spread this cause. Do support our work to counter one sided gender biased narratives in the media.
To make an instant donation, click on the "Donate Now" button above. For information regarding donation via Bank Transfer, click here.
Alternately, you can also donate to us via our UPI ID: voiceformenindia@hdfcbank